It's hot outside! It's too hot to cook up my usual morning oatmeal or even to boil water. Yet, with three hungry guys helping rebuild my home office, I've got to cook. Enter: Huevos over Brown Rice.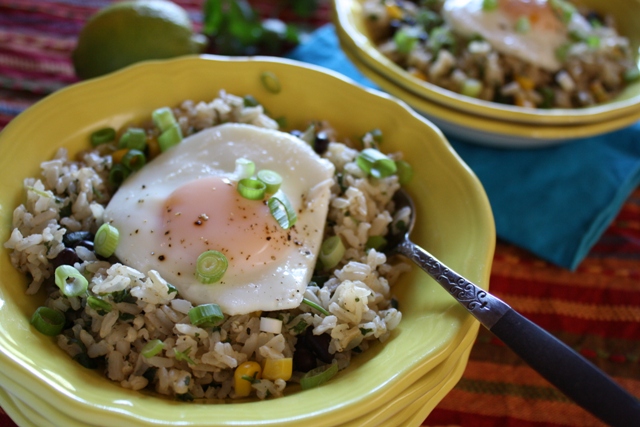 I came up with this recipe after the good folks at Hinode sent me some of their rice to sample. The Woodland-based company works with California farmers growing medium grain brown rice and Calrose rice within 100 miles of Sacramento. Since they know how much I love all things local, we decided to team up.
Before the morning had reached 100 degrees, I pulled out a package of Hinode's newest product, a microwavable brown rice. No need to heat my kitchen with boiling water. Win! Next, I flipped over the package to read the nutrition facts. No added sodium. Double win! (I'm not a fan of packaged products that are loaded with little nutrition and lots of salt.) No cholesterol. 3 grams of fiber. 6 grams of protein. A whole grain. Sold!
In less than 2 minutes, I had perfectly prepared rice–fluffy, a little sticky, chewy and nutty. I added more farm-fresh ingredients: corn, black beans, cilantro, lime juice, cumin–no cooking required–and then topped with an over-easy egg (the only thing I actually had to cook). Splash with hot sauce. Done! My favorite part: as you eat the dish and the egg yolk cracks it bathes the rice with big flavor!
This simple dish was a hit with my dad, uncle, and husband. Hinode also thought it was a great idea, and offered to buy the recipe. You can find it on their website, too.
I'm so proud to have this kind of interest in my cooking. Thank you, Hinode!
I hope you'll whip up a batch for your family, too–and let me know what you think.
Note: the hot sauce is critical to the flavor of this dish. If you don't like heat you can use salsa instead.
Huevos over Brown Rice Recipe
Serves: 3
Preparation time: under 20 minutes
Cooking time: 5 minutes
Ingredients:
2 cups Hinode microwavable brown rice
1/2 cup black beans, drained and rinsed
1/4 cup corn
1/2 cup cilantro, chopped
2 Tablespoons lime juice
2 teaspoons ground cumin
Salt & pepper to taste
3 eggs
3 teaspoons hot sauce
2 stalks green onion, diced
Farmers' market/California-grown ingredients: Hinode brown rice, corn, cilantro, lime, eggs, green onion
Supermarket ingredients: black beans, cumin, salt, pepper, hot sauce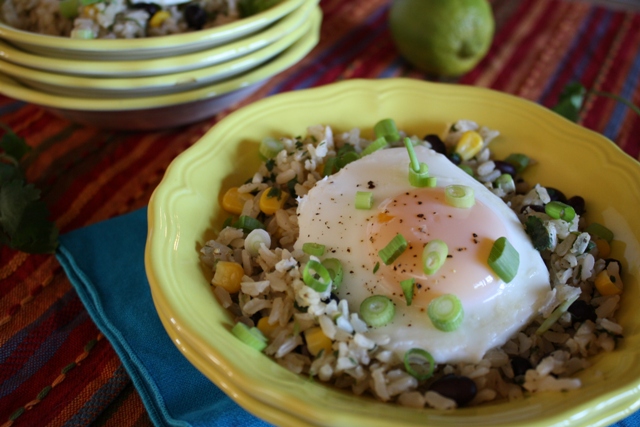 Method:
Prepare Hinode brown rice according to the instructions on the package.
In a large bowl, combine the cooked rice, black beans, corn, cilantro, lime juice, cumin, salt and pepper. Stir to combine. Cover to keep warm while you cook the eggs.
Prepare 3 eggs over easy or poached, depending on your preference.
Place 1/3 of the rice mixture into a serving bowl, top with a cooked egg, 1 teaspoon hot sauce, and sprinkle with 1 Tablespoon diced green onion. Repeat with two more bowls. Serve immediately.
Tips:
Fresh corn on the cob is great in this recipe. Simply use a knife to cut away cooked corn kernels from the cob and add to this dish.
Variations:
Stir a few spoonfuls of salsa into the rice mixture for a spicier version.