I'm one of the lucky girls. This Father's Day, my dad will spend it in traditional style: caring not a whit about himself, but instead, devoting his time and energy to doing something for me. As I write, he's with my husband and my uncle rebuilding a home office—for me.
When I was little, most of my quality time spent with Dad revolved around a project. Sometimes it was the relaxing "work" of catching fish on the Mississippi River or canning raspberry jam, yet more often than not, it was splitting wood, re-shingling a roof, or raking leaves.
Most of life's lessons were learned during a backyard project. Like the time I was finally old enough to weed eat the lawn (and I assure you—it wasn't me who was eager for this moment). We had an electric weed eater. We had a 2.5 acre "lawn."
Tracking dozens of yards of power cord along with that heavy machine was not my idea of fun. I used to hack away at the weeds around the many trees and edges in the yard, cutting deeply into the dirt, hopeful that this would equate to a longer break until my next weed eating. (It never was.) I would also try to skip over the spots in far corners, certain that it didn't really matter in the grand scheme of things, and that Dad would never notice.
But of course, he always noticed. That first summer he repeated his lesson like a scratched record: "Anything worth doing is worth doing right."
This lesson might not have taught me to love weed eating (I married a man willing to do it for me!), but it might explain my refined attention to detail. Today, I hold the notion true that someone will always notice that corner in the far back that you thought you could skip over.
As my dad, uncle, and husband sweat in the Sacramento heat tearing down walls and building roof lines, I'm going to make them something with love and attention to detail. These cherry chocolate scones contain chewy hazelnuts, bright market cherries, and the jazz of happy cinnamon. These scones are worth doing—and it's easier than weed eating the lawn to get them right.
Cherry Chocolate Scones Recipe for Dad
1 cup all-purpose flour
1 cup whole wheat flour
3 Tablespoons organic sugar
2 teaspoons baking powder
1/2 teaspoon baking soda
1 teaspoon Saigon cinnamon or other spicy cinnamon
1/2 teaspoon salt
1/2 cup cold, unsalted butter, grated
1 egg
3/4 cup buttermilk
1/2 cup chocolate chunks
1 cup chopped cherries
1 cup chopped hazelnuts
Farmers' Marketing ingredients: whole wheat flour, butter, egg, cherries, hazelnuts
Grocery store ingredients: flour, sugar, baking powder, baking soda, cinnamon, salt, chocolate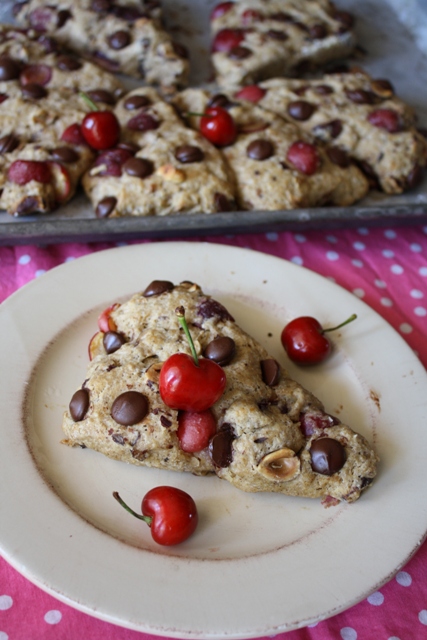 Instructions:
Preheat oven to 400 degrees. Line a baking sheet with parchment paper and set aside.
In a large bowl, whisk together flours, sugar, baking powder, baking soda, cinnamon and salt. Grate cold butter into flour mixture and use a pastry cutter or two knives to incorporate. The dough will form soft crumbs at this stage.
Add the egg and buttermilk to the dough and stir until almost fully incorporated. The dough will be slightly sticky. Place dough on a floured work surface and knead in the chocolate, cherries, and hazelnuts. Add more flour to work surface as needed. Knead until the dough no longer sticks to the work surface and the fruit and nuts are fully incorporated throughout the dough.
Using a floured rolling pin, roll the dough into a 1/2-inch thick circle making sure it is smaller than your baking sheet. Place on the parchment-lined baking sheet. Using a bread knife gently cut the dough into 12 equal sized triangle portions, as you might slice a pizza.
Bake in preheated oven for 10-13 minutes, or until golden.
Yield: 1 dozen
Looking for other Father's Day recipes?
Try these apricot no bake cookies from Healthy Blender Recipes.
Andrew from Eating Rules makes his dad's granola.
Eat the Love bakes up an apple blackberry pie.