Salsa! America's number one condiment is a fabulous way to use summer's bounty. As tomatillos and peppers ripen, throw a fast batch in the food processor and you're minutes away from happiness.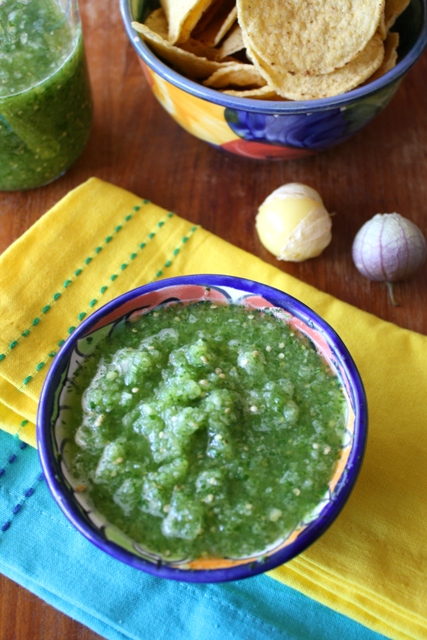 This tomatillo salsa requires no cooking. Just peel, then rinse away the sticky film from these fruits, and combine in a food processor with onion, jalapeño, cilantro, and garlic. Fast. Easy. Delicious. No cooking required.
You can use any type of tomatillo here. I have both white and purple growing in my garden. The large green ones found at the market work, too. All the ingredients, except for the salt, can be found at the farmers' market.
Green Tomatillo Salsa Recipe
Ingredients:
2 cups tomatillos, peeled and rinsed
1/2 large white onion, roughly chopped
1 jalapeño, stemmed and seeds removed (wear a glove so you don't get burned!)–add less if you don't like heat
1 cup cilantro
1 garlic clove
1/4 cup water
Salt to taste
Farmers' Market & Garden ingredients: tomatillos, onion, jalapeño, cilantro, garlic
Supermarket ingredients: salt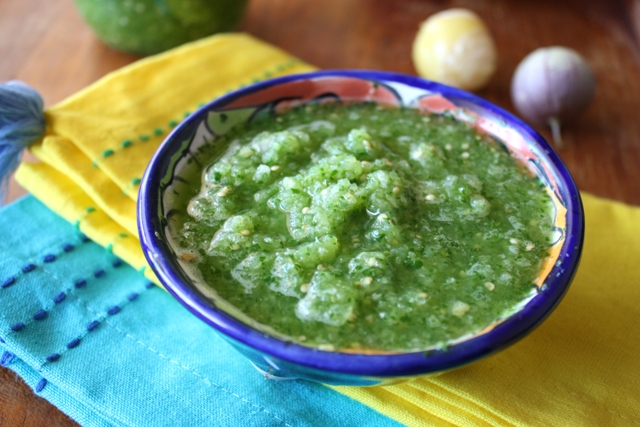 Instructions:
Place tomatillos, onion, jalapeño, cilantro, garlic, and water in a food processor. Blend until smooth. Add salt to taste and blend again.
Store in a glass jar in the fridge for up to a week.
Yield: 2 cups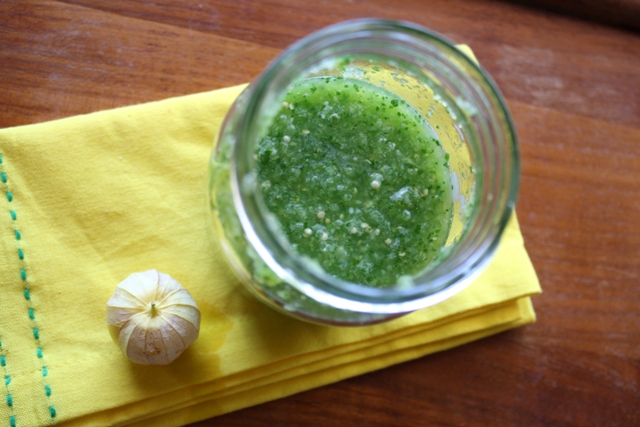 Looking for more salsa recipes?
Herbivoracious has a smoked pineapple and tomatillo salsa recipe.
Farmgirl Gourmet makes zesty peach salsa.
Happyolks combines both tomatoes and tomatillos in a roasted salsa.