If I could only eat one type of cuisine for the rest of my life I would choose Southwest food largely because of salsa. Tangy, tomato-y, spicy—salsa makes everything taste better.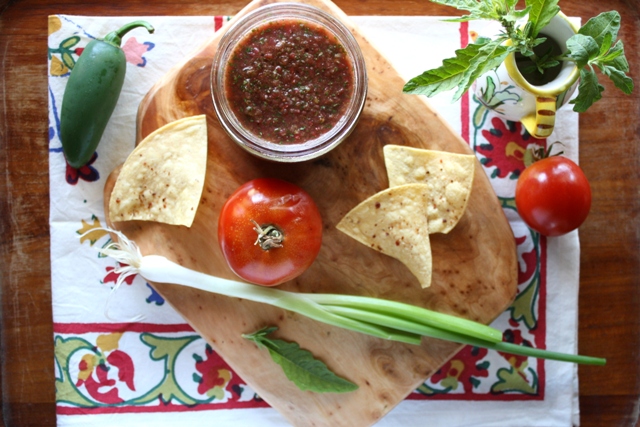 We eat a lot of salsa in our house, and I'm constantly dabbling with new recipes as I haul ripe fruits and veggies in from the garden. I've used red tomatoes, green tomatoes, tomatillos, cactus, corn, zucchini, plums, strawberries, carrots, cinnamon, cumin—you name it, I've tried it.
Last winter I got an important call from a friend and fellow food blogger, Garrett. Recently engaged and planning ahead for his wedding, he asked if I'd be willing to bring salsa to the reception. What an honor! Not only did he like my salsa—he wanted it at one of the most important events of his life.
As soon as the first tomato was ripe on the vine, I went to work on some new salsa recipes. This wedding reception was no joke. There was food being prepared by some of Sacramento's best cooks, including Peg Poswall, who trained under Diana Kennedy; Cynthia Elliott, who makes the world's best pan forte and springerle cookies at Elliott's Natural Foods; Elaine Baker, pastry chef at Taylor's Kitchen; Hank Shaw, one of my favorite authors, whose cooking rocks; and a host of other food bloggers who throw down in the kitchen.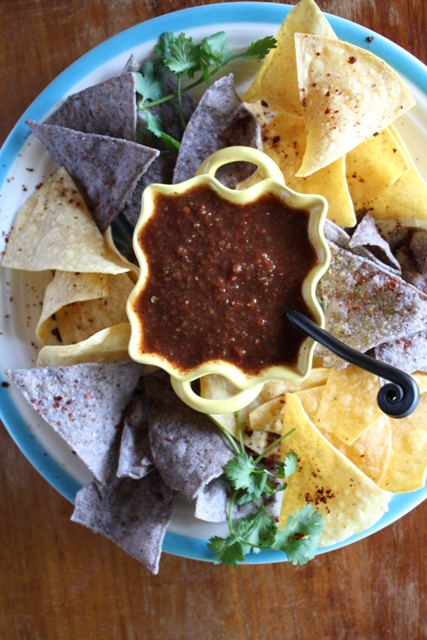 Yep—I needed this salsa to be special. I combed through every Mexican and Southwest cookbook I own, hoping to go far beyond the standard tomato, cilantro and onion blend. I walked the aisles of Latin markets looking for hidden treasures, buying and tasting every known type of pepper available. I tasted mom and pop shop recipes looking for inspiration.
What I like best about strong Southwestern cuisine are the layers of flavors, some so subtle you can't quite put your finger on what you're experiencing. That's precisely what I ended up creating with this recipe. It's a unique blend of peppers, some from my garden and some from the market, each bringing different flavor balance. If you leave one pepper out, you'll get an entirely different salsa.
I'm proud to say that the salsa was a hit with the newlyweds, which was ultimately the most important goal of this recipe. Garrett and Brian took the leftovers on their honeymoon and simmered pork in this rich, peppery sauce. I dedicate this recipe to them—and to a future filled with many delicious, happy meals together!
5 Pepper Salsa Recipe
Warning: Don't make this if you don't like spicy food!
Ingredients:
2 chile Guajillo entero pods
2 1/2 cups red tomatoes, cut into chunks
1/2 a large, white onion, or 3 green onions, cut into chunks
1 cup cilantro, stems removed
2 cloves garlic, peeled
Juice from 1 lime
2 jalapeños, stemmed
1 Tablespoon Aleppo paprika
1/2 Tablespoon chili powder
2 teaspoons pasilla ancho powder
2 teaspoons freshly ground black pepper
1/2 Tablespoon cumin powder
1/4 teaspoon ground, mild cinnamon
Salt to taste
Farm & garden ingredients: tomatoes, onion, cilantro, garlic, jalapeños
Supermarket ingredients: chile pods, lime, Aleppo paprika, chili powder, black pepper, spices, salt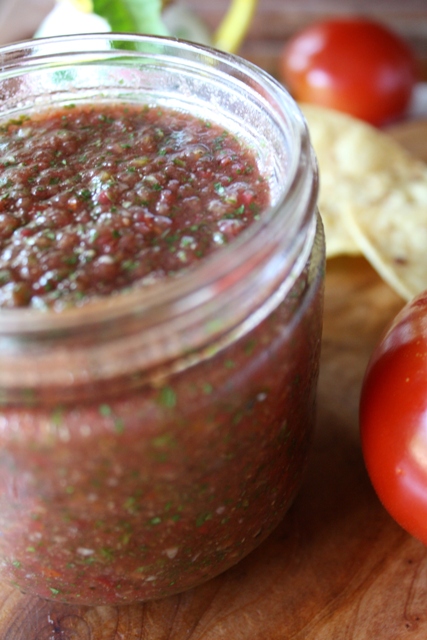 Place chile Guajillo entero pods in a medium bowl and cover with hot water. Press a plate on top to keep chiles submerged under water. Soak for 30 minutes while you prep the other ingredients. Remove from water, drain, and cut or pull off the stem.
Place the softened chile Guajillo entero pods into a food processor with the remaining ingredients. Process until blended. Taste and add more salt if necessary and blend again.
Spoon the salsa into glass jars and store in the fridge until ready to serve. Allow to rest about 30 minutes before serving for best flavor.
Yield: 4 cups salsa
I actually made 2 salsas for Garrett's wedding, my 5 Pepper Salsa and a Cactus & Roasted Corn Salsa (recipe coming soon!). You can see them in the photos from the wedding.
Hungry for more salsa?
Simply Recipes has a good recipe for canning tomato salsa.
Herbivoracious makes a fun smoked pineapple and tomatillo salsa.
Recipe Renovator shares a roasted tomatillo and avocado salsa.
I've got a basic green tomatillo salsa recipe.