Danes know how to celebrate Christmas! Their traditions are rich and plentiful.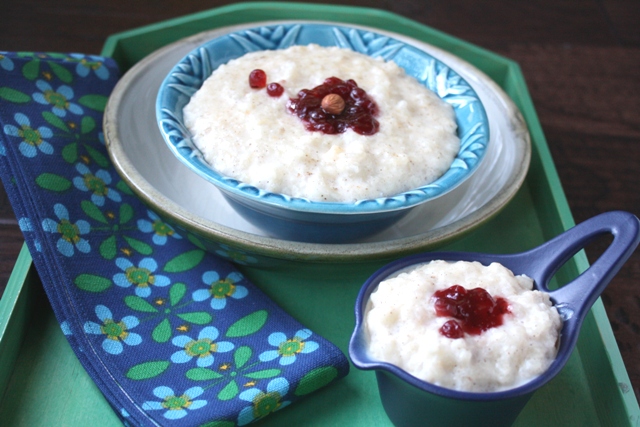 You'll find live candles burning around a freshly cut Christmas tree.
Instead of cardboard advent calendars, Danes hang handmade cloth banners from their bedroom doors, complete with 24 pockets. Each morning, you'll find a treat inside the pocket to mark the new day—sometimes a piece of chocolate, a mandarin, or perhaps a small toy.
There are also many delicious Danish food traditions: aebleskiver,  lefse, glogg, herring… the list goes on and on!
One of my favorite traditions is ris a l'amande, a rice pudding served exclusively on Christmas day. I enjoy this recipe because it involves a game.
The cook stirs a single, whole almond into the finished rice. The dish is served as dessert after the holiday meal has been eaten, when everyone is already full! The trick is to keep eating until someone finds the almond. The recipient receives good luck—and a prize, which is typically a coloring book, some chocolates, mandarins or another small gift.
When I lived in Denmark, my host sister gave me advance instructions on how to handle the almond if I won: hide it in your mouth and watch as everyone else keeps eating. They'll keep going, because everyone wants to win.
Sure enough, beginners luck was on my side. In my first bite of rice pudding, I found the whole almond! I tucked it like a squirrel inside my cheek and cleared my plate. As everyone else scooped second helpings, I feigned fullness, and watched as my family swirled spoonfuls of pudding around their bowls, eager to find the sacred almond.
At this point, I revealed my lovely almond, holding it high like a victor's trophy. My host family cheered and laughed—equally grateful for my prize as they were to stop eating after a very long meal.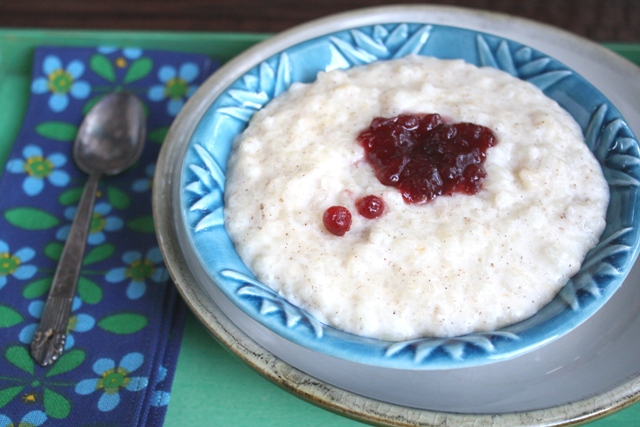 Like most Danish treats, this pudding isn't very sweet. Be sure to use whole, organic milk, which will add more flavor and sweetness.
From family to family, the recipe varies. Some add a cup of chopped almonds in addition to the single, whole almond. Some top it with extra cream for sweetness, while others add jam. Some recipes are thick and firm, similar to the American version.
This recipe is creamy, like a thick porridge (though it will thicken as it cools). You can eat it either warm or cooled.
This recipe is called "Julerisengrød," Christmas rice pudding, or "Ris a l'amande," rice with almond.
Scandinavian Christmas Rice Pudding or Ris a l'amande
Ingredients
6 cups organic, whole milk
1 cup medium grain rice, such as Hinode Calrose
3 Tablespoons granulated sugar
2 teaspoons cardamom
1/2 teaspoon salt
1 whole almond
Lingonberry jam or marmalade
Farmers market ingredients: almond, jam
California-grown ingredients: milk, rice
Supermarket ingredients: sugar, salt, cardamom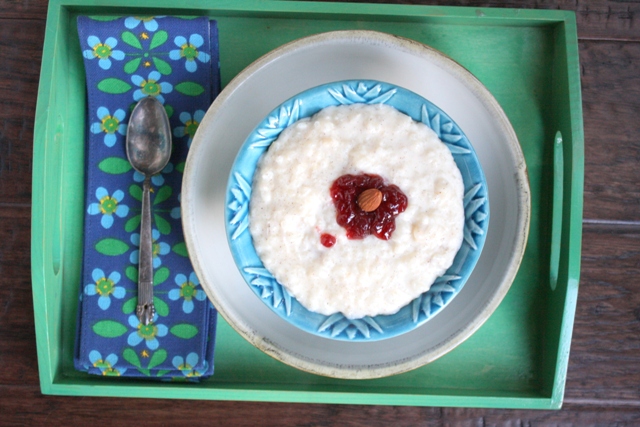 Instructions
Fill the bottom of a double boiler a little less than half-way with water. Bring to a rolling boil on the stove top.
In the top of the double boiler, combine milk, rice, sugar, cardamom and salt. Cover and place over boiling water. Cook for 2.5 hours until most of the milk has been absorbed by the rice and a thick porridge has formed. Stir the mixture to incorporate any remaining milk throughout, and if it is too thin, continue cooking, covered, another 30 minutes.
You may need to add more boiling water to the bottom of the double boiler as the pudding cooks. If so, keep a kettle of boiling water on hand to add. Check after each hour and add more boiling water if needed.
Just before serving, add the almond to the pudding and stir. Serve warm or cool with lingonberry jam or marmalade as garnish.
Yield: 6-8 servings
*I would like to thank my friends at Hinode Rice for purchasing this recipe!