Halloween is just around the corner, so it's time to bring out pumpkins and decorations in orange and black. Want a dish you can feed your friends and family without kitschy faux spiders floating in their soup? This pumpkin curry combines unique whole grain black rice with orange pumpkin for a frighteningly good feast.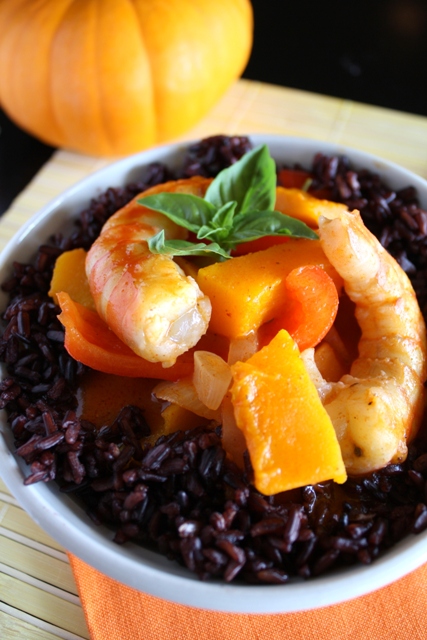 When I was a little girl, Mom made chili for dinner every Halloween night. We would come in from the cold, arms heavy with our sugary spoil, noses running and stomachs in need of substance rather than chocolate. A warm bowl of her chili lulled us down from our candy high, readying us for a happy night's sleep.
This curry offers the same remedy: a warm bowl of spicy broth mellowed by silky coconut milk and studded with vitamin-rich vegetables. The hearty black rice from Hinode, which becomes a deep purple when cooked, not only colors the dish for the season, but offers a deep, nutty backbone.
I credit my friend, Heather, for inspiring this recipe. She created a pumpkin curry recipe for California Food Literacy Center that I tested for the website. I was immediately hooked and have been making it ever since in my own way. I'm sure you'll do the same!
Happy Halloween!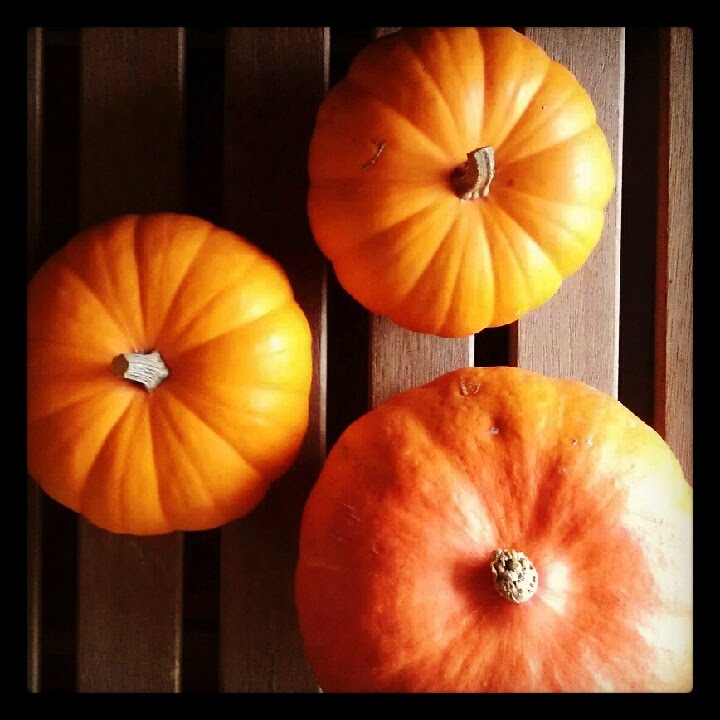 Pumpkin Curry with Black Rice Recipe
Serves: 4
Prep time: 15 minutes
Cooking time: 10 minutes
Ingredients:
2 cups Hinode black rice
1 Tablespoon canola oil
1 lb shrimp, peeled and de-veined
3 Tablespoons Thai red curry paste
One 15-oz can coconut milk
1 dried chili, optional
1 Tablespoon fish sauce
1 teaspoon brown sugar
1 red bell pepper, cut into strips
1 large yellow onion, sliced into thick strips
1 cup roasted pumpkin, diced
2 Tablespoons basil leaves, chopped
Farmers market ingredients: peppers, onion, pumpkin, basil
Supermarket ingredients: rice, oil, coconut milk, fish sauce, sugar
Method:
Prepare black rice according to directions on the package.
Preheat a large wok or deep fry pan over medium high heat. Add half the oil and the shrimp and cook until light pink, 3 to 5 minutes. Transfer the shrimp to a bowl and cover loosely.
Return wok to heat. Add the remaining oil and the curry paste to the wok. Stir together until fragrant, about 20 seconds. Slowly add the coconut milk to the curry paste and blend together as you pour.
Add the chilies (if using), fish sauce, and brown sugar. Stir into coconut milk mixture. Bring to a simmer.
Add the bell peppers, onion, and basil, and gently stir for 3-5 minutes, or until the vegetables are tender crisp. Add the shrimp and pumpkin.
Serve immediately over prepared black rice.
Tips:
Be sure wok is preheated when you begin cooking. Don't start with a cold pan.
Variations:
Substitute roasted sweet potatoes for the pumpkin. You can also substitute tofu for the shrimp.