I recently found this letter that my 8-year-old self wrote to Santa. I apparently thought both Santa and the Abominable Snowman were real. Funny to think I was ever that little, and yet at heart, I truly never grew up!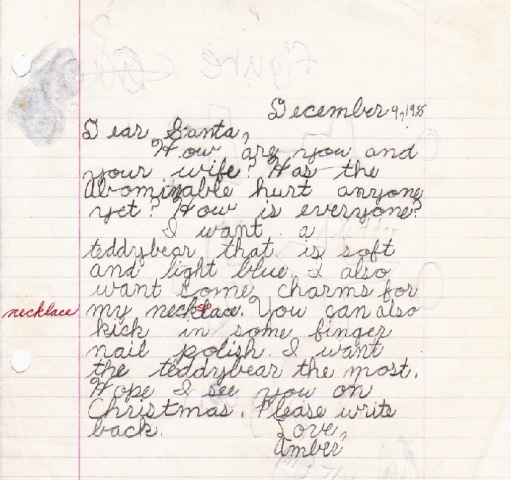 This year, I won't be asking Santa for a blue teddy bear. I've got a grey kitty napping on my lap while I type this, and that's way better!
Also, instead of cookies, I'll be gorging myself on the beautiful produce Sacramento farmers have to offer. There's nothing better than the delightful colors of fall fruit: crimson pomegranates, sunset persimmons, and purple carrots.
I've combined the best flavors of fall fruit into this lovely salsa. I believe Santa would enjoy salsa and beer after his long journey. Perhaps he'll finally reward me by "kicking in some finger nail polish!"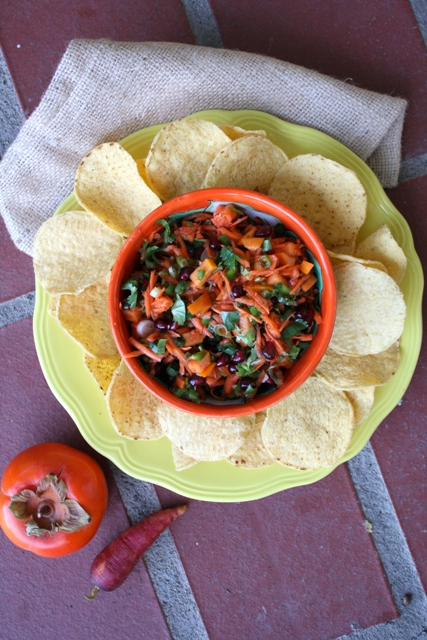 Persimmon Pomegranate Salsa Recipe
Ingredients
2 small carrots, or 1 cup, grated
1 jalapeño, finely diced
1/2 cup cilantro, chopped
1 Fuyu persimmon, finely diced
3 Tablespoons pomegranate seeds
1 Tablespoon lime juice
Pinch cinnamon
Farmers market & garden ingredients: carrot, jalapeño , cilantro, persimmon, pomegranate, lime
Supermarket ingredients: cinnamon
Instructions
Place all the ingredients in a small bowl and stir to combine. Serve with tortilla chips.
Yield: 2 cups salsa