I love to read as much as I love to eat! My mom is a librarian, which meant that books were as integral to my upbringing as the apple trees that lined our front yard. They're part of my soul. My father is a school superintendent, and education is also my passion.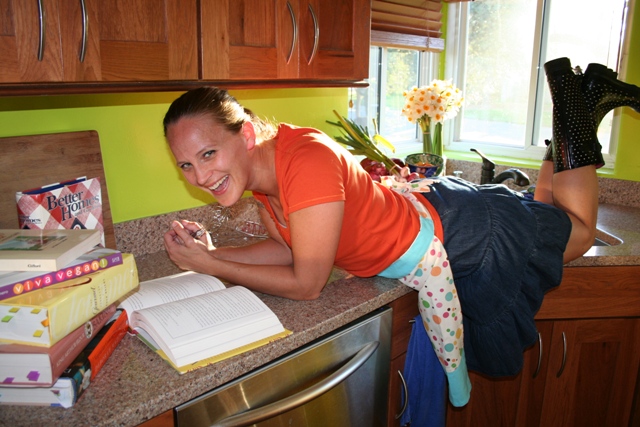 Both my parents are nonfiction readers. In my youth, I read fiction: ghost stories, adventure novels, anything with a strong female character. I actually can't remember the last fiction book I read. Nowadays, like my parents, I read nonfiction. It's not a conscious choice. I simply long to learn.
Tomorrow, Saturday, I've been invited to talk at the Franklin Public Library in Elk Grove at 2pm. I hope you'll join me. They invited me to talk about how I live la vida locavore. What a fitting environment for this talk! After all, it was through books that I learned to live this way.
My locavore education came exclusively from Amber University–weekends spent in a sunny corner of my backyard cozy'ed up with a wonderful nonfiction food book. With every turn of the page, the fire in my belly burned hotter. All around me here in Sacramento, California–America's Farm to Fork Capital–I'm surrounded by some of earth's most gorgeous food: golden buttery olive oil, fat luscious tomatoes, cherries with crisp skins and bursting sweet centers, exotic fruits dripping with flavor like pluots, and chewy black kale the color of a moonlit night. This region has farmers working elbow deep in the world's most fertile river soil. It's paradise!
Yet, all this paradise goes unnoticed by many, unappreciated by others. It's a precious gift that hangs in the balance. If everyone were as book-sick as I am, the whole world would know these stories. People would be running for their farmers markets, abandoning their lifeless grocery carts, and shaking hands to praise our farmers.
There's a lot of food literacy to be learned–and a lot of inspiring books to be read.
In 2011, I founded the nonprofit California Food Literacy Center. It was in response to the fire burning in my belly–made hotter by all the knowledge I drank up through these books. I want everyone to know what I know, to feel what I feel. There's a world of joy in every fresh wisp of cilantro our region grows. There's a great big storybook behind every blade.
I've compiled the below list of 13 of my favorite food books–a baker's dozen. I originally put it together as a reading list for students in my Food Literacy Academy, an application-only training for community members to become food literacy teachers. How I have loved hearing their reactions as they journey through these titles! Their reactions are not unlike my own. Their worlds are changing with every turn of the page.
This list is by no means exhaustive, and doesn't include the many new books I have sitting on my shelf waiting for me to open. It's my invitation to you to find a sunny spot in your yard and let your mind be blown! I promise it will be delicious!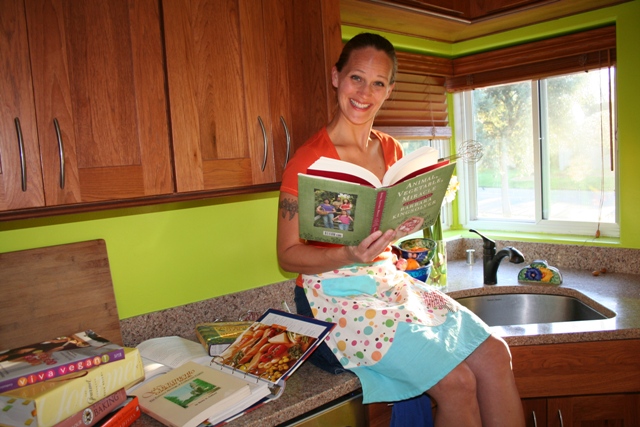 My 13 Favorite Food Books (right now)
52 Loaves by William Alexander
By the end of this book, the author will make one loaf of bread. 52 Loaves chronicles Alexander's adventures in recreating the perfect loaf of bread. He talks to experts, attempts to grow his own wheat, and bakes with professionals—all in pursuit of that ideal bite.
Food Matters by Mark Bittman
A quick read from a meat-eater who encourages readers to eat more plants: whole grains, fruits and vegetables. You'll get a close look inside our food system from a contemporary powerhouse in food writing.
Farm City by Novella Carpenter
Feathers fly. Guns fire. Beets ripen. Salami cures. There's a bit of flavorful adventure around every page in Novella Carpenter's debut memoir. Just as her urban farm tumbles with chickens, pigs, and watermelon, this Oakland backyard farmer's book bubbles with a blend of funny, nostalgic, rebellious, and heartfelt tales not to be missed.
This isn't the story of a joyful tomato patch cared for tenderly by nurturing hands. In fact, it's just the opposite. This is the true story of one specific brand of tomato ("Florida Rounds," the rock-hard variety you find in the middle of winter in the supermarket), and modern industrial agriculture's demonic role in its flavorless existence. As if destroying tomatoes' flavor isn't crime enough (James Beard describes these tomatoes as "a total gastronomic loss"), author Estabrook details the many inhumane and illegal acts that go into every awful bite of this grocery store variety tomato.
Harvest for Hope by Dr. Jane Goodall
Dr. Goodall walks readers through the complex layers of our food system, providing global perspective and the insight of a scientist who often speaks from the view of animals and the planet.
Fruitless Fall by Rowan Jacobsen
This book provides a thorough study of the role of honey bees in our contemporary agricultural system. Jacobsen educates the reader on everything bee-related from the science of the hive, the history of their transcontinental evolutionary journeys, the economics of honey, to a prototypical—and in some instances, a realistic—world without bees. You'll learn how bees reproduce, the healthy ingredients that make up their potent honey, and the dog-eat-dog affect of capitalism on agricultural practices that in turn affect our striped friends.
Animal, Vegetable, Miracle by Barbara Kingsolver
Grow your own peanuts! Make your own cheese! Pluck your own turkeys! This is the stuff of Animal, Vegetable, Miracle, a memoir in which Kingsolver's whole family devotes a year to living off the land. The tales of their strict locavore diet make for humorous and delightful reading, but importantly, this story will invoke action.
Diet for a Hot Planet by Anna Lappe
Did you know that our food system may be responsible for a third of what's heating our planet? From the daughter of the author of Diet for a Small Planet, this book looks specifically at the climate impact of our food choices.
Written long before the current financial crisis, McKibben's book casts doubt on our current model of capitalism, a system sustained by the production of everything from food to fuel on a massive scale: a model that benefits some, but leaves many behind. Instead, McKibben suggests we take a look closer to home at a financial model benefitting everyone, including our planet. Chock full of case studies, the book features community organic farms in Cuba, solar energy sharing plans in U.S. neighborhoods, and rabbit micro-businesses in China. Most folks realize the ecological benefits of eating locally—but who knew it could have financial pay-offs as well?
Jungle Effect by Daphne Miller, MD
Grab your mosquito net and your whisk. You're about to embark upon a culinary health journey the likes of which no other book offers. Dr. Daphne Miller provides medical evidence of the health benefits from eating seasonally, locally, and organically. We all knew these diets were good for the planet; Miller points out why they are good for people, too. Her travels take place in the world's "cold spots:" regions with little prevalence of diseases like colon cancer, heart disease, or depression. What do their diets have in common with being disease-free?
Garlic & Sapphires by Ruth Reichl
This is the story of a woman making ethical choices as she bravely transforms the field of food writing and restaurant reviews at the New York Times. Her culinary tales act as condiment, bringing zest and depth to the book. This is not the story of a highfalutin food snob. Instead, it is the story of a mother, a wife, a daughter, a friend. She takes risks as a female in a traditionally male profession. She goes to great pains to hide her position of authority as an important food critic in order to reveal the treatment of ordinary people in the city's finest restaurants. She even eats in ethnic restaurants off the five-star circuit—a new twist for the newspaper.
Simply written and hard to put down, Heirloom depicts the challenges organic farmers face, and also the passion that drives them to toil on. It is both glory-filled and heart-breaking simultaneously. Stark illustrates the heroic qualities in all organic farmers and the sacrifices made to eke out a living—and to bring those gorgeous, rainbow heirloom tomatoes to the local farmers market.
Mindless Eating by Brian Wansink
This is an eye-opening account from a professor who studies consumer eating behavior. You'll learn how restaurants trick you into eating faster so they can turn more tables in a night, and why putting that bowl of office candy across the room from you might make you eat less. Packed full of research summaries, this book will help you become more awake at the whisk as a conscious eater.