With the exception of wearing green so I wouldn't get pinched, I didn't grow up celebrating St. Patrick's Day. I always lumped it in with Valentine's Day as one of those optional holidays.
You can imagine my surprise when my husband and I first moved in together and he asked me if I could make soda bread and corned beef to celebrate the luck o' the Irish. I had never heard of soda bread, and I certainly didn't know how to make corned beef.
I gave it my best—to his utter disappointment. The soda bread recipe I found didn't taste like his mother's. The cut of corned beef I'd acquired was too fatty.
Eventually, I learned to make a good veggie Ruben sandwich (it's basically Swiss cheese and sauerkraut on rye). I pair it with great beer, and that's about as complicated as our St. Patrick's Day tradition gets.
This year, I'm excited that St. Patrick's Day lands on a Saturday. The weekend allows me to sport the best of the three Irish recipes I make: Irish coffee. It's a warm drink usually served with breakfast.
If you've never tried Irish coffee, allow me to introduce you to this luscious, velvety drink. Coffee's strong backbone becomes subdued under feathery whipped cream kissed with sugar.
I'm certain that my knack for making this tasty smooth beverage has made up for my husband's disappointment in that first failed St. Patrick's Day meal. Pour one for yourself and you'll understand what I mean!
Tips for success: use real whipping cream (not the frozen junk), and real, quality Irish whiskey. They make or break the ideal Irish coffee.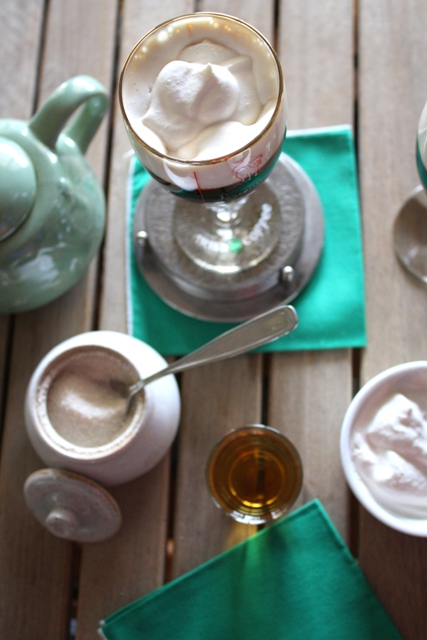 Irish Coffee Recipe
2 Tablespoons Irish whiskey
½ cup hot, strong, black coffee
2-3 Tablespoons whipped cream
1-2 teaspoons sugar
Add whiskey to a small cocktail glass. Add hot coffee, about ½ cup, or until it reaches to within one inch of the rim of the glass.
Add sugar and stir to dissolve.
Top off the glass with whipped cream, which should float on top. Do not stir after adding the whipped cream! This drink tastes best when the coffee and whiskey are sipped through the cream.
Yield: one drink.
Irish toast: If you're enough lucky to be Irish… You're lucky enough!
Looking for more Irish recipes for St. Patrick's Day? Here are some recipes from my friends in food:
Andrew has a gluten & dairy-free Irish soda bread recipe on Eating Rules.
Marie has an easy soda bread recipe on Meandering Eats.
The Rowdy Chowgirl has a version of Irish coffee that uses brown sugar.