If you really love someone, you'll feed them Huevos Rancheros for breakfast. It's one of those simple dishes that provide so much joy: eggs over easy resting on a bed of black beans, melted cheese, ranchero sauce, and corn tortillas. How does something so easy fulfill so deeply?
The secret, as always, is in the sauce. And everyone has their favorite. Huevos Rancheros can be made with your favorite jar of salsa, or your mother's famous recipe. Pick the one you like best, and you're destined for success. I like to switch mine up. Some days, I'm feeling like a tomato salsa. Other days I'm feeling green: green chile, that is.
In its authentic Southwestern style, Huevos Rancheros is served with ranchero sauce (hence the name). That's what I use in this recipe. But please feel free to use whatever salsa makes you smile.
Huevos Rancheros Recipe
4 corn tortillas
1 cup ranchero sauce or your favorite salsa
1 cup black beans, cooked
½ cup shredded jack cheese
4 organic eggs
1 green onion, diced
Salt & pepper to taste
Farmers' Market ingredients: corn tortillas, cheese, eggs, onion
Supermarket ingredients: black beans, salsa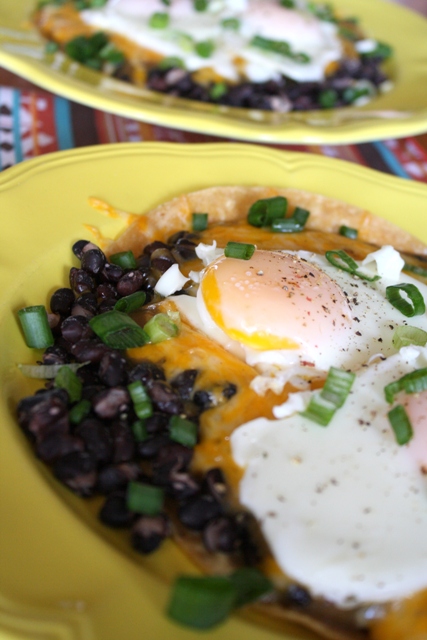 Preheat oven to 425 degrees.
Heat a skillet over medium heat. Dry roast the corn tortillas on the hot skillet for about 10 seconds on each side to warm through. Keep them warm between the folds of a towel while you heat the others.
Using two oven safe dinner plates, place 2 warm tortillas on each. Cover each set of tortillas with a half cup of the ranchero sauce, followed by a half cup of beans and ¼ cup of shredded cheese. Place plates in preheated oven for 8 minutes, or until cheese is melted. Using potholders remove from oven and cover lightly with foil to keep warm.
In a stovetop skillet, cook the 4 eggs over easy. Place two cooked eggs on each plate atop the loaded tortillas. Sprinkle with the chopped green onion, and salt and pepper to taste. Serve.
Yield: 2 tasty, tasty servings