Have a holiday cup of cheer! This spicy cider punch is sure to perk up your season. While Jack Frost nips at your nose, courageous cardamom pods, snappy cinnamon sticks, and bold cloves will warm your belly—and your fingers wrapped around a steamy mug.
Seasonal spices add jazz like a Bing Crosby melody to a blend of apple cider, dark rum, and orange Peko tea with a sweet kiss of brown sugar.
This punch is packed with history, too. Punch originated in India and came to England in the early 17th century. A traditional Hindi panch was made with alcohol, sugar, citrus, water, tea, and spices. Just like the original punch, this recipe contains all of these classic ingredients.
You'll be running under the mistletoe with glee after sipping this inspiring holiday spirit!
Hot Spiced Rum & Apple Cider Holiday Punch Recipe
6 cups water
6-8 orange Peko tea bags
1 Tablespoon cardamom pods
½ Tablespoon whole cloves
2 cinnamon sticks
3 Tablespoons packed brown sugar
6 cups apple cider
4 cups spiced rum, such as Captain Morgan's
Place tea bags in a large pitcher or bowl. Boil 6 cups of water and pour over tea bags. Add cardamom pods, whole cloves, and cinnamon sticks to the tea. Steep for 5 minutes.
Pour the tea through a fine sieve into a crock pot (if serving warm) or punch bowl (if serving cold).  Discard tea bags and whole spices.
Stir brown sugar into the warm tea until dissolved. Add apple cider and rum.
If serving cold, add ice to the punch bowl and serve. If serving hot, place a lid on the crock pot and heat on low for about 15 minutes before serving.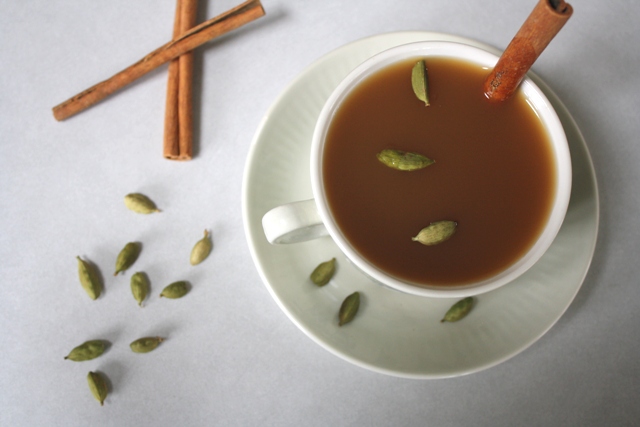 This tea recipe was chosen as the winner in a recent recipe contest at one of my favorite Sacramento bars (and vintage shop), Bows & Arrows. They will serve the punch during the holidays. Cheers!
Looking for more holiday drinks?
Loaded Kitchen makes a vodka apple and cinnamon cocktail.
Rock UR Party makes a Meyer lemon hot toddy.
Two Tarts mixes pomegranate with champagne.