September is Food Literacy Month. The nonprofit I founded, California Food Literacy Center, is celebrating—and so am I! Last week, the California Senate declared the month Food Literacy Awareness Month in the state. A week prior, the assembly also passed the resolution, sponsored by our nonprofit and authored by Assemblymember Roger Dickinson.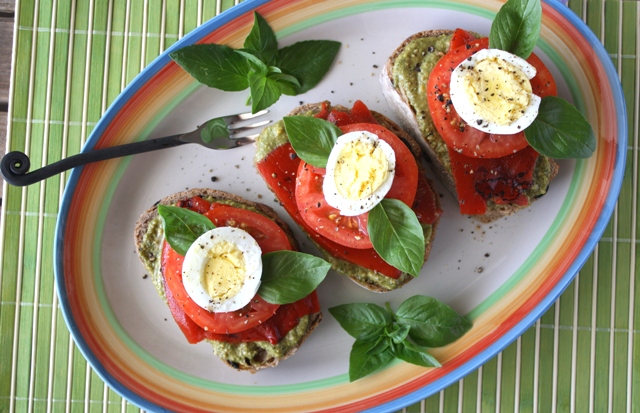 Yeah, it's a pretty big deal for food literacy! This means that across the state, leaders are beginning to recognize the importance of understanding the impact of your food choices on your health, environment, and community.
These are the issues I've been blogging about since 2008, and last July, I decided to take this effort a step further by starting a nonprofit that educates kids about food literacy.
In a state with a 38% child obesity rate, this type of education is more critical than ever. With childhood obesity comes some very serious diseases that once mainly affected adults: diabetes and high blood pressure. A child with high blood pressure? It's unacceptable.
And now, more and more people are doing something about it.
This month, bloggers around the country will be making "Food Literacy Sandwiches" to get people thinking about these issues—and how important it is to vote with your food choices.
Vote for better health. Vote for a greener planet. Vote for a more sustainable community. You can do all this with the simple choices you make about the toppings on your humble sandwich.
Consider: if you buy the bread for your sandwich from the farmers market, those dollars stay in your community. In this struggling economy, what a simple way to make a big difference! In fact, according to local food advocate Joanne Neft, dollars spent locally circulate the community five times, as opposed to dollars spent at a big box store, which circulate only twice.
Your food choices also affect the planet. If every American ate just one meal a week using local, organic foods, we could reduce oil consumption by over 1.1 million barrels of oil every week, according to Animal, Vegetable, Miracle by Barbara Kingsolver. A simple food literacy sandwich once a week is an easy way to meet this goal!
Importantly, our food choices impact our health. There are many reasons to eat more fruits and vegetables. Among them, according to the USDA, diets rich in foods containing fiber, such as some vegetables and fruits, may reduce the risk of heart disease, obesity, and type 2 diabetes.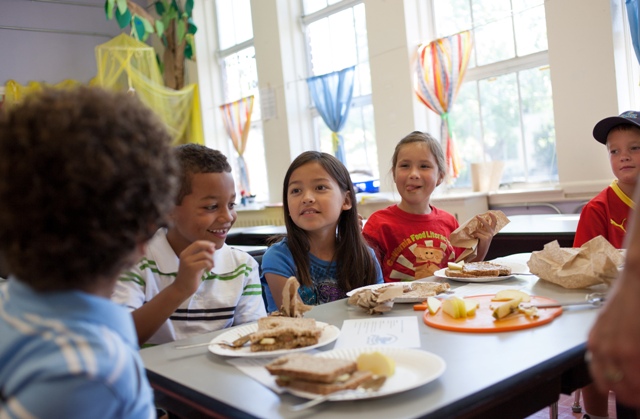 Kids enjoying a food literacy cooking lesson.
Convinced yet?
Perhaps the most important reason to vote with your food choices?—taste! Eating fresh, locally grown foods just tastes better. And there's no better reason than that!
Please join us in celebrating Food Literacy Month!
My Food Literacy Sandwich features fresh vegetables from my garden, a homemade basil pesto, and hard boiled farm egg. I like to serve my sandwiches open-faced, because I hate to hide the beautiful seasonal ingredients behind a second layer of bread. Plus, I find them easier to eat, and quite lovely for presentation.
This sandwich is an ideal example of how easy it is to eat sustainably. This meal is good for you, good for the planet. I've broken the recipe instructions into activities for adults and those for kids, because I hope you'll grab a child and cook this together.
Food Literacy Sandwich: Garden Pesto Tomato & Egg Recipe
Ingredients:
4 slices artisan bread
4 Tablespoons basil pesto
1 large, roasted & peeled red bell pepper
1 large tomato
1 hardboiled egg
8 basil leaves
Salt & pepper to taste
Farmers market & garden ingredients: bread, pesto, pepper, tomato, egg, basil
Supermarket ingredients: salt, pepper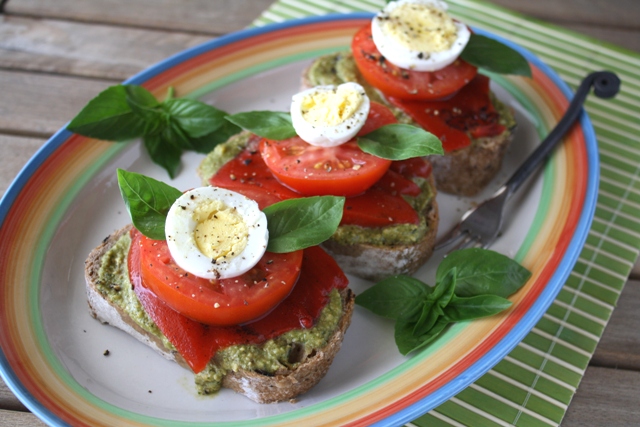 Instructions for adults:
Hard boil the egg. Allow kids to peel the egg, and then adults slice it into 4 thin slices. Cut the bread into 4 slices. Slice tomato into 4 thick slices. With all the ingredients prepped, allow children to help assemble.
Instructions for kids:
Place one slice of bread on a plate. Top with 1 Tablespoon pesto and spread evenly over the bread. Lay one slice of bell pepper on top of the pesto, followed by one slice of tomato and one slice of egg. Use two basil leaves as garnish to make the egg look like a flower. Sprinkle lightly with salt and pepper.
Repeat with the remaining ingredients to make 4 sandwiches.
Yield: 4 Food Literacy Sandwiches & 1 fun serving of education