Spring has sprung, and with it arrives one of Sacramento's shining stars: farmers' markets! From now until October, we can enjoy shopping for our groceries in the wonderful outdoors under the beaming Sacramento sun, chatting with friends, and tasting some of our nation's freshest produce.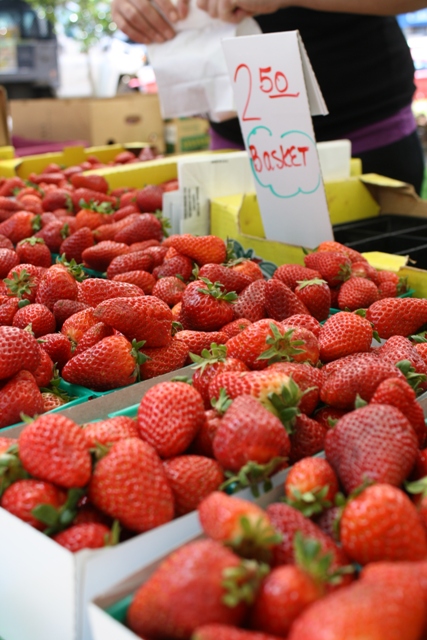 If you're lucky, you can also hop on a tour around Cesar Chavez market with one of Sac's best chefs, Oliver Ridgeway of Grange Restaurant. His "Follow the Chef" tours include guided introduction to market farmers, tips about what to do with the seasonal produce, and culminates in a farm to table lunch at the Grange. Last week marked the official start of the Follow the Chef tours, conducted every Wednesday at 11a.m.
Chef Ridgeway, a recent arrival with culinary experience spanning from England to New Mexico to New York, made Sacramento his home last fall. While he hasn't experienced a full annual cycle of harvests to be able to answer agricultural questions about California's bounty, his passion for eating local is clear.
"I love that I have access to everything!" he says. "I have access to farmers, and can get miner's lettuce and things that don't come to the market because we have a relationship with the farmers."
While cooking in New York, Chef Ridgeway recalls using California produce on their restaurant menus. Now, he has the chance to meet those growers face to face, right across the street from the Grange.
"Knowing where my food comes from gives me a sense of place," says Ridgeway. "What you do [as a chef] in Sacramento is embrace where food is coming from. That dictates my menu. The fresh ingredients tell me what to make."
As we walk, Chef Ridgeway provides tips for buying the best spears of asparagus. He passes samples of strawberries for the group to taste. He answers questions from other market shoppers, who instantly light up when they see a man in a chef's coat willing to answer their culinary questions. He's open, personable, and only a little nervous as 10 food writers snap endless photos.
Back at the Grange, Chef Ridgeway's meal (which I was invited to taste gratis as part of a media tour) stood firm to the high standards Sacramento has come to expect of the restaurant. You're not at the Grange if you're salad doesn't have some extraordinary and unusual seasonal element, like the delicate pea shoots, (flowers included), we were served. What a fabulous use of the entire, tasty plant!
The main course of crispy Mt. Lassen trout was perfectly cooked and served with seasonal greens, beans, and a paprika sauce that coated the entire dish with rich, full flavor.
Dessert burst with Meyer lemon curd and flaky pastry—the ideal compliment to an outstanding meal.
If you have guests visiting Sacramento, you simply must invite them to the Grange for a Follow the Chef afternoon. There is nothing more "Sacramentan" than our farmers' amazing food—made even grander at the hands of Chef Ridgeway.
Looking for other farm to table events?
Jubilee Farm Pig Roast featuring Chef Brad from the Grange at the Oak Park farmers' market this Saturday, May 12.
Dinner on the Farm, a charity benefit for the Center for Land Based Learning this Saturday, May 12. Features Ruhstaller beers.
Urban Ag Fest to benefit Rosemont High School Green Academy on June 9.