Hello, color! Want to put some spark on your plate? Ignite some passion with this refreshing and simple dish.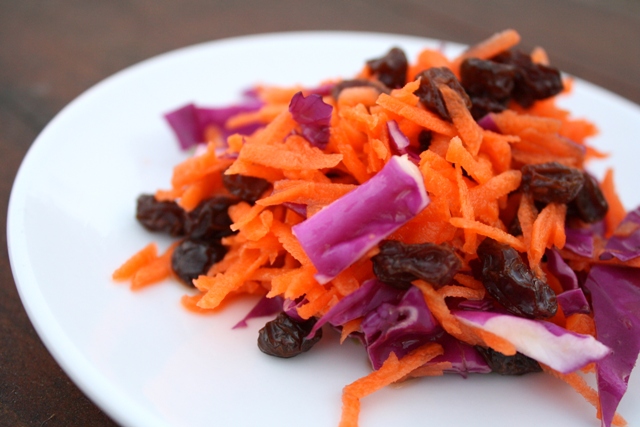 I grew up eating this salad. As a picky child, I might have turned my nose up at the thought of salad, but when my mom put this happy ditty on my plate, I gobbled it up gleefully.
Crisp, subtle purple cabbage meets sweet carrot and tubby, plum-rich raisins—all doused in a rain of golden orange juice for a fully fresh, vibrant salad that's as much color as it is flavor.
Double bonus: every ingredient here is grown by a California farmer. Win!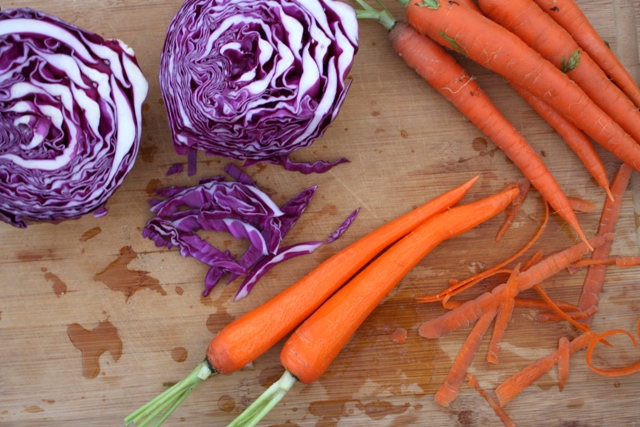 Farmers Market Carrot & Raisin Citrus Salad Recipe
4 medium carrots (2 cups), peeled and grated
2 cups (half a small head) purple cabbage, thinly sliced
1 cup raisins, organic
¼ cup orange juice, or juice from half a large orange, squeezed
Farmers' market fare: all ingredients!
Put all the ingredients in a medium serving bowl. Toss together. Serve.
Yield: 6 side salads
Want more carrot recipes?
Dianasaur Dishes combines beets and carrots.
Food Blogga roasts carrots.
Find a carrot and toasted almond salad at Laura's Best Recipes.