Bring the color of the farmers market into your kitchen with the help of Joanne Neft and Laura Kenny's new cookbook, The Art of Real Food: Seasonal Recipes for Every Week of the Year.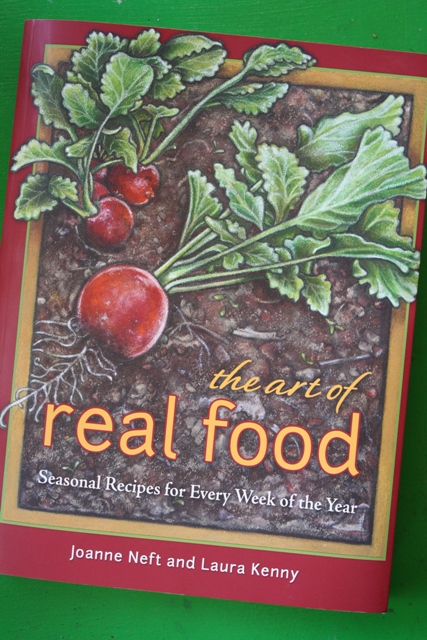 Neft and Kenny were an immediate success with their first cookbook, printed in 2010, Placer County Real Food. Their recipes became synonymous with farm-to-table and locavore cooking. Back by popular demand, their second cookbook continues their practical approach to delicious, wholesome cooking.
As much as it is a cookbook, The Art of Real Food is also an education in how to cook with fresh produce. Neft recognizes that we "have two entire generations of eaters who do not know how to cook." Thus, her cookbook offers advice on what to look for when buying carrots, how to roast a pepper, and of course, how to cook all those tasty market treats.
The book highlights one type of farm fare for each week of the year. Everything from nuts and eggs to chicken, fruits, and veggies are offered up in full color photos and artistic drawings, making for an eye-appealing read.
"Before we lift a fork to our mouths, we've already tasted the food with our eyes. That's why Laura and I incorporate lots of color into a meal," writes Neft. "I liken it to choreographing a dance on the plate."
Neft's words inspire instead of preach, an approach that has earned her great applause. She can't go out in public without bumping into someone who recognizes her from the book. She has stacks of letters and emails from readers who claim to have changed their lives and health simply by using her recipes to eat more fresh food from the farmers market.
Neft credits her grassroots approach to this success. "Given the nation's increasing dependence on experts to tell us what to eat, who is talking—we, the people—is especially significant," she writes.
So, you won't find her lecturing inside these pages. Instead, you'll find her encouraging you to add a little "love" to your dishes. "Everything is good in moderation is our code, and this includes rich cheeses, cream sauces and chocolate, all of which we refer to as 'love.' Add extra love to special occasion dishes, but not as an everyday occurrence," writes her partner-in-cooking, Kenny.
Prepare to dine on an Open-Faced Egg Salad Sandwich, Mushroom Soup, Salmon Ceviche, Chili Verde, Chocolate Beet Cake, and Carrot Cookie Sandwiches with Honey Frosting. These are just a sampling of the simple, palette-tempting recipes you'll find in this stunning new cookbook by Neft and Kenny.
For a sample recipe from The Art of Real Food, visit California Food Literacy Center's website.