Los Dias de los Muertos is a holiday traditionally celebrated in Latin American countries to honor the dead. Many people cook favorite dishes of those they wish to honor. Moles are a common feature in a Day of the Dead feast.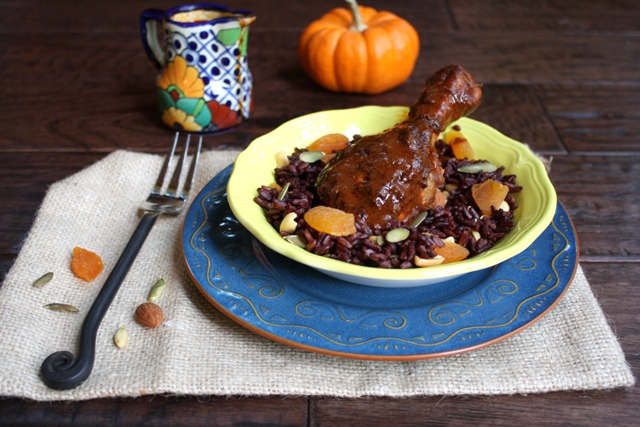 My first Day of the Dead party was with a nonprofit providing education and microloans around the world. Our staff had global roots and behaved more like a family than a group of work colleagues. I hadn't even started the job, yet I was invited to celebrate with them.
Everyone brought something to place on the altar. There were dozens of photos of lost loved ones. We were all invited to share happy memories while feasting on a potluck the staff provided. The food had been prepared with thought, each delicious dish a family favorite.
This wonderful feast, which I had been invited to as a guest, was my first experience of what would become one of the most rewarding jobs I've ever had.
I wanted to create a Day of the Dead dish that honors the careful planning that goes into a well-loved meal. I also wanted to celebrate the cycle of life and the harvest of Northern California's fall treasures, including almonds, pumpkin seeds and rice. The nuts and dried fruits I've added to the rice echo the elements used to make a perfect mole sauce.
Mole sauce isn't easy to make. The best recipes can take days. Or, you can stop in to your favorite Mexican restaurant and ask them to sell you a few cups of their mole sauce. That's what I did. This allows me to not only honor those we've lost while preparing a beautiful meal, but importantly, saves more time to spend with loved ones still around to enjoy a smile and a meal.
My good friends at Hinode purchased this recipe from me, because they're as fond of travel and good food as I am. I'm grateful for their continued support of my efforts to share local food with my readers.
Happy Day of the Dead!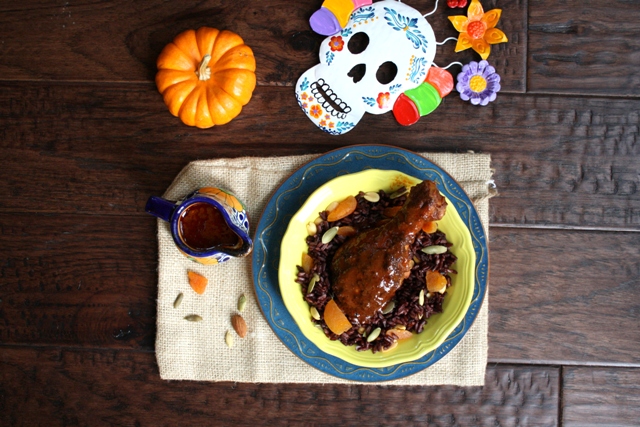 Chicken Mole with Fall Harvest Rice Recipe
Serves: 4
Preparation time: 10-15 minutes (plus 1 hour for baking)
Cooking time: 50 to 60 minutes
Ingredients:
1 1.5-lb package, or 5-6 chicken drumsticks
2 cups mole sauce
2 cups cooked Hinode white or black rice
1/4 cup whole, raw almonds
1/4 cup whole unsalted pumpkin seeds
1/2 cup chopped, dried apricots
Salt and pepper to taste
2 teaspoons crushed red pepper flakes, optional garnish
Farmers market ingredients: chicken, almonds, pumpkin seeds, apricots
Supermarket ingredients: mole sauce, rice, spices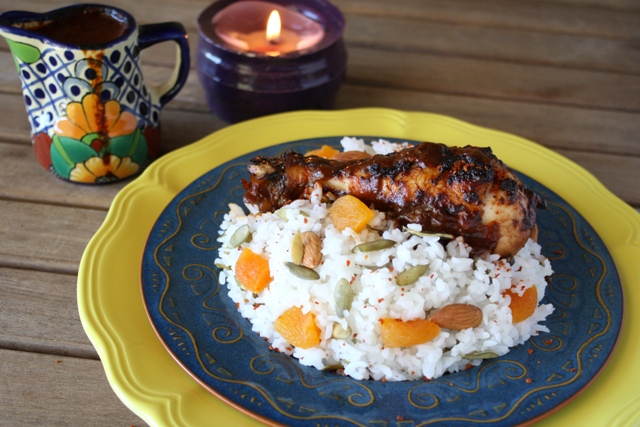 Instructions:
Preheat oven to 375 degrees.
Place the chicken drumsticks in an 8-inch oven-proof baking dish. Cover with mole sauce. Place in preheated oven for 50 to 60 minutes, or until the internal temperature of the chicken reaches 170 degrees. Remove from oven and cool for about 5 to 10 minutes. Skim chicken fat from surface of mole sauce and discard.
Cook rice according to instructions on package. Fluff cooked rice with a fork and measure 2 cups into a mixing bowl. Stir in almonds, pumpkin seeds, apricots, and salt and pepper to taste. Place 1/2 cup of the rice mixture on a plate. Top with one chicken drumstick and sprinkle with crushed red pepper flakes, if using. Repeat with remaining rice mixture and chicken. Pour remaining mole sauce from baking dish into a sauce pitcher and serve with the meal.
Tips: You can purchase mole sauce mix in the Mexican aisle of your local grocery store, or you can purchase fresh, homemade sauce from a local Mexican restaurant.
Variations: This recipe uses unsalted nuts to reduce the amount of sodium in the recipe. You could substitute salted nuts.
Looking for other mole recipes?
David Lebovitz makes an easy chocolate mole sauce.
Leite's Culinaria makes a beautiful pumpkin seed mole.
Closet Cooking makes "enmoladas" or mole enchiladas.