This summer treat is so easy to make—and you don't even have to turn on your oven. Farmers' market cherries pop from every market stand this time of year, and their bold sweetness needs very little dressing up.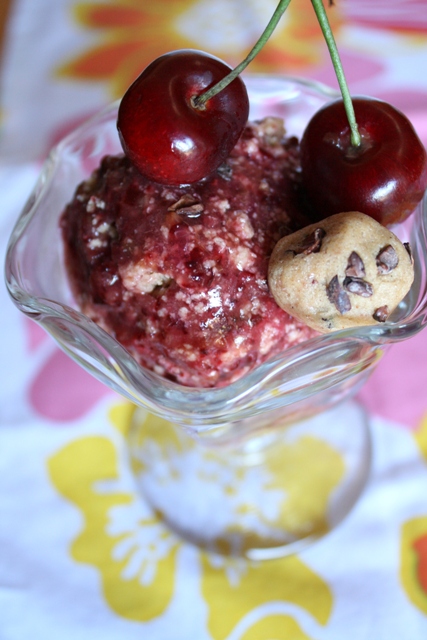 Cherries also pair nicely with dark chocolate, so I added another childhood favorite: cookie dough. I have been known to make my share of cookie recipes in which only half the dough made it to the oven to become a real cookie. How can anyone resist?
Imagine my delight when the witty folks at Quirk Books asked me to take part in a campaign to celebrate their newest publication, The Cookie Dough Lover's Cookbook by Lindsay Landis, who also blogs at Love and Olive Oil. My task: come up with a recipe based on Landis's cookie dough recipe. If you'd like a copy of this new book, read on. Contest details are at the bottom.
Landis's book is anything but farm to table. This is a book for fun-loving foodies who want to bring their inner child out to play. She manages to take cookie dough to places no one before might have imagined.
Cookie Dough Swirl Mashmallows and candies tempt you right into the first chapter. Cookie Dough Whoopie Pies ooze with cookie dough cream. Cupcakes offer a hidden bite of cookie dough filling. Crème brûlée dances atop a base of cookie dough.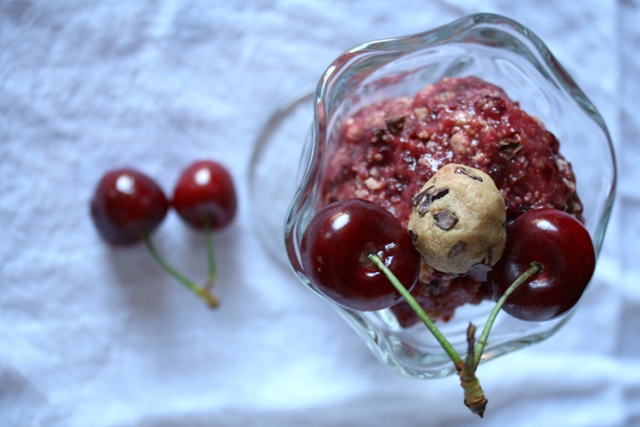 Yet, the fun doesn't end there! Landis provides cookie dough ice cream recipes, cookie dough milk shakes, ice pops, and even breakfasts studded with the sweet brown sugar dough. Landis builds a world where you're allowed to eat cookie dough stuffed between two pieces of French toast!
Even for the granola-crunchy locavores like me, Landis doesn't disappoint. She's got an Oatmeal Raisin Cookie Dough Granola Bar! It's a wonderfully playful cookbook that is sure to bring joy to your kitchen—no matter your diet. Did I mention her cookie dough is eggless? That's right: it's raw, vegan cookie dough if you sub the milk for almond milk.
If the cookie dough recipes don't pull you in, the whimsical and cheery full color photos will. They are gorgeously styled and oh-so tempting!
I decided to go locavore with Landis's concept. On a visit to my farmers' market, I found whole wheat flour, walnuts, freshly churned European style butter, and newly picked organic cherries. All these seemed like the perfect partners for a cookie dough recipe.
With temperatures climbing into the 90s this week, I opted to take the raw dough opportunity to leave the oven off for this quick treat. You'll have lots of cookie dough left over, which keeps about 3 days in the fridge. Pair it with other seasonal fruit, nuts, and cheese from the market for a fun addition to a traditional cheese plate.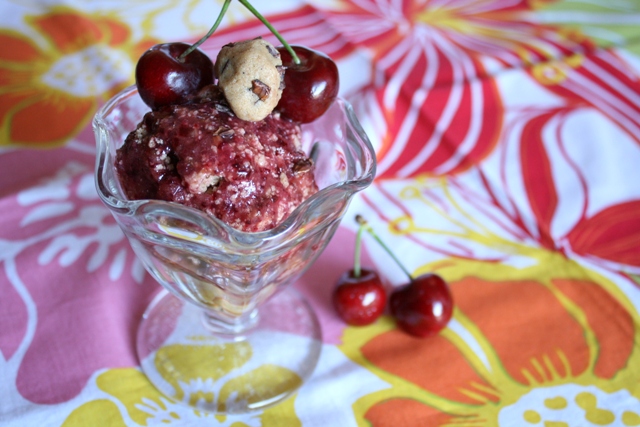 Cherry Ice with Cocoa Nib Cookie Dough Recipe
Cherry Ice Recipe
2 cups organic cherries, pitted
2 teaspoons organic sugar
Cocoa Nib Cookie Dough Recipe–adapted from The Cookie Dough Lover's Cookbook
1/2 cup unsalted butter, room temperature
1/4 cup organic sugar
1/2 cup organic brown sugar, packed
2 Tablespoons milk or cream
1 teaspoon vanilla extract
1 cup whole wheat flour
1/4 teaspoon salt
1 teaspoon ground cinnamon
3 Tablespoons cocoa nibs
1/4 cup walnuts, chopped
Instructions:
Place pitted cherries on a baking sheet in the freezer. Freeze for 8 hours.
Make cookie dough. Cream together butter and sugars with a fork until smooth. Stir in milk and vanilla and blend until smooth. Add flour, salt, and cinnamon and blend until smooth. Stir in cocoa nibs and walnuts.
Make the cherry ice. Place frozen cherries in a food processor with 2 teaspoons sugar. Process until cherries are smooth with small chunks of cherry flesh. Add 1/2 cup cookie dough and pulse for a few seconds to blend.
Serve immediately topped with extra cookie dough and fresh cherries. This ice cream melts quickly. I add a few extra drops of cookie dough to the bottom of an ice cream dish to soak up the fresh cherry juice as it melts.
Yield: 2 cups cherry ice
Win a Copy of the Cookbook
Leave a comment on this post telling me what your favorite addition is to cookie dough. Chocolate chips? Cocoa nibs? Leave your comment, and I'll announce a winner on my Facebook page on Sunday, June 10 at 2pm PST.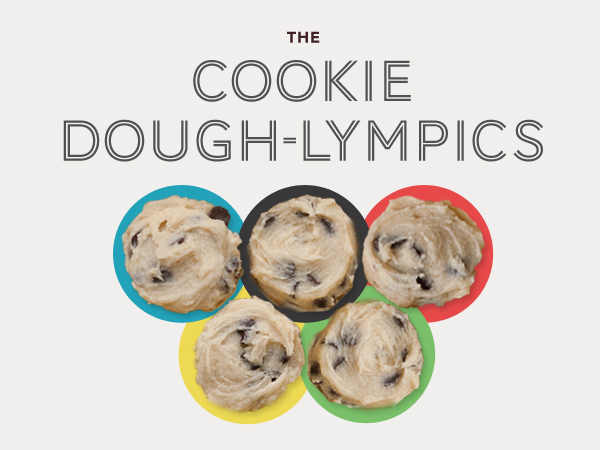 Find out what other bloggers are doing with Landis's cookie dough in a month-long extravaganza of doughy bliss:
6/4:    Bakeorbreak.com, @bakeorbreak
6/5:    Queensnotebook.com, @Mango_Queen
6/6:    Cherryteacakes.com, @cherryteacakes
6/7:    ForgivingMartha.com, @forgivingmartha
6/8:    Endless Simmer, @endlesssimmer
Week Three
6/11:  The-baker-chick.com, @lebakerchick
6/12:  BigGirlsSmallKitchen.com, @BGSK
6/13:  RaspberryEggplant.blogspot.com, @rspberryeggplnt 
6/14:  Erinsfoodfiles.com, @erinsfoodfiles
6/15:  Fieldsofcake.com, @fieldsofcake
Week Four
6/18:  Neverhomemaker.com , @neverhomemaker
6/19:  BakersRoyale.com, @bakersroyale
6/20:  Wearenotmartha.com, @wearenotmartha
6/21:  ConfessionsofaRecipeJunkie.com, @arecipejunkie
6/22: Icancookthat.org