In Sacramento, two modern day traditions mark the changing of the seasons. You know summer is just around the corner when the Cesar Chavez farmers' market opens downtown and The Grange begins its market tour luncheons.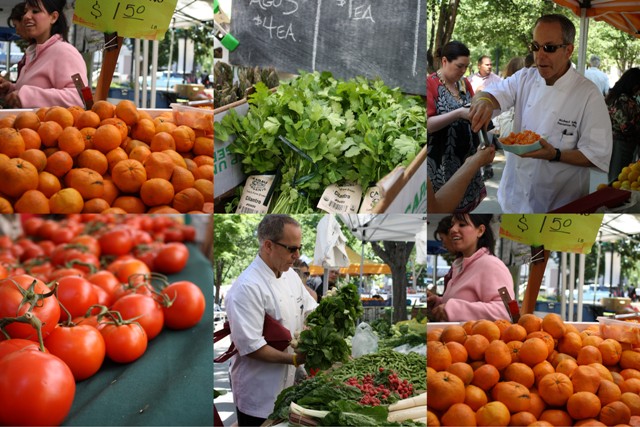 Last Wednesday marked this joyous occasion, and I was invited to join in the merriment. The sun had finally warmed to 80 degrees as a small crowd of hungry local food fans gathered at The Grange. Executive Chef Michael Tuohy kicked off the season with a passionate overview on the importance of eating locally and a brief history of the restaurant, which opened in 2008.
When Tuohy was first offered the job as top chef at the restaurant and learned about the farmers' market across the street, he was hooked. "It's the next best thing to having your own farm or garden," he beams.
Indeed, Tuohy treats the market as his own. As we leave the restaurant and cross the street, we're in his "front yard." He knows this market by heart. As we walk from one farm stall to the next, he points out the gaps.
"This is where Patrick's Garden from Placerville usually sets up," Tuohy tells us. He explains that this particular farm resides at a higher elevation, and that the weather hasn't warmed enough to ripen their spring crops. He talks about weather patterns and its effect on harvests. This is a chef who prides himself on understanding farming conditions, the seasons, and eating locally.
Tuohy leads our little group around the market, stopping at each stand to greet the farmers and describe their wares. He passes out samples, fills bags with lush produce, and offers suggestions about preparing the raw ingredients.
Crisp, white radishes go into his bag, petite patty pan squashes, and aromatic green garlic. He orders a case of balsamic vinegar from Bariani Olive Oil. He asks to taste some hot house ripened tomatoes from another farmer. He knows this isn't tomato season and is leery. After tasting, he describes his bite: overly watery, mealy, and lacking flavor. He decides to wait until tomato season—when the sun will fully ripen the fruits to bursting.
We pass a stall selling cherries. The first of the season! Excited hands dive into the bin and fill bags. A few moments later, we round the bend of the market and come upon an organic vendor selling better quality cherries for the exact same price. Tuohy offers sage advice: if you have time, make a loop of the market to scan what everyone is selling. That way, you won't end up buying lesser quality produce from the first place you find it.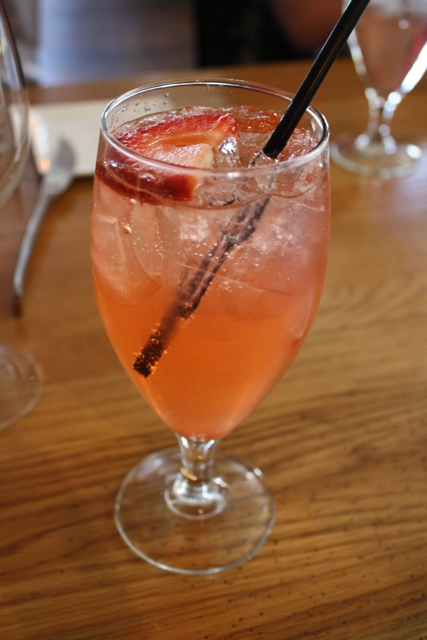 After an hour, our group heads back to The Grange and the chef disappears into the kitchen. We are handed over to a friendly and capable waiter who explains the beverage menu that is included with our tour. I select the sparkling rhubarb and strawberry spritzer, non-alcoholic, sweet, and refreshing. Better than a soda pop!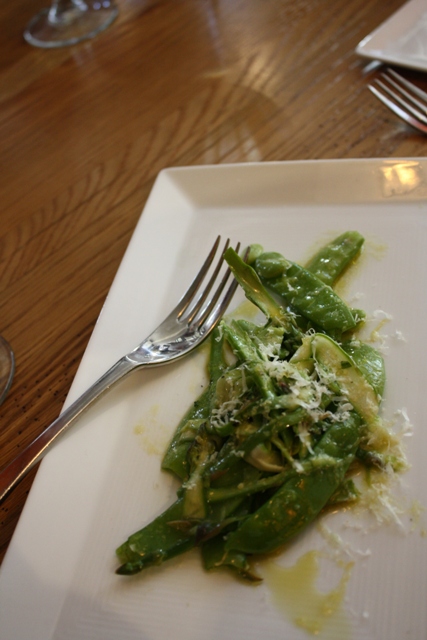 The farm tour lunches include three courses: salad, entrée, and dessert. Chef Tuohy emerges from the kitchen to present each one and answer any questions. Our salad highlights the best of spring. Shaved asparagus, edamame, and pea shoots offer crisp bites under a zest of fresh citrus juice rounded with earthy olive oil.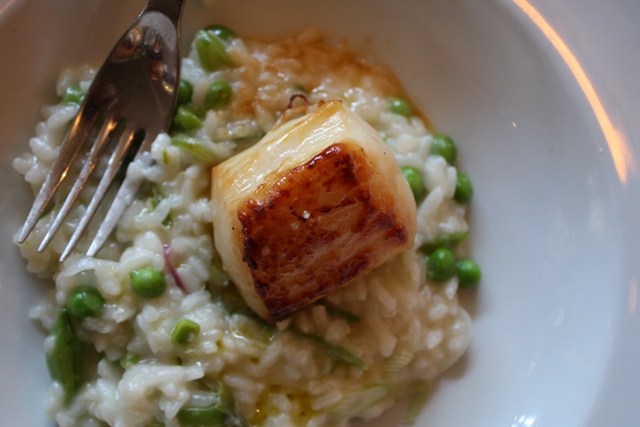 Our entrée, a creamy risotto studded with the pop of bright peas and topped with a single, expertly seared scallop, compliments the season. For dessert: a delightful strawberry rhubarb tart topped with homemade whipped cream nestled in a shell that has just the right flake and firmness.
This farmers' market tour and lunch showcases the best of Sacramento—our farms, our produce, and one of our best restaurants. It's a celebration of our city. If you haven't yet experienced this tour, sign yourself up immediately—it sells out quickly. Better yet, if you have out of town visitors, bring them along. They will quickly understand why we Sacramentans love this town!