It's Cinco de Mayo! Time for margaritas, guacamole, and fish tacos! Here's a Cinco de Mayo menu plan that will leave you saying "İGracias!"
In an effort to continuously reinvent one of my favorite dishes—fish tacos—I've placed them in a soft corn masa sope. I added the first hot-house ripened peppers of the season, marinated and grilled with onions.
Pair this meal with a margarita and some guacamole for the perfect fiesta!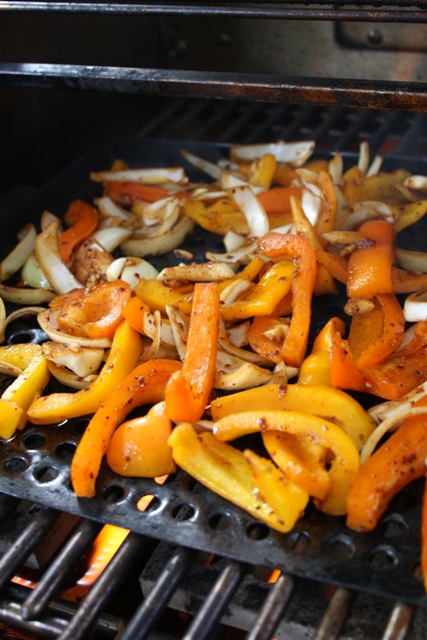 Blackened Salmon Sopes with Grilled Peppers & Onions Recipe
Ingredients:
Juice from 1 Meyer Lemon
4 Tablespoons olive oil
4 Tablespoons soy sauce
4 garlic cloves, minced
1 Tablespoon red pepper flakes
2 teaspoons freshly ground black pepper
2 teaspoons ground cumin
1 lb wild Alaskan salmon
1 orange bell pepper, sliced
1 yellow bell pepper, sliced
1 yellow onion, sliced
1/2 cup sour cream
1/4 cup mayonnaise
2 Tablespoons salsa
2 teaspoons ground cumin
4-8 fresh sopes (you may substitute corn tortillas)
8 Tablespoons guacamole
Optional garnish: chopped cilantro, shredded cabbage, sliced jalapeño, lime wedges
Farmers' market ingredients: Meyer lemon, olive oil, garlic, bell pepper, onion
California-made ingredients: sour cream, salsa
Sustainable Seafood Counter: Alaskan wild salmon
Supermarket food (also sold at Co-op): soy sauce, jalapeños, mayo, spices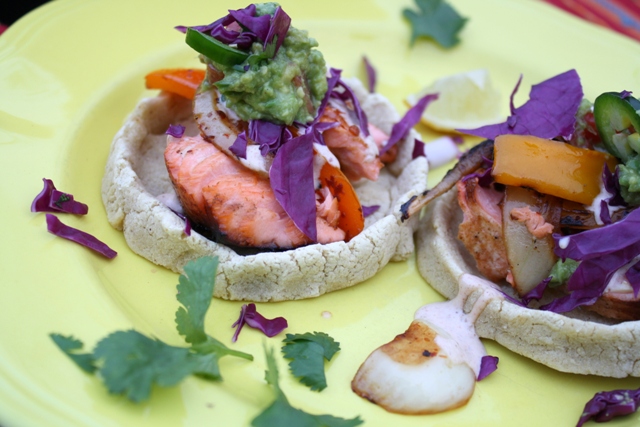 Instructions:
In a large, flat-bottomed container with a lid, combine lemon juice, olive oil, soy sauce, garlic, red pepper flakes, black pepper, and cumin. Pour about half into a large mixing bowl and set aside. Rest salmon skin-side-up in remaining marinade for about 10-15 minutes.
In the large bowl with the additional marinade, place the sliced peppers and onions. Stir to coat the veggies and set aside to marinate for about 10-15 minutes.
In a small bowl, combine sour cream, mayo, salsa, and cumin. Mix until well blended. Set aside.
Preheat grill to 450 degrees. Place salmon skin-side down on the grill and place the lid on the grill. Cook for 4 to 5 minutes, and then flip fillets over. Grill on second side with cover on grill for 4-5 minutes more, until flesh is flaky through the middle. Meanwhile, in a grill basket, grill the peppers and onions for about 2 minutes then stir and grill 1-2 minutes more.
Gently warm sopes over the grill for about 30 seconds per side.
Add 1-2 tablespoons of the sour cream salsa mixture to the bottom of a sope. Add 1/8 to 1/4 of the grilled salmon meat and top with grilled pepper and onions. Garnish with guacamole, jalapeño, cabbage, and cilantro. Repeat with 3-7 remaining sopes. Serve immediately with lime wedges.
Yield: 4 salmon sopes
Serve with blackberry margaritas, Southwest popcorn, and more guacamole.
Learn more about Alaska Seafood.
Find other tasty fish recipes here.
For more Cinco de Mayo ideas, check these links: