This Valentine's Day, mix up a little love potion for your sweetheart. The secret ingredients sure to make your honey swoon?—everything but the vodka is locally grown.
Sweet, juicy citrus are hanging heavy on trees around California right now. With unusually warm weather, the sunshine is calling us to sit outside with a cocktail. It's not often that Valentine's Day feels like a tropical vacation. Take advantage of the sun and citrus with this easy, romantic recipe.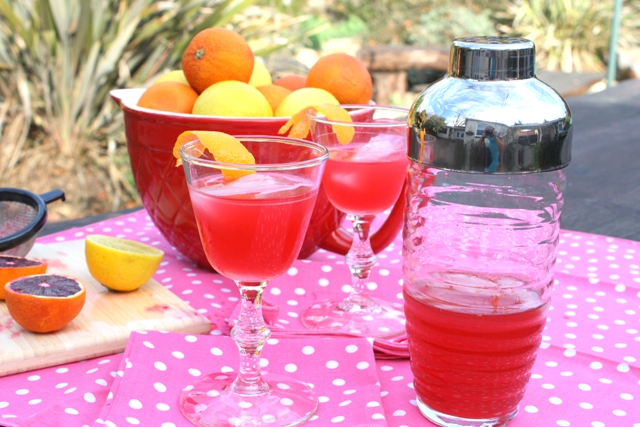 Locavore Love Potion Cocktail Recipe
1 small blood orange, squeezed for the juice
Half of one lime, squeezed for the juice
¼ cup simple syrup
¼ cup raspberry vodka such as Smirnoff; [I use homemade pluot vodka made in summer]
2 strips of orange peel for garnish
Ice
Farmers' market & backyard garden ingredients: orange, lime
Supermarket ingredients: simple syrup, vodka
Combine orange juice, lime juice, simple syrup, and vodka in a cocktail shaker with ice. Shake until combined and chilled.
Pour into two small cocktail glasses. Garnish each glass with a strip of orange peel.
Happy Valentine's Day!
Serves: 2 love birds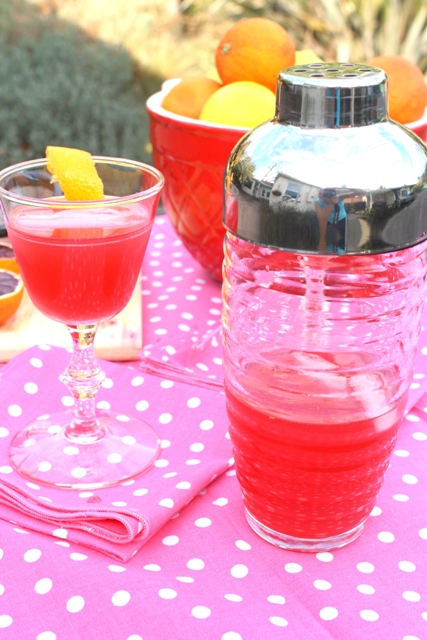 Looking for other Valentine's Day recipes?
Family Fresh Cooking makes chocolate dipped fruit on a stick.
Pinch My Salt stirs up heart-shaped eggs in a nest.
What's Gaby Cooking bakes giant M&M cookies.