Quesadillas are a great way to enjoy the fresh flavors of summer vegetables. Topped with the first ripe heirloom tomatoes of the season and stuffed with chewy cheddar cheese curds, earthy mushrooms and squash blossoms, all wrapped inside a bold chipotle tortilla—this is a fast and easy summertime meal. All the ingredients come from the Sacramento downtown farmers market.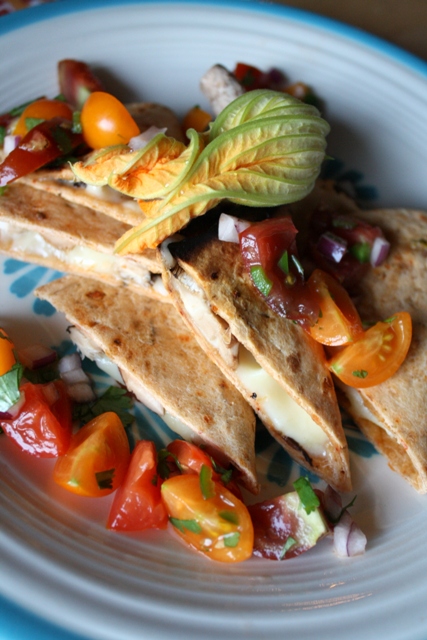 Squash blossom, Mushroom and Cheddar Cheese Curd Quesadilla
Ingredients:
For the Heirloom Tomato Pico de Gallo:
2 cups heirloom tomatoes, diced
1-2 teaspoons finely chopped jalapeño pepper, optional
1/4 cup chopped red onion
2 Tablespoons chopped cilantro
Juice from half a lime
For the Quesadillas:
4 chipotle tortillas
8 squash blossoms
8 shitake mushrooms, sliced
1 cup cheddar cheese curds
Farmers market ingredients: all
Instructions:
First, make the salsa. Combine all the pico de gallo ingredients in a medium bowl and stir to mix. Set aside.
To make the quesadillas, lay tortillas flat and top each with 2 squash blossoms, 2 mushrooms, and 1/4 cup cheese. Fold tortilla in half and place on a preheated grill or stovetop until tortilla starts to brown, about 4 minutes. Flip over and grill on the second side for an additional 4 minutes, or until tortilla starts to brown. Remove from the heat.
Top each quesadilla with pico de gallo. Serve.
Yield: 4 servings.