It's National Grilled Cheese day this Thursday. With this grand weather, why not pull out your grill and whip up this tasty sandwich over the flame!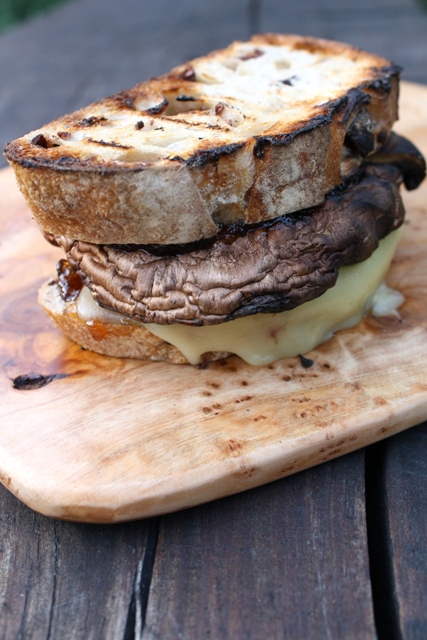 This grilled cheese recipe takes classic ingredients, adds some heat and meaty mushrooms, a touch of sweet, and leaves you with a gooey, chewy, and hearty sandwich. The best sandwiches are those that require a large, cloth napkin to continuously catch the drippy, sticky goodness. Consider this a 2-napkin sandwich.
I'm using Tillamook cheese here, because the fine folks there sent me some sliced cheese to sample in celebration of all things grilled cheese. I'm fond of their West Coast brand, because they have a commitment to never using milk from cows treated with growth hormone or given antibiotics.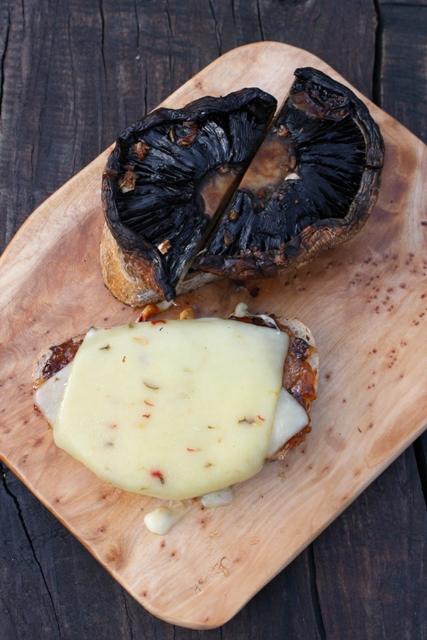 Spicy Grilled Cheese with Pepper Jelly & Portabella Mushroom Recipe
2 large portabella mushrooms, stems removed
2 cloves garlic, minced
1 inch ginger root, thinly sliced
2 Tablespoons soy sauce
2 Tablespoons olive oil
4 slices artisan bread
2 Tablespoons pepper jelly
4 slices Tillamook Pepper Jack cheese
Farmers' market ingredients: mushrooms, garlic, olive oil, bread, pepper jelly
Supermarket ingredients: ginger root, soy sauce, cheese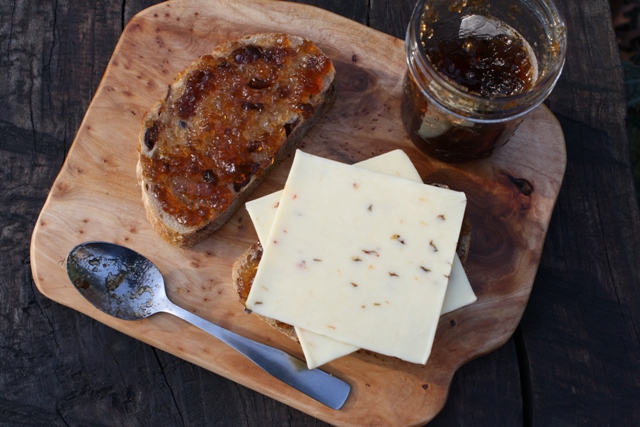 Instructions
Place mushrooms gill-side-up on a small platter. Place half the garlic and half the ginger root in each mushroom, distributing evenly over the mushrooms' surface. Drizzle 1 tablespoon soy sauce and 1 tablespoon olive oil over each mushroom. Let rest about 10 minutes.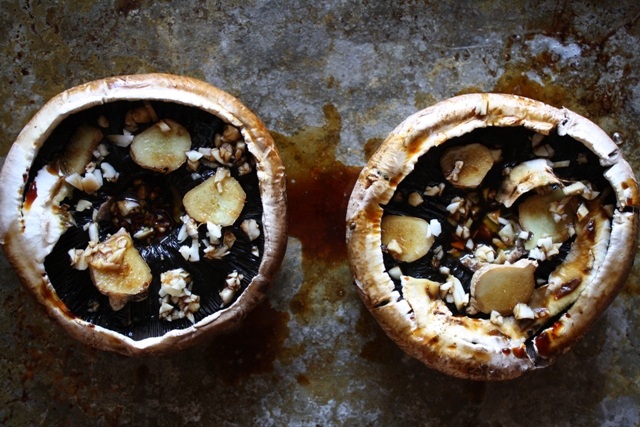 Heat grill to medium heat. Place mushrooms gill-side-up on the grill for about 6 minutes, (check the mushrooms after 3 minutes to be sure the flame isn't too high). Turn mushrooms over and cook on the second side for about 6 minutes, or until tender. Most of the garlic and ginger will fall off when you flip them. If the ginger is still clinging to the mushroom, remove it now. Set mushrooms aside and cover with foil to keep warm.
Spread half a tablespoon pepper jelly on each slice of bread. Place a slice of pepper jack cheese on top of jelly on each slice of bread. Place bread cheese-side-up on grill over low flame, checking the underside so as not to burn. If necessary, lower heat.
When cheese has melted, place a portabella mushroom between two slices of the bread to create a sandwich. Repeat with the second mushroom and remaining two slices of bread. Serve immediately.