"How lucky I am to have known someone who was so hard to say goodbye to."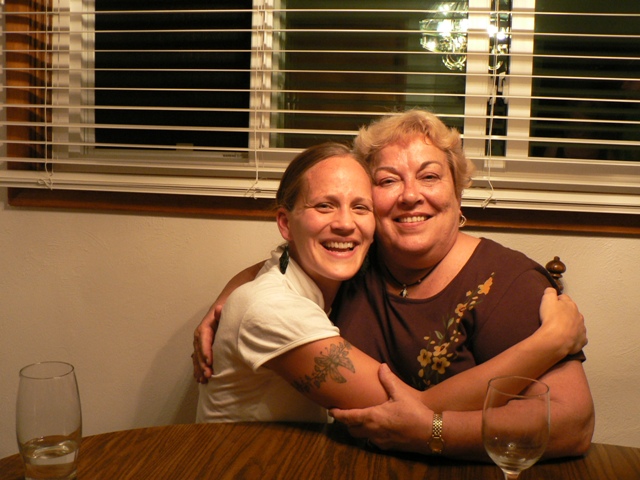 This morning, I received news that my fairy godmother, Katy, has passed. She fell ill with cancer around Thanksgiving, so we've had time to say our goodbyes. But it doesn't make today any easier.
If you've ever lost someone, you know how I'm feeling. There's a swelling that takes place–I think it's your heart breaking open and spilling into the rest of your body. It washes over you quickly, forcefully. Then you attempt to pull yourself together–maybe take a shower. As you place the bar of soap in your hand, it starts to feel foreign. You can't remember what to do with it. You stare. Why can't you remember? And then you do recall: the world has turned upside down. You've lost someone. Suddenly soap just doesn't seem very important.
I've been going back through my email this morning, reaching back in time for her words to bring me closer to her, to keep her here with me just a little longer.
"Dear Little Fairy Godchild Amber,   Thanks for calling.  It was so nice to hear from you.  I could just feel Rachel listening in to us and smiling.  I could almost feel her little hand messing with my hair.  Gosh I miss that girl.   Love you dearly,  Katy"
I linger. Read the words over and over again, then move on to the next one, and to our photos.
Memories. I'm so happy to have so many of them–35 years' worth–my entire life. The day I was born, Katy and my god sister, Rachel (at the time she was 1 and a half) came to stay at my house with my older brother and sister while Mom and Dad went to the hospital. She's been there my whole life.
In the last few years, Katy and I have grown closer. In 2010, we lost my fairy god sister, Rachel. She was 34. She had been one of my dearest friends. Katy and I took comfort in one another after Rachel died. She reminded me of Rachel, and I think I reminded her of the happier times we all had growing up. Losing them both in such a short amount of time makes this that much harder.
With Katy, I feel blessed to have had the chance to say goodbye. I wrote her one last letter a few weeks ago:
My Dear Fairy Godmother!
The young woman sobbed. Life had been unfair to her. As tears streamed down her face, she felt a sudden warm glow descending like a brilliant star falling from heaven. As she wiped her eyes, the glowing light drew nearer, getting larger as it approached. Its pulsing light in a flash transformed into a woman.
"Now stop your crying, dear," said the woman in a soothing, jolly voice.
"Who are you?" asked the young woman.
"Why, I'm your fairy godmother!" she exclaimed. And with the wave of her magic wand, she solved all the young woman's problems, turning her tattered dress into a beautiful gown and an ordinary pumpkin into a magnificent coach.
It was some time in the 1980s, and I was a little girl, watching with awe on the big screen at the Savanna Times Theater.
"Is that what a godmother is?!" I cheered, directing the question at my mom.
"Yes!" Mom whispered, nodding, as she brought her finger to her lips to quiet me. Her face showed a sense of happy relief at having found a passable answer for her curious daughter.
I wiggled and bounced in my seat. I was mesmerized, elated, and feeling like the luckiest girl in the world. I had a fairy godmother! And she was magical!
When the movie ended, I was filled with questions for Mom. I had long been confused by the fact that I had two families. My brother and sister had godparents, but they lived in different towns, and we barely saw them. They almost didn't count.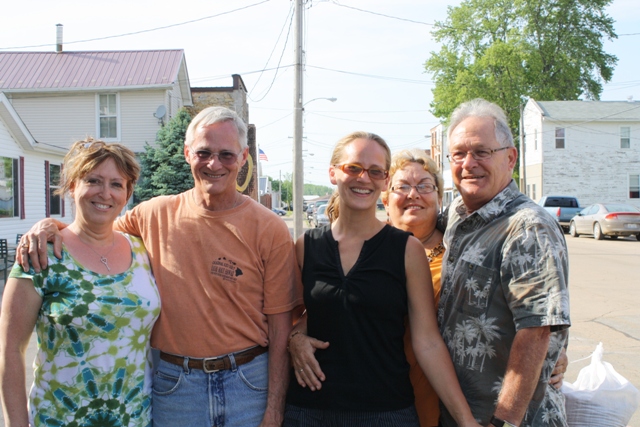 But me? My god family lived only a few blocks away and they loved me like their own. I wasn't sure what a godparent was. I thought perhaps I was adopted. After all, I had blond hair and green eyes like my god sisters, while Aaron and Amy had brown hair and brown eyes like Mom and Dad. My parents assured me I wasn't adopted, so I never really understood what having a second set of parents meant.
Until I watched Cinderella. I remember rushing up to you, Katy, at church, delighted to tell you I "knew." The secret had been revealed, and I was anxious to see your magic wand. Because you always encouraged my sense of imagination, you played right along with the storyline. And it stuck.
From that point forward, my god family became my "Fairy God Family." And even now that I'm older and have learned the truth about magic wands, the majestic nature of our relationship remains as strong as ever.
Every time I'm around my Fairy God Family, I have always felt blessed! I have always felt proud to be associated with you and call you 'family.'
I did some research about the history of godparents. In Spanish, the word for godmother is "comadre," meaning "co-mother." This is exactly what I have in you, Katy. As a little girl, if I fell down, you picked me up. You nurtured my love of words and taught me to write cursive in your 2nd grade class. You disciplined me when I was bossy. You hugged me when I cried.
More recently, when we lost the sunshine, Rachel, I found comfort in being close to you. It made me feel closer to her to be near you. Your hands are her hands. Your smile is her smile. Your laugh is her laugh. Even the smell of your house is the smell I associate with Rachel. And it's comforting. I like to think I have a little of that joy inside of me, too, passed along to me over the years from my loving Fairy Godmother and Fairy God Sisters.
You and my entire Fairy God Family have always been my sources of news. In ancient English, the word for godparent emerged from the word "godsib," or "god-sibling" which translates to the modern "gossip," and by extension the word for "godparent" indicates friendship.
I remember you sending me and Rachel a subscription to the Savanna Times Journal while we lived in Denmark. We loved getting the hometown gossip of who won the latest basketball game or made the honor roll. As we grew older and went to college, we relied on all the news of home to come from you or Carmen, who always kept us in the loop. Who was married? Where were old friends working? You and Carmen always knew!
Now that I'm living in California, all my closest friends know that I have a Fairy God Family, and how honored I am to be part of such a joyful, loving circle. I keep pictures of me and Rachel, together, by my desk to remind myself daily to live my own life in that joyful space as much as I can. Sometimes I fail, but I sure do try to be the person you all taught me to be.
When they heard you were diagnosed with cancer, my friends at Women's Empowerment (where I used to work) gathered together to make me a magic wand. It's wonderfully cheerful with a bright, yellow star and a jingle bell. It sits on my desk and reminds me of you every day.
Thank you for the magic you have given me. I am eternally grateful to my mom and dad for choosing you and Bill as my Fairy Godparents. They could not have made a better choice. Thank you for embracing that role and nurturing me for these 35 years. When I think of "home," I think of you and my Fairy God Family, and I feel loved. I'm sending some of that love right back to you! Jan promised to give you a hug from me today.
I love you!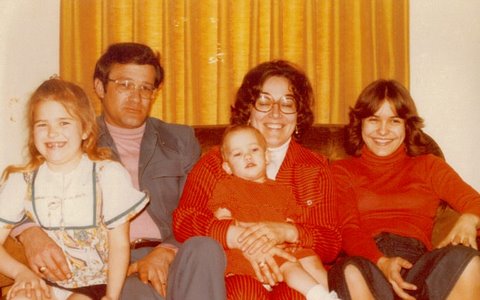 The young woman's tears had turned to joy. She stepped into the horse-drawn carriage that shimmered with glitter and gold. As the horses started to gallop, she leaned her head through the window.
"Thank you! Thank you, Fairy Godmother!" she exclaimed as she waved, blowing kisses in the air.
Her Fairy Godmother smiled and laughed, as she waved her magic wand.
With love & hugs,
Your Fairy Godchild, Amber