Sacramento's Wine and Dine Week started last night. The event offers an affordable way to taste the area's best restaurants through 3-course food and wine pairings. It runs through Sunday, June 10.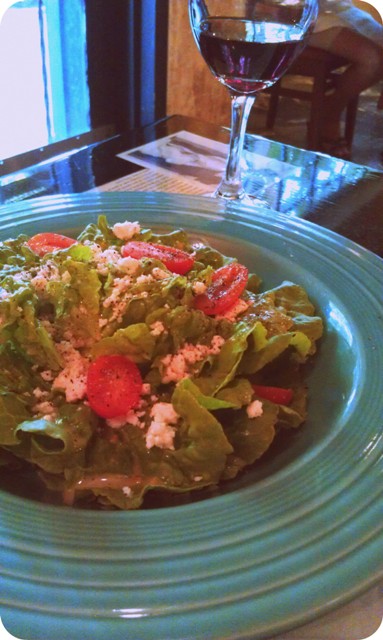 The Sacramento Convention and Visitors Bureau graciously offered me a complimentary taste of the week's offerings at Michelangelo's Italian Art Restaurant. The quaint, quiet setting is ideal for date night or girls' night out. In the middle of the week, you aren't likely to wait for a table. The warm décor in brick and wood creates a relaxed fine dining mood that feels right at home in Sacramento.
Sarah Jean, our waiter, was eager to share the Wine and Dine specials with us. Her passion for food was evident, which made the experience richer. Food somehow becomes more joyful when shared in the presence of those who love it deeply. Sarah Jean provided descriptive language for every wine, had memorized all the ingredients, and spoke of our meal as if it were her favorite sister coming to visit.
Michelangelo's seasonally-inspired Wine and Dine menu offers a hearty appetizer of three distinct taponades: a salmon mousse, watermelon salad, and sweet pepper blend, which are paired with a sweet, light bodied Amador Foothills Winery Sangiovese Rosato. My dining companion—and dear friend—Sheri agreed that the watermelon combination of mint, melon, cucumber, and red onion was a refreshing summer creation, one we hope to replicate for summer BBQs with friends. When we asked Sarah Jean about it, she began to describe the tiny melons used in Michelangelo's kitchen. She knew exactly what farm they came from. She shared her spin on the recipe, because she, too, makes it at home.
The second course salad of Feeding Crane Farms butter lettuce and cherry tomatoes, as described by Sarah Jean, had a "creamsicle-like dressing." She was right! The bright, sweet citrus tang brought out the sugars in the vegetables. Creamy goat cheese wrapped the salad in a soft finish. This paired nicely with the smooth Amador Foothills Winery Sangiovese, which was not too heavy and allowed the salad to win over my palette. I could have stopped eating right then and there, because the salad was both filling and fulfilling. I would return to order this dish again and again!
For our main course (that's right—the dining had only just begun!), the lovely Sheri chose the meat option of chicken cacciatore; I chose the cheesy housemade raviolis bathed in wine-stewed veggies. Both of us had leftovers from such hearty portions. This course was paired with our favorite wine of the night, an Amador Foothills Winery Aglianico. Sarah Jean described it as leathery and chocolate-y. It had rich low notes with bursts of spice on the nose.
If you're interested in Wine and Dine Week, other participating restaurants include Midtown favorites like Biba and Mulvaney's. Downtown meals can be found at Frank Fat's, Tuli Bistro, Il Fornaio and many more. In the Greater Sacramento region you can enjoy Hawk's, Enotria, Scott's Seafood and others.
If you stop by Michelangelo's, tell Sarah Jean we say hello!