I was recently asked what fruit or vegetable I would want to be. I picked rhubarb.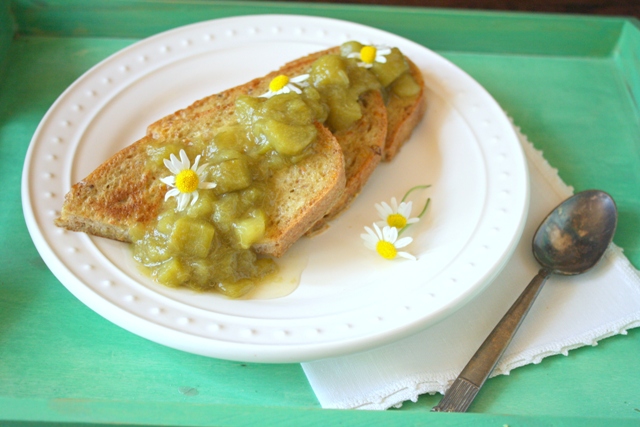 Rhubarb represents my roots: my grandma's recipes, my parents' backyard garden, and carefree summers as a child in rural Illinois chasing fireflies.
This Mother's Day, I give thanks to my mom and grandma for feeding me rhubarb!
My experience of rhubarb wasn't a simple slice of pie placed in front of me. It started in our backyard, where the rhubarb grew past my head as a toddler. The older I grew, the bigger our rhubarb patch became. As soon as I was able to wield a basic cutting knife, I was encouraged to follow my brother and sister outside to harvest the ripe vegetable.
Paper bags swinging, knives clutched tightly, we stomped into the leafy patch. In my early memories, I remember stepping among the leaves and being encircled. I knelt on the ground, hunting for the reddest, thinnest stalks. Both Mom and Grandma liked those best.
"Oh! These look beautiful!" I knew they would exclaim as I stepped inside with a bag full of ruby stems. I wanted to please them and pick the best pieces I could find.
With my bag full of freshly picked rhubarb, my siblings and I proceeded to remove the poisonous leaves.
"You have to use a karate chop," my brother instructed as he held a single stalk high. With a swift whack, the leaf fell to the ground.
I'm certain my mom never saw us out back swinging our knives through the air in karate chop fashion. She would have been scared for our lives. Yet, kids who grow up on the land somehow manage to eat dirt, throw rocks, and traverse creeks without more than a few scrapes or bruises, so I've lived to tell this tale.
To this day, despite my adult knowledge of knife safety, when no one is looking I still stand in the middle of my patch and karate chop the leaves off my stalks of rhubarb.
Once safely inside my parent's house with our rhubarb, my next job was to help Mom and Grandma wash and chop it. After a soak in a sink full of water, the rhubarb was chopped into 1-inch pieces. No matter what we were making, the size was always the same.
Our family's most-requested recipe remains my grandma's rhubarb pinwheels. They take hours to make, but only moments to gobble down. I always liked my pinwheels with extra rhubarb sauce. The thick syrup tastes good on just about anything, including vanilla ice cream, stirred into oatmeal, or by the spoonfuls strait from the bowl when no one is looking.
For Mother's Day, I've added rhubarb sauce to French toast. It's the perfect way to sneak rhubarb into one more meal during its short-lived season. In California, the green variety of rhubarb grows best. I miss the deep red of my family's Illinois variety, though it all tastes nearly the same. One thing is certain: if it's got rhubarb in it, it's sure to please the mothers in my family. I hope it's true for yours, too.
Happy Mother's Day!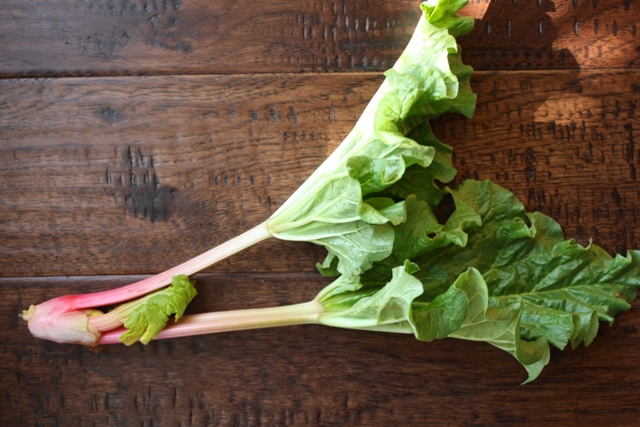 Rhubarb French Toast Recipe
Ingredients:
5-6 cups diced rhubarb
1/2 cup water
1 cup sugar
4 eggs
2 teaspoons vanilla extract
1 teaspoon spiced rum
1 teaspoon ground cinnamon
Zest from half an orange
8 slices whole wheat bread
Edible flowers, optional
Farmers market & garden ingredients: rhubarb, eggs, orange, bread, edible flowers
Supermarket ingredients: sugar, vanilla extract, rum, cinnamon
Instructions:
1. Stir rhubarb, water and sugar together in a medium saucepan over medium high heat. Bring to a boil, stirring occasionally, and then reduce heat to a simmer. Allow to simmer for 15 to 20 minutes, until rhubarb begins to break apart and the sauce thickens. Turn off heat and set aside.
2. Beat together eggs, vanilla, rum, cinnamon and orange zest.
3. Dip one slice of bread in the egg mixture, coating thoroughly on both sides. Place the coated bread slice in a preheated skillet over medium heat. Cook for 2-3 minutes, or until golden brown. Flip over and repeat.
4. Place in a 200 degree oven to keep warm.
5. Repeat from step 3 with the remaining slices of bread.
Serve French toast warm with heaping spoonfuls of rhubarb sauce. Garnish with edible flowers (optional).
Yield: 2-3 cups sauce & 8 slices French toast