My first Thanksgiving in California was a disaster.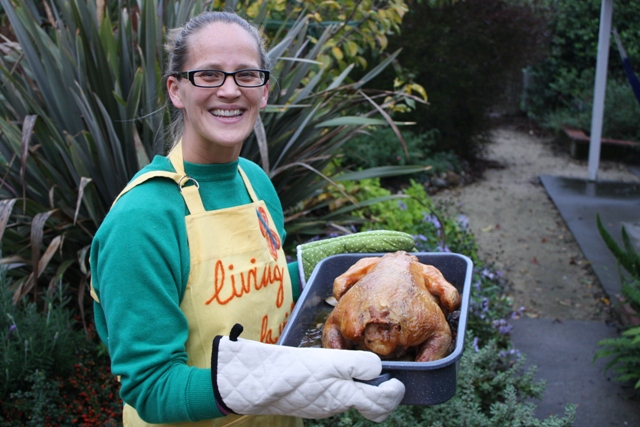 My now-husband and I were grad school sweethearts and had just moved across the country together from Illinois. This would be our first Thanksgiving together, without family, and we wanted to make it feel like home.
We emailed our families, asking them to send our favorite Thanksgiving recipes. My mom sent her stuffing recipe. Brendan's mom sent her sweet potato recipe. My grandma sent her pumpkin pie recipe, which admittedly, she recommended I take from the can of pumpkin.
Next, I went to work gathering new recipes to create our own traditions. I found a wonderful vegetarian stuffed pumpkin that I decided would be nice.
Yes, all this for just the two of us. We approached our first Thanksgiving the only way we knew how—with all the Midwestern gusto of a full-fledged family affair. We'd never experienced Thanksgiving on a scale for only two.
The year was 2001. We came to Sacramento in September, and I was still looking for a job while working part-time at Peet's Coffee & Tea. Money was tight, and we owned almost nothing. Yet, the grocery list compiled from our multitude of family dishes was long. We should have known better. Chock it up to being young.
The insanity of that Thanksgiving began with the grocery bill. We both had a panic attack about the expenses in the parking lot after paying it. What a doozey! In addition to all the groceries, we had to stock our spice cupboards, which was a giant portion of the bill.
Back at home, we carefully unpacked the groceries, eager for our giant feast. The next day, I began what I thought would be several days of cooking.
I peeled sweet potatoes for Brendan's mom's recipe. Just as I remember my mom doing, I peeled them right into the garbage disposal in the sink. I turned the disposal on. It churned painfully. It sputtered. It stopped. Nothing.
My husband poked his head around under the sink. We weren't homeowners yet, so he hadn't yet acquired the repairmen skills he now possesses.
"It's broken," he confirmed.
I called our landlord. It went straight to voicemail—gone for the Thanksgiving holiday. That would mean almost 5 days without a kitchen sink. Would I have to use the bathtub?
My heart sank. But the fun was just getting started.
That night, a horrible storm blew in. The wind howled, the rains pelted the ground, and the temperature dropped. We woke the next morning, tried to turn on the lights. Nothing. The power was out.
That meant the fridge was no longer running. I had removed our turkey from the freezer the day before. I decided to leave the refrigerator door shut in the slim hope that it might work like a cooler and keep things safe until the power came back.
But it didn't. Not that day. I remember going to work, relieved to be inside a warm building for a while. With each passing hour, we began to give up hopes on our turkey dreams.
Yet, somehow, Thanksgiving came to California that year. After two days, the power returned. We had to throw out some milk and cheese, but for the most part, our food was okay. We were broke kids right out of college. I'm sure we let our wallets dictate our decision to keep most of the food. We even kept the turkey!
So, on Monday when my husband returned to work and my kitchen sink was back in working order, I finally started cooking Thanksgiving dinner. We invited one of Brendan's work buddies for dinner. He was the only guy we knew well enough to call a friend, and we Midwesterners couldn't fathom eating alone.
All day, I peeled, mashed, baked, and stirred. The menu was long!—mashed potatoes, sweet potatoes with marshmallows, stuffing, turkey, wild rice baked in a pumpkin, pie, and beer. All this for three people!
We didn't own a table or chairs, so we filled our plates and pulled bar stools up to the kitchen counter to eat. It was as if Thanksgiving was supposed to take place on a Monday night after work!
Nowadays, I like to keep Thanksgiving simple. It's still just me and Brendan, and we sort of like it that way. It's one of the few days of the year where we stop, pull away from the grind, and just appreciate being together.
And rather than making enough food to feed a Midwestern farm crew, we each pick one favorite food. Brendan always picks turkey, and I choose mashed potatoes. I also make a side salad with whatever happens to be fresh and delicious from our local farmers and my garden.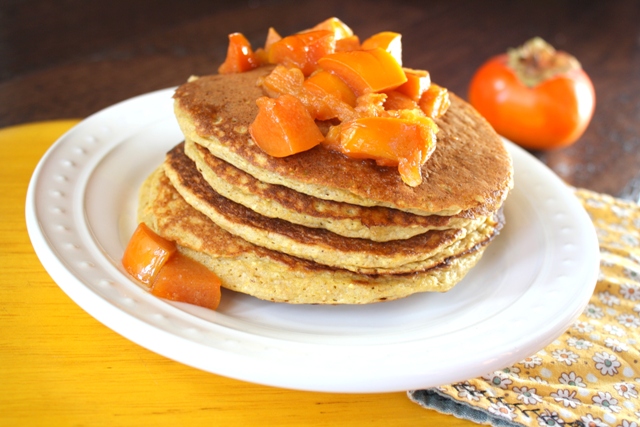 Then, each morning, I make a "special breakfast." For us, that means anything other than oatmeal. This year, I've been enjoying the gorgeous orange persimmons at our farmers market. Anything that brightly colored brings me cheer!
These double persimmon pancakes pack the punch of sweet Hachiya persimmons in the pancake batter plus a fall display of colorful Fuyu persimmon syrup on top. The fresh fruit blended with whole grains is sure to make your tummy as happy as your eyes!
Persimmon Cornmeal Pancakes
Ingredients:
1/2 cup all-purpose flour
1/2 cup cornmeal
1/2 cup oat bran
1/2 Tablespoon brown sugar
2 teaspoons baking powder
1 teaspoon baking soda
1/4 teaspoon salt
1 teaspoon vanilla extract
2 eggs
3 Tablespoons melted butter
1/2 cup Hachiya persimmon pulp, about 1 fruit
1 1/2 cups buttermilk
Farmers market & garden ingredients: cornmeal, eggs, butter, persimmon
Supermarket ingredients: flour, oat bran, baking powder & soda, vanilla, salt, buttermilk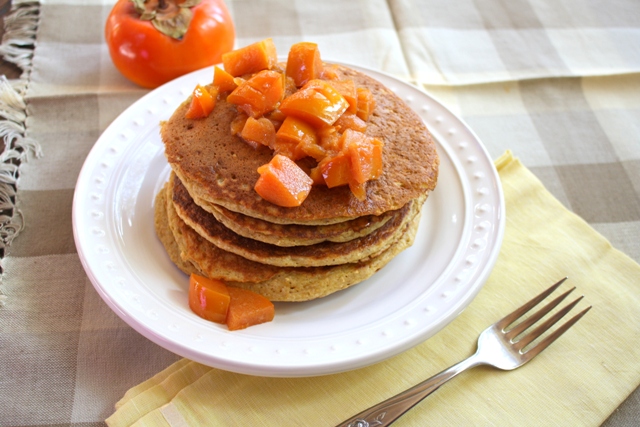 Instructions:
In a large mixing bowl, whisk to combine flour, cornmeal, oat bran, brown sugar, baking powder, baking soda and salt.
In a medium mixing bowl, whisk to combine vanilla, eggs, melted butter, persimmon pulp and buttermilk. Add the wet mixture to the dry mixture and whisk to combine.
Allow to rest about five minutes before baking. Warm a nonstick skillet over medium heat on the stove, and pour the pancake batter by 1/4-cups onto the hot skillet. Cook until bubbles appear, about 3-5 minutes, and then flip the pancake over and cook on the other side for about 3-5 minutes, until golden brown. You can serve immediately with Persimmon Syrup (recipe below), or keep warm in the oven at 200 degrees.
Persimmon Syrup Recipe
Ingredients:
3 Fuyu persimmons, diced
1 cup water
1/2 cup sugar
Farmers market & garden ingredients: persimmons
Supermarket ingredients: sugar
Add the diced persimmons to a medium sauce pan with the water and sugar. Stir until sugar dissolves. Place the pan on the stove over medium high heat, stirring occasionally, until the mixture starts to boil. Turn the stove down to medium heat and continue to simmer for about 20 minutes, or until the persimmons begin to soften.
Use a potato masher to lightly smash the persimmons. You want some persimmons to remain chunky. Continue to simmer about 10 minutes more, or until the persimmons are soft when pierced with a fork. Turn off the heat and cool for about five minutes before serving warm with Persimmon Cornmeal Pancakes.
Yield: 12 pancakes and 3 cups syrup