Sweet summer watermelon kissed by refreshing mint and studded with crisp cucumber tastes so divine you'll think you're committing a sin. But you're not! All the healthy, local ingredients for this dish can be found at the Sacramento downtown farmers market at X & 8th Streets.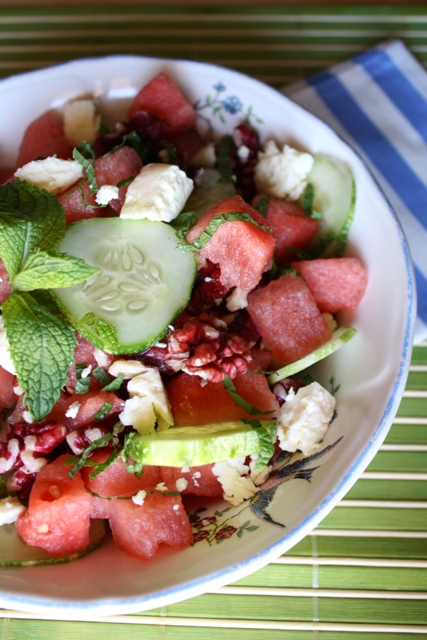 Minted Watermelon Cucumber Salad
Ingredients:
4 cups watermelon, cut in 1-inch cubes
3 cups cucumber, or 2 medium sized cucumbers, thinly sliced
1/2 cup walnuts, roughly chopped
3-4 Tablespoons chopped mint leaves
Juice from half a lime
1/2 cup crumbled cow's milk feta cheese
Farmers market ingredients: all
Instructions:
In a medium bowl, place the watermelon, cucumber, walnuts, mint and lime juice. Stir gently to mix. Sprinkle with the feta and serve.
Yield: 4 servings