I'd never heard of Meyer lemons until I moved to Sacramento. I read an article about growing citrus trees in pots and immediately began daydreaming about gazing out my kitchen window in winter to the view of happy yellow lemons instead of endless Midwest snow.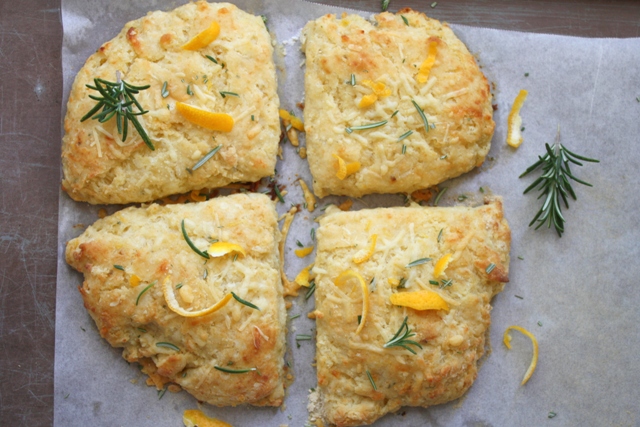 I set out to the local nursery to buy my pot and my tree. The innumerate citrus options left me dazed. Kumquats, navel oranges, blood oranges, grapefruit, limes, and more! My taste buds and my whimsical visions began colliding. I wanted to see yellow in winter, yet I wanted to taste sweet oranges, too. Orange or yellow? Orange or yellow?
Then I saw the Meyer lemon. A cross between a lemon and an orange? Sold! I could have my golden visions and eat them, too.
That was over 10 years ago. The sad little lemon tree never enjoyed life in a pot. Each year it gave off a few succulent blooms, but the fruit never grew. She longed to set roots in the earth.
This year, my husband granted the little tree's wish. He rented a cement cutter and removed a section of our driveway. Underneath the lifeless grey rock was rich, river basin soil—and our tree's new home.
This year the tree, far happier in her new home, sputtered out a few more blossoms than usual—and her first, perfect sunshine lemon.
The rich perfume of the Meyer lemon is an ideal partner for earthy, piney rosemary. One hits your nose high, the other low, in an irresistible swell that calls you in. With each nestled softly inside a billowy biscuit, warm from the oven and filling your home with the scents of a happy life in sunny California winter, you know you're home.
I would like to thank the good people at Kerrygold for sending me 10 blocks of wonderful, sustainable butter to play with! I used it here with delightfully moist, flaky results.
Meyer Lemon Rosemary Biscuits Recipe
Ingredients:
2 cups flour
2 teaspoons baking powder
1/2 teaspoon baking soda
1/2 teaspoon salt
Zest from 1 Meyer lemon
2 teaspoons chopped, fresh rosemary
8 Tablespoons cold, unsalted butter
1/2 cup dry Jack cheese
1 Tablespoon dark honey
Juice from half a Meyer lemon
1 scant cup buttermilk
Farmers market & garden ingredients: Meyer lemon, rosemary, butter, cheese, honey
California-grown ingredients: buttermilk
Supermarket ingredients: flour, baking powder, baking soda, salt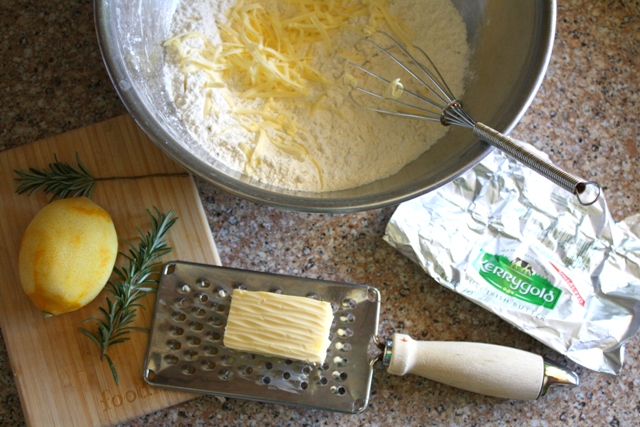 Instructions
Preheat oven to 450 degrees.
In a large bowl, whisk together flour, baking powder, baking soda, salt, lemon zest and rosemary.
Use a cheese grater to shred the cold butter into the flour mixture. Cut butter into flour mixture with a pastry cutter or two knives to create a crumb-like mixture; it will look a bit like dry oatmeal in texture.
Add the honey and lemon juice to a liquid measuring cup and stir to combine. Add the buttermilk to the lemon mixture until you have 1 total cup of liquid.
Stir the buttermilk mixture into the flour mixture with a spoon until almost blended. Add the dry Jack and stir until the mixture forms one dough ball. Divide in half.
Lightly flour a clean surface and lightly flour your hands. Place one half of the biscuit dough on the surface and pat it into an 8-inch round ball about 1/2-inch thick. Cut into 4 wedges. Place on one half of a baking sheet. Repeat with second half of the dough. All 8 biscuits should fit on 1 baking sheet.
Bake for 10-12 minutes or until lightly golden. Serve.
Yield: 8 flaky, hot biscuits