We're in the midst of a craft brew revolution. While all things local are on the rise, the same is true for beer.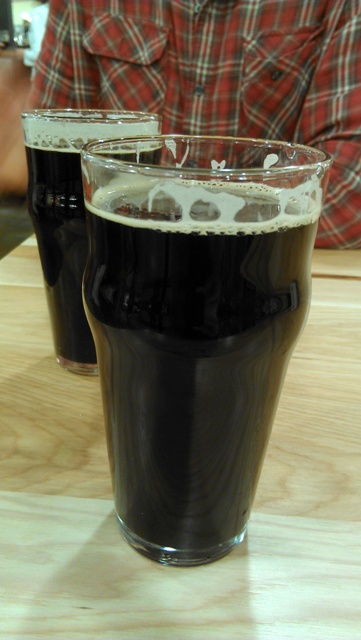 In 2012, California passed a resolution declaring the month of February "Craft Brewery Month." Meanwhile, industry sales increased nationally by $1.5 billion between 2011 and 2012, according to the Brewers Association.
So, perhaps it's no surprise that a grocery store recently added a craft beer bar amidst its salad buffet and prepared food line. Whole Foods Roseville now hosts Tap Room, a fenced off food court for adults, serving craft beers on tap and traditional bar fare.
Whole Foods Roseville is already known for its quality fast food, including burritos and oven fired pizzas. The grocery store chain is a destination for many healthy eaters. In fact, when my retired neighbors travel, they map the Whole Foods stores along their route, because they've come to rely on the store for healthy, tasty meals on the go.
Adding beer to the menu is a logical next step. Point in case, when my husband and I visited the new Tap Room last night, we were sitting across from a man and his young children. They were happily gobbling burritos. The father leaned over to say, "Man! I'm jealous. If I didn't have a drive ahead of me, I would join you for a beer right now."
Whole Foods has clearly and successfully targeted the needs of their demographic. In 2011, Whole Foods Folsom opened a new store fully equipped with a home brew supply section and an outdoor beer garden that continues to host popular craft beer events.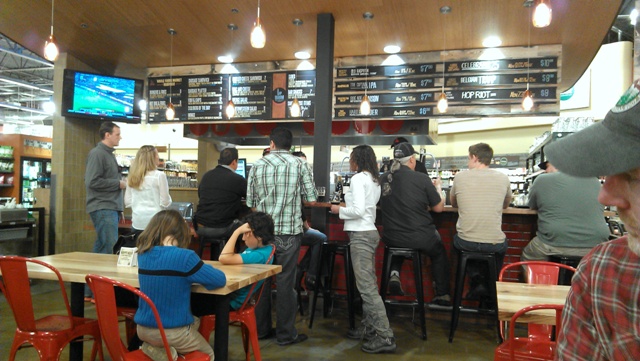 The Tap Room in Roseville's store provides a surprisingly pleasant respite. A cozy bar with a single TV has a nice pub feel, while families with kids can also enjoy table seating inside the space.
The beer menu holds up to any local establishment that takes local beer seriously. Standard favorites include Ruhstaller's Captain black IPA and North Coast Brewing's Old Rasputin. We tried the new High Water Brewing's Celebration 25, a blend of stout and bourbon barrel-aged ales. It was fruity, smooth and creamy.
The food menu harkens the ballpark with sausage, grilled cheese, hot dogs, burgers, and fish and chips. I ordered the mac and cheese, which is baked in the pizza oven. My husband ate the daily sliders: mini Ruebens. My mac and cheese didn't disappoint: three cheeses with a hint of onion. It was gooey, creamy and sharp with a crunchy bread crumb topping. My husband's sliders were made with in-house smoked pastrami, authentic sauerkraut and stone ground mustard. While the nontraditional sliders lacked Swiss cheese, the flavor wasn't missed because of the high quality meat. My husband's only complaint was the missing rye bread (the sliders come on traditional slider white bread).
The menu also features a Southwest salad and a wedge salad, and I got the impression you could order any of the items from the grocery store's hot food line as well.
The next time you're in Roseville doing your grocery shopping, you might want to consider a grabbing a beer with your milk and sugar.