It's summer! It's also BBQ time. Time to break out the grill and pilfer the harvest from your garden!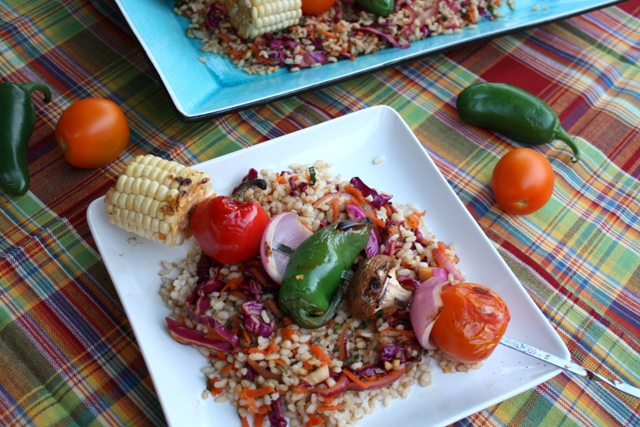 As a vegetarian, I'm always looking for new ways to create filling meals on the grill. These colorful veggie kebabs are marinated in a Korean BBQ sauce of rice vinegar, soy sauce, and spices. The same marinade is used to create a kimchi-inspired cabbage that is stirred into brown rice and served with the kebabs. It's a fast way to please a crowd on hot summer days.
The rice used in this recipe was grown just outside Sacramento along I-5. I have been lucky to work with the friendly people at Hinode Rice (based in Woodland, California), and this is a recipe I developed for them. Yes, that's right: I'm getting paid for my talent! I'm so thrilled!
Happy summer, indeed!
Korean BBQ Kebabs with Brown Rice Recipe
Ingredients for the Korean BBQ Marinade:
1/2 cup rice vinegar
1/2 cup soy sauce
6 Tablespoons honey
1-2 Tablespoons Sriracha sauce, (adjust according to heat tolerance)
2 Tablespoons sesame oil
1 large garlic clove, minced
1 Tablespoon minced fresh ginger root
Ingredients for rice and kebabs:
1 cup shredded purple cabbage
1/2 cup shredded carrot
1/2 red onion, thinly sliced
1 ear corn on the cob, husk and silk removed, sliced in 4 chunks
4 large button mushrooms, whole
4 small tomatoes, whole
4 jalapeño peppers, whole, optional
4 sweet peppers, whole
1/2 a red onion, cut in half and sectioned
2 cups Hinode microwavable brown rice
Farmers' market & garden ingredients: honey, garlic, cabbage, carrot, onion, corn, mushrooms, tomatoes, peppers
California-grown ingredients: rice, ginger root
Supermarket ingredients: rice vinegar, soy sauce, Sriracha sauce, sesame oil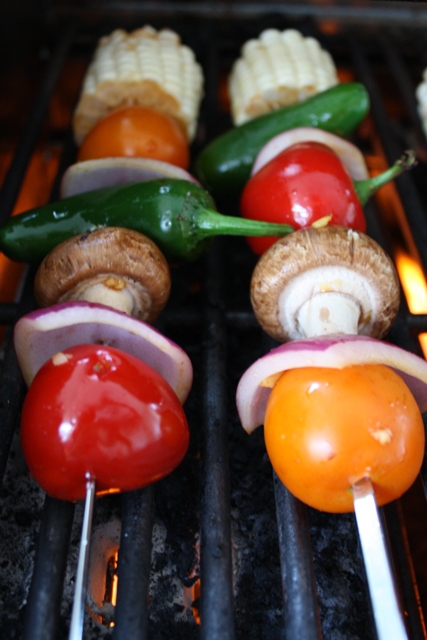 Instructions:
Preheat grill to 450 degrees.
Combine all the marinade ingredients in a small bowl. Stir to combine.
Place the cabbage, carrot and red onion in a medium bowl. Pour half the marinade over the cabbage mixture and stir to coat. Cover and set aside.
In a large bowl, place the corn, mushrooms, tomatoes, peppers, and onion. Pour the remaining half of the marinade over the veggies and toss to coat. Allow to marinate for 10 to 30 minutes. Using 4 metal skewers, skewer these marinated vegetables.
Place skewers on preheated grill for 4-5 minutes, or until veggies begin to show grill marks. Turn skewers over and grill an additional 4-5 minutes, or until the veggies show grill marks and are beginning to slightly brown. Remove from heat and cover with foil to keep warm.
Prepare Hinode brown rice according to the instructions on the package. If camping, place the bag of rice in a pot of boiling water for 3-4 minutes. Stir prepared rice into the cabbage and carrot mixture.
Serve the rice mixture immediately on a platter topped with veggie kebabs.
Tips:
The tomatoes will become soft when grilled (and taste amazing when broken over the rice!). Be careful not to crush them before they are served.
Variations:
Use hot or mild peppers, depending on your heat tolerance. Add shrimp or chicken pieces to the veggie kebabs.
Yield: 4 servings