The holidays! Time for cheer, good food, and books!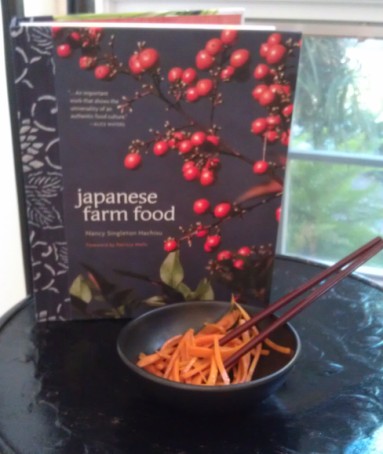 This fall, a dear friend gave me a beautiful gift: Japanese Farm Food by Nancy Singleton Hachisu. At the time, I gingerly leafed through the heavy, cloth bound, full-color cookbook. You can tell from a glance that this is the type of book that needs to be read from cover to cover to truly understand the food, the experience, the story of the meals inside.
Today, I finally settled into a large chair and enjoyed turning every page of this stunning collection.
I know the author, Nancy Singleton Hachisu, from Food Blog Camp 2010. Yet, I didn't truly get to know her until I read this book. Nancy's life is filled with passions many of us can relate to: farm to table food, growing food, eating her veggies, traveling, antique shopping and cooking with kids. She's a Food Education Leader with Slow Food Japan, a California native who's lived in Japan for nearly 25 years, and a Stanford grad. In summation: she's wonderful!
Japanese Farm Food is as much storybook as cookbook, like another of my favorites, John Besh's My New Orleans. Through the pages you learn tradition, culture, lifestyle, and of course, all about Nancy—her approach to cooking, her deep love and appreciation for food caringly grown and harvested by her farmer husband, and traditions passed down from his mother.
The recipes and accompanying stories are thorough. You won't find yourself wondering what size you should chop the carrots, how the finished dish should look on the plate, or where to buy a certain ingredient. Nancy provides detail—although she does so concisely. Every recipe is short and can easily be repeated in a home kitchen, like the one where Nancy feeds her family.
The book includes a three-page spread of cooking technique photos to show you how to massage salt into cucumbers, fillet a sardine, or properly cut an eggplant for frying. There are also glossaries of Japanese produce, pantry items, and kitchen tools, and resources for buying Japanese ingredients in the U.S. or even France.
Because it's a farm-based cookbook, the majority of the recipes are vegetable-rich. In fact, they're the star of this book, and you can feel Nancy's love for them throughout the book.
"Touching vegetables while they are living is something every cook should do. You have to accept them, not force your will on them. A huge turning point in my cooking came the day I really began to listen to the vegetables," Nancy writes.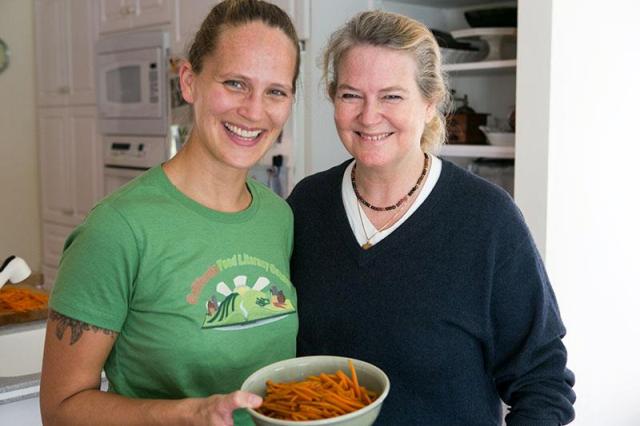 Photo by Elise Bauer
This passion runs through the pages in both detailed recipe head notes and stories that keep you reading. You'll meet the vegetables from Nancy's farm, and the people in her life. Nancy teaches English in a school she calls Sunny Side Up! You'll meet the six-year-old who tastes a green bean for the first time. You'll meet Nancy's Japanese husband, who once spent a year as a Brazilian cowboy. You'll also meet fellow farmers, friends, Nancy's house and chickens.
Delicious, seasonal recipes, many accompanied by colorful images, are both familiar and new. A Japanese-style Potato Salad inspires you to succeed from your American kitchen, yet also encourages you to step with one toe in a different direction with the addition of homemade Japanese Mayonnaise, cucumbers and carrots.
You'll find familiar hard-boiled eggs, and then be invited to pickle them in soy sauce.
You'll also learn. Did you know that eggplant can be eaten raw? Nancy has a recipe for that: Salt-Massaged Raw Eggplant with Ginger and Shiso.
Simple. Delicious. Inspired.
In addition to veggie dishes, Japanese Farm Food features plenty of eggs, meats and a few creamy desserts—each as tasty as the next. You'll find Charcoal-Grilled Yellowtail Collar, Salt-boiled Herring, Simmered Chicken-and-Miso Meatballs, and several fruit-inspired desserts, such as Tangerine Ice Cream and Pineapple Sorbet.
Nancy came to Sacramento a few months ago when her cookbook was first released. I had the pleasure of cooking with her and Elise Bauer. We tested her very simple Carrot Slivers Stir-Fried with Soy Sauce recipe. Nancy had traveled with her Japanese knives, and showed me precisely how to julienne the carrots in order to get the most perfect sauté and best flavor. There are merely four ingredients in this recipe, yet a whole world of flavors!
I imagine this is what Nancy's home kitchen is like—filled with friends, family, and beautiful produce that she uses a high level of skill to prepare very simply.
The book is filled with so much more than a simple book review can capture. It's a truly warming read that locavores around the world will savor.
Japanese Farm Food is laid out the way we live: a bit of learning, a bit of story, and a lot of nourishing food!