Every Christmas morning, I remember waking to the warm, surrounding tang in the air of bread baking coupled by the bright spice of orange zest.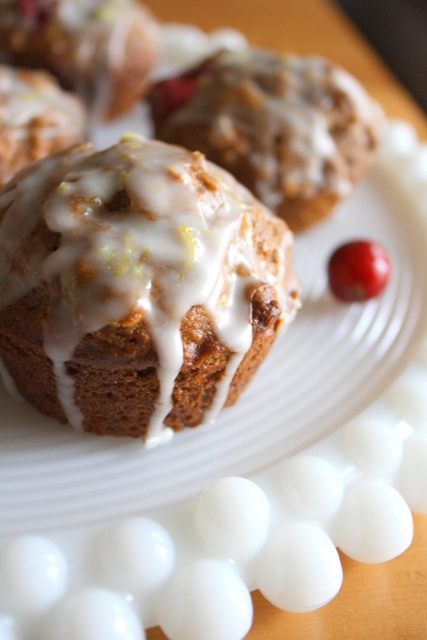 The aroma filled my lungs before the sunlight had stretched across the bedroom. One deep breath and I was awake. Despite the delicate frosty frame of snowflakes around my window and the typical dread of leaving the comfort of a heavily blanketed bed, that smell warmed me.
Unlike most mornings, when I preferred to lay under the covers just a little bit longer, on these mornings my feet hit the ground fast. I was also likely driven by a desire to beat my hungry siblings to the kitchen, because Mom's orange knot rolls were certain not to last.
Grandpa and Dad would already be lounging in the living room, holding sturdy mugs of hot coffee and patiently waiting for us to rise. They might not have sprinted to the kitchen in speed race fashion as I did, but they certainly heeded the siren call of the orange knot roll in hasty succession.
Sometimes Mom would wait to add the frosting so I could help, which meant an extra finger full of creamy sweetness for me!
Grandma and Mom would shine with the satisfaction all Midwestern mothers own, eager to watch us gleefully gobble the treats that likely took them hours to create, yet took us only seconds to make disappear.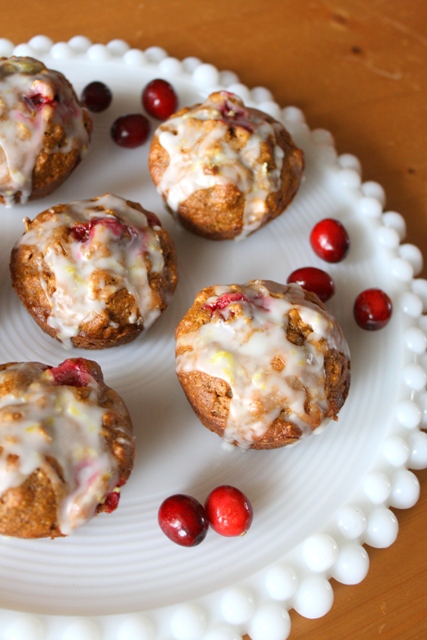 I can't remember if I was given a new baby doll or a bunch of stickers for Christmas those years, but I do remember those orange rolls. To this day, I cannot breathe in their scent without breaking into a sprint for the kitchen.
I don't know how my mom pulled it all off—cooking for hours on end, raising three rambunctious kids, working, and keeping an impeccably clean house.
I struggle just to wake up in time to make oatmeal; I don't think I've ever remembered to set dough to rise the night before so I could enjoy such an elegant breakfast. While I do bake and cook, I find I have less and less time to put towards the task. Yet, Christmas isn't Christmas without those orange rolls!
My solution: I have invented an easy muffin that pulls together in 20 minutes, is dressed with the same stunning orange icing, has the same soft bite, but also offers some added vitamins and fiber.
These orange pumpkin cranberry muffins are my most admired recipe. If I bring them to a potluck, the plate clears in seconds. When I make them for my husband, I find him licking the extra icing out of the bowl. They stand the test of time and memory by living up to the high expectations set forth by my childlike imagination of Christmases past.
Add these to your holiday line up. They're guaranteed to inspire early rising on Christmas morning—for something other than what's under the tree.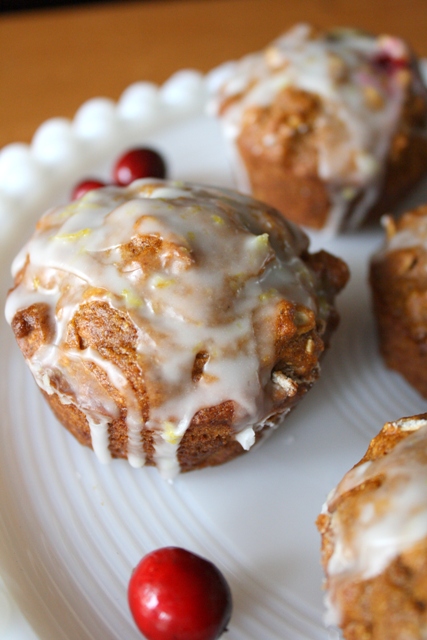 Holiday Orange Pumpkin Cranberry Muffins with Orange Glaze
Ingredients
1 1/4 cups all-purpose flour
1 cup whole wheat flour
3/4 cup rolled oats
2 teaspoons ground cinnamon
1 teaspoon ground cloves
1 teaspoon ground cardamom
1/2 teaspoon ground ginger
1 teaspoon baking soda
1/2 teaspoon salt
2 eggs
1 cup brown sugar
1 1/2 cups pumpkin puree
1/4 cup walnut oil
1 teaspoon vanilla extract
Zest from 1 orange
1 1/2 cups fresh cranberries
Farmers market & garden ingredients: whole wheat flour, eggs, pumpkin, walnut oil, orange
Supermarket ingredients: flour, oats, spices, baking soda, sugar, vanilla, cranberries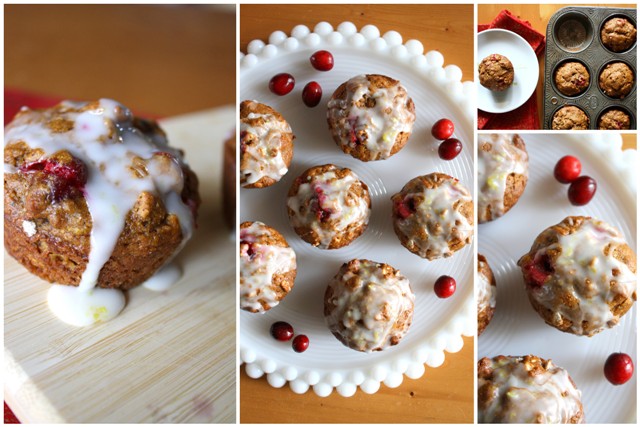 Instructions
Preheat oven to 400 degrees. Lightly grease 2 muffins tins.
In a large bowl, combine flours, spices, baking soda and salt with a whisk.
In a medium bowl, whisk together eggs, brown sugar, pumpkin puree, walnut oil, vanilla extract and orange zest.
Add the pumpkin mixture to the flour mixture and stir until almost combined. Fold in the cranberries.
Fill each muffin cup 3/4 full. Bake in the 400 degree oven for 18-22 minutes, or until a toothpick inserted in the center of a muffin comes out clean. Cool for 5 minutes then transfer to a wire rack and add icing, below.
Orange Glaze Recipe
1 cup powdered sugar
Juice and zest from 1 orange
Farmers market ingredients: orange
Supermarket ingredient: sugar
Instructions
Use a whisk to combine all ingredients. Drizzle over muffins and serve warm.
Yield: 1/2 cup icing & 24 muffins
Looking for more holiday recipes?
California Food Literacy Center offers an e-book filled with holiday recipes to those who make a donation.
Iowa Girl Eats makes pumpkin scones.
Vanilla Garlic makes Cranberry Upside-Down Cake