Oh burrito! How much do I love thee? Let me count the ways…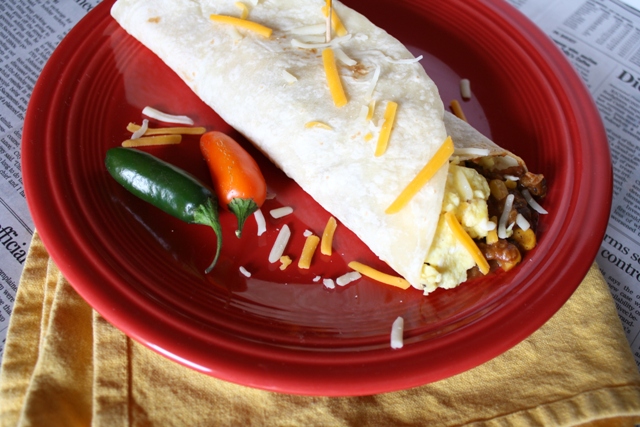 Easy to prepare
Fast to make
You don't really need to know how to cook to make a burrito
Full of healthy fiber
Unlimited possibility of fillings
Salsa
Cheese
Beans
Can be packed for easy transport
Appropriate for breakfast, lunch or dinner—or a snack, quite frankly
So many more reasons to love you! Yet, talk is cheap. I prefer to get right to the part where I eat you.
Burritos are meant as a tool to help you eat leftovers.
This isn't a recipe so much as a suggestion. Feel free to adapt these ingredients.
Substitute black beans or pinto. Top this with a fried egg instead of stuffing it with scrambled. Use green salsa or red. Fill it with corn or potatoes or fresh tomatoes from your garden in summer.
Do not limit your burrito to this recipe. Limit it only to the ingredients inside your fridge that need to be consumed. I had leftover chili in mine. What's in yours?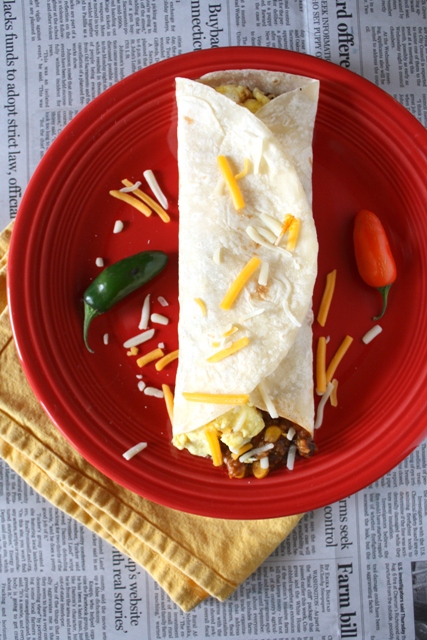 Healthy Breakfast Burrito Recipe
Ingredients:
4 flour tortillas
1 cup prepared chili
1 cup shredded cheese
4 eggs
1/4 cup buttermilk
8 Tablespoons salsa
Farmers market ingredients: tortillas, chili (see recipe), eggs
California-grown products: cheese, buttermilk, salsa
Instructions
Preheat oven to 425 degrees.
Place a flour tortilla on each of 4 oven-proof plates. Top each tortilla with 1/4 cup chili and 1/4 cup shredded cheese. Set aside.
Crack the eggs into a medium mixing bowl. Add buttermilk and whisk gently with a fork.
Pour the egg mixture into a lightly greased nonstick pan over medium-low heat. Scraping the sides and bottom of the pan frequently, scramble the eggs for about 6-8 minutes, or until cooked to desired doneness.
Place a quarter of the scrambled eggs inside each burrito. Top with 2 Tablespoons salsa. Roll each burrito to close.
Place in preheated oven for 8-10 minutes. Serve.
Yield: 4 breakfast burritos
Hungry for more burritos?
Kalyn's Kitchen makes what she calls an Egg Burrito to Die For