My mom used to say that the way to a man's heart is through his stomach. I firmly believe that my deployment of this old adage led to the successful courtship of my now-husband. Yet, I should note that, at least in the case of my husband, two other critical elements were at play: a Weber grill and cold beer.
I met my husband, Brendan, in grad school 12 years ago. We knew each other through regularly scheduled happy hours with fellow students. During one such evening, while drinking microbrews, I inquired about Brendan's eating regimen. The guy subsisted almost exclusively on frozen veggies, bottled pasta sauce, noodles, and frozen chicken breasts. He prepared the latter on an indoor grill—the only appliance he owned.
First, I felt sad for the guy. He lacked exposure to any culinary medley outside his daily grind. This was no way to live!
Second, I saw an opportunity. Not only could I cook him some exotic meals (and by "exotic," I mean anything other than a grilled chicken breast), but I also had a small Weber grill that I rarely fired up when cooking for one.
I called my brother. He's quite the grill master, so I knew he could direct me towards some company-worthy recipes. He sent me to the Weber website, where I found recipe after recipe for grilled fish. Bingo! I invited Brendan over for dinner.
When Brendan arrived, I handed him a cold beer and put him to work firing up the charcoal. I remember making a garlicky salmon topped with peach jalapeño salsa. We devoured it while sitting outside on the patio of my studio apartment. It was such a hit I invited him back for dinner the next night. We grilled again. I invited him back the following the night. And I've rarely eaten a dinner without him since.
Now, living in California, home of the world's best fish tacos, Brendan and I continue to grill often. Lately, we've been grilling up moist fish tacos using Alaskan wild seafood (it's often the best choice for sustainable seafood according to my go-to check list: the Monterey Bay Aquarium Seafood Watch).
These grilled salmon tacos are quick and easy! Since it's only April, we're not lucky enough to have fresh tomatoes and peppers for salsa. So, I improvised. My sweet potato salsa provides a hint of sweet and is coupled with the pop of frozen corn, grassy cilantro, and the juice of fresh lime from my backyard tree—flavors that compliment the charred smoky flavor of the grilled salmon.
If you've got someone special in your life, grab a cold beer, fire up the grill, and fall in love!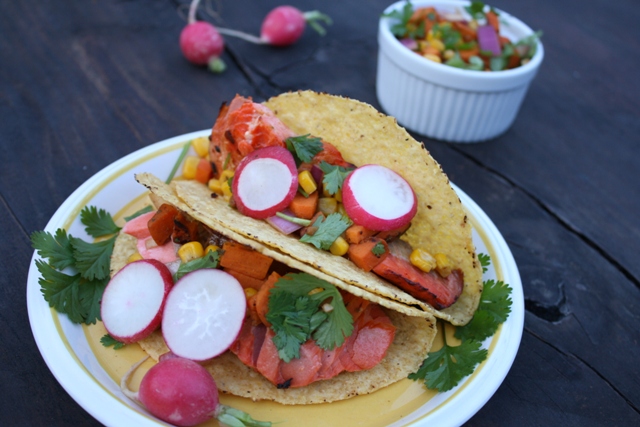 Grilled Salmon Tacos with Sweet Potato, Lime, Cilantro Salsa Recipe
Ingredients:
2 Wild Alaskan Salmon fillets, about 1 lb total
1/2 cup ranch dressing, plus 2 Tablespoons more to dress tacos
4 crunchy organic corn taco shells
2 radishes, thinly sliced for garnish
8 Tablespoons Sweet Potato, Lime, Cilantro Salsa Recipe
Instructions:
Pour 1/2 cup ranch dressing into a large, flat-bottomed container with a lid. Rest salmon skin-side-up in dressing to marinade for about 10-15 minutes while you make the salsa.
To make salsa:
Sweet Potato, Lime, Cilantro Salsa Recipe
2 teaspoons grape seed oil
4 small sweet potatoes, peeled and cut into 1-inch cubes
1 teaspoon ground cumin
1 cup frozen sweet corn
1 small red onion, diced
Juice of 1 lime
5 sprigs cilantro, cut
Salt and pepper to taste
Heat a medium skillet over medium-high heat. Add oil to bottom of pan and then add sweet potatoes. Cook, covered, for about 10 minutes or until sweet potatoes are tender when punctured with a fork. Check the sweet potatoes while they are cooking, and if they look dry, add a few teaspoons of water and return the cover while they cook.
Once sweet potatoes are tender, add cumin and stir. Add sweet corn and continue to cook uncovered for 1 minute more. Remove from heat. Add the onion and juice of one lime. Stir to combine. Set aside and allow to cool for about 5 minutes before adding cilantro to salsa mixture. Add salt and pepper to taste.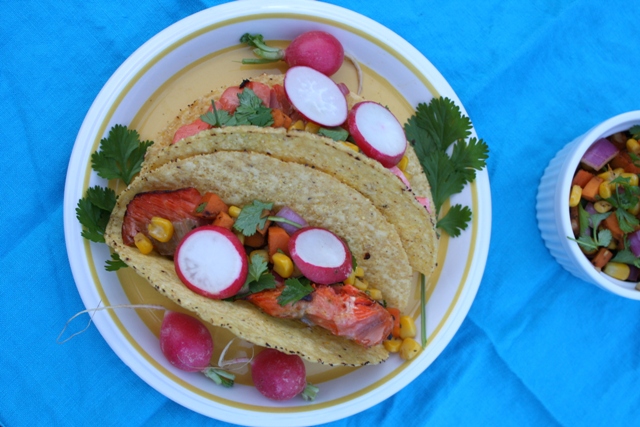 Now, prepare your tacos:
Preheat grill to 450 degrees. Place salmon skin-side down on the grill and place the lid on the grill. Cook for 4 to 5 minutes, and then flip fillets over. Grill on second side with cover on grill for 4-5 minutes more, until flesh is flaky through the middle.
Add a half tablespoon ranch dressing to the bottom of a corn taco shell. Add 1/4 of the grilled salmon meat and 2 tablespoons salsa. Garnish with slices of fresh radish. Repeat with 3 remaining tacos. Serve immediately.
Yield: 4 love-inducing grilled fish tacos
Learn more about Alaska Seafood.
Find other tasty fish recipes here.