Busy is the theme of my life these days. Yet, I never allow being busy to get in the way of a homemade meal—especially breakfast. On the weekends, no matter how much work needs to be done, I always stop to make a warm meal to share with my husband.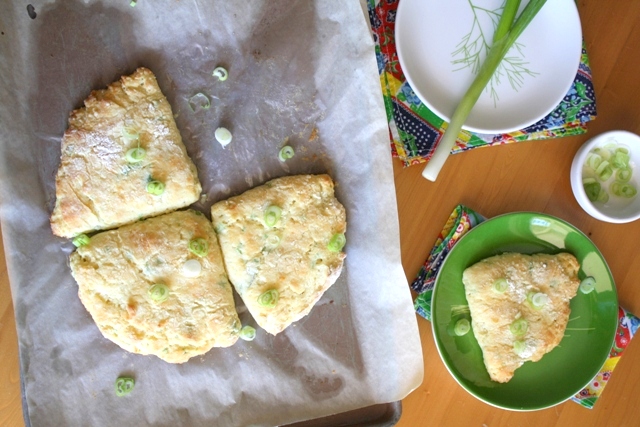 These fluffy biscuits come out of the oven, hot, in only 10 minutes. Who doesn't have time for that? They're studded with flavorful green onions fresh from my farmers market. Freshly cracked black pepper and a sprinkle of parmesan cheese add extra zip.
I adapted this recipe from a delightful cookbook, Chicken and Egg by Janice Cole. It's about urban homesteading and is packed with—you guessed it—chicken and egg recipes, as well as tales of raising chickens. You'll find simple meals like cucumber-basil egg salad and beautiful desserts, including a raspberry-swirl angel food cake that I'm dying to try next summer. It's an irresistible cookbook, perfect for a busy gal like me.
Green Onion Buttermilk Biscuits Recipe
Ingredients:
1 cup all-purpose flour
1 Tablespoon cracked black pepper
1 teaspoon baking powder
1/4 teaspoon baking soda
1/4 teaspoon salt
4 Tablespoons cold unsalted butter, such as Kerrygold
1/2 cup buttermilk
1 green onion, diced
1/2 cup shredded parmesan or dry jack cheese
Farmers market or garden ingredients: butter, green onion, cheese
Supermarket ingredients: flour, pepper, baking powder, baking soda, salt, buttermilk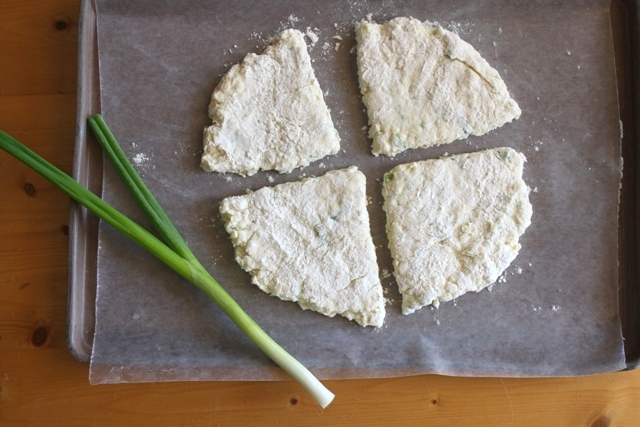 Method:
Preheat oven to 450 degrees.
In a medium mixing bowl, whisk together the flour, black pepper, baking powder, baking soda and salt.
Use a cheese grater to shred the cold butter into the flour mixture. Cut butter into flour mixture with a pastry cutter or two knives to create a crumb-like mixture; it will look a bit like dry oatmeal in texture.
Stir the buttermilk into the flour mixture with a spoon until almost blended. Add the green onion and parmesan and stir until the mixture forms one dough ball.
Lightly flour a clean surface and lightly flour your hands. Place the biscuit dough on the surface and pat it into an 8-inch round ball about 1/2-inch thick. Cut into 4 wedges. Place on a baking sheet.
Bake for 10-12 minutes or until lightly golden. Serve.
Yield: 4 flaky, hot biscuits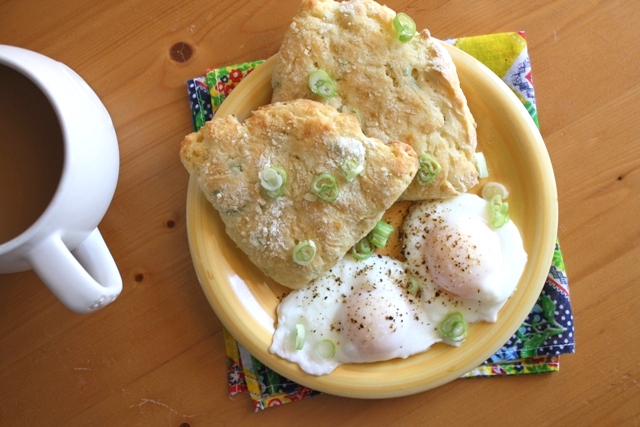 Want more biscuit recipes?
Eat the Love makes Buttermilk Biscuits with Ginger Plum Jam
Farmgirl Gourmet makes Butternut Squash and Sage Biscuits