Gastro Pubs are a hot new trend, but not many are getting it right. As both an avid microbrew fan and as someone who loves good food, I am often frustrated by microbreweries that serve subpar food. It's easy to find good food paired with fine wines. But beer? Not so much.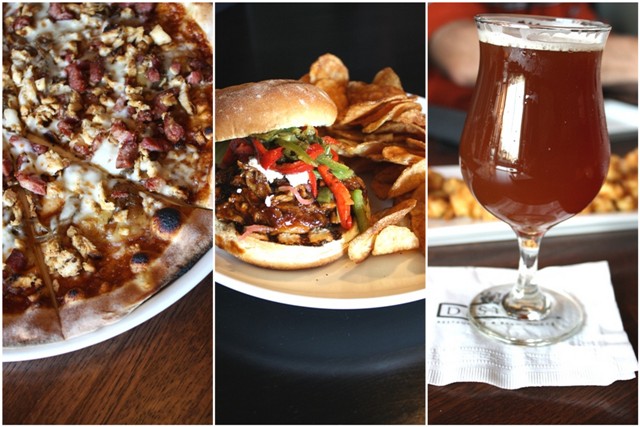 So, when you find a place that's brewing quality beers and is also hitting the marks with its food, you have to stand up and take notice. One such place is Desthil Restaurant and Brew Works in Illinois. They launched in Normal, Illinois in 2007. This spring, they opened a second location in the town of my alma mater, Champaign, Illinois. Both businesses are booming, and with good reason. The food and beer are both top notch!
Desthil's motto perhaps says it all, "Support Flavor. Boycott Bland." And that they do!
Their beers run the gamut with wheat, red, stout, brown—all the usual suspects—ranging from $1 for a four-ounce taste to $6 for 12-16 ounces. Each meets the flavor profile of quality beers in their category. The Redbird Ale is smooth and malty; the Black Angel Stout is creamy and coffee-rich. My favorite, the Hoperation Overload is a double IPA that bites back with extra hops.
Delightfully, the quality of the food is as strong as the beer. Executive Chef Manny Martinez tested 250 recipes before the gastrobrewery opened—a testament to his commitment to quality.  With a degree from the New England Culinary Institute in food and beverage management, Chef Martinez combines great taste with a keen attention to detail. The "New American" items on his menu combine a base of merely three to five ingredients, making them practical to turn around in an establishment that is always crowded.
Chef Martinez's menu reflects his personal taste: Latin American with an all-American feel. "It's comforting but with big flavors," he describes. Martinez started cooking when he was little. He would help his mom make tamales at Christmas and Thanksgiving, and during the busy workweek, he would attempt to help out by preparing meals.
"Mom kept all kinds of dry spices, and I loved to play with them. There was a lot of trial and error," says Martinez.
When he was only five years old, Martinez remembers trying to make frozen chicken in his mom's electric skillet. "It was raining and cold and I just wanted to do it," he remembers matter-of-factly. He says his mom never got mad at him for trying to cook. She encouraged this passion, and with stellar results that are reflected in the food at Destihl, and in Martinez's own young sons.
"I have two boys, five and seven," says Martinez. "They can tell when pasta is over cooked. They'll ask for smoked gouda cheese," he beams. Clearly, these are the sons of a talented chef.
Ceviche
A dish that especially captures Martinez's Latin American meets American style: a unique Shrimp Ceviche ($7.95), a bold choice in the middle of the Midwest, where most people have probably never had this Latin American dish of fish cooked in lime juice. (My mom and stepdad, both native Midwesterners, had never heard of ceviche until we ate it at Destihl.) Yet this top-selling appetizer could turn anyone into a believer. It combines the traditional shrimp and lime juice with cilantro, jalapeño, red onion and a flavor booster: fresh avocado guacamole. Served with tortilla chips, this simple dish offers a bright, refreshing start to the meal.
Cheese Curds
One of my favorite appetizers steals my heart for its purely Midwestern authenticity and its locally-produced cheese: hand-breaded cheese curds sourced from a local farm, Ropp Jersey Cheese, served with a roasted garlic tomato sauce ($7.95).
For those unfamiliar with cheese curds, they are fresh, young cheddar in its natural form—before it has been formed into cheddar blocks and aged. Because cheese curds lose their freshness within 24 hours, Destihl's proximity to the Ropp dairy farm makes this a delicious and matchless menu item. In my humble opinion, there is no cheese quite like a curd cheese. When fried and melted (another Midwest invention), curd cheese stretches and pulls and offers a firm bite better than the freshest mozzarella.
Additional appetizers include a brewery-must: stone oven pretzels ($4.95) that are fat, soft and chewy with an IPA mustard dipping sauce and a Midwestern cheddar cheese sauce. Destihl also offers nice spiced seared tuna ($7.95) with pineapple salsa, a Canjun-inspired shrimp and grits ($8.95), and a popular beer-battered asparagus ($8.25).
Stuffed Pablano Pepper
In addition to a tasty variety of soups, salads and stone oven pizzas, (my mom believes there's no better tomato soup than the one found at Destihl for $4.50), the item that brings me back to Destihl again and again is the outstanding Stuffed Pablano Peppers ($15.95—and worth every penny!) filled with white cheddar cheese (again, there's that Midwestern cheddar I love!) and mashed potatoes (another Midwestern must). They come served with ancho rice and beans studded with corn on a bed of rich red pepper sauce.
Martinez sources his pablano peppers from a local farmer in summer and will go through 40-50 pounds of these gorgeous peppers per week. The Stuffed Pablano Pepper is one of Destihl's most popular menu items—with good reason. Flavors abound in this simple dish. The roundness of the roasted pepper blends perfectly with the creamy potato and cheese filling. The corn offers a welcome pop against the soft dish, while the red pepper sauce punches up the flavor profile without adding heat.
This represents exactly that combination of comfort, American, and Latin American flare for which Martinez strives. As a vegetarian, I applaud this creation at full volume! So many restaurants (and brew pubs in particular) lean hard on meat to carry their menu, sidelining vegetarian items with uninspired mushroom burgers or cheese pizzas. I enjoy the latter, but I grow tired of eating the exact same menu item every time I go out to eat. I'd rather cook at home and offer my palate some originality. At Destihl, this happy vegetarian can eat something exceptional and filled with flavor—a truly cutting-edge experience.
I recently visited Destihl, and Chef Martinez was kind enough to demonstrate his Stuffed Pablano Pepper recipe for me. Stay tuned to Awake at the Whisk for the recipe! Since my pablanos are still ripening in my garden, I'll be testing the recipe here in my home kitchen once my peppers are ripe—and I'll be sure to share the recipes and the results.
Going Whole Hog
Chef Martinez and his three business partners demonstrate innovative thinking in the gastropub arena. They knew they wanted a space that highlighted quality food and beer—steering them in the opposite direction of most sports bars, thank goodness.
Martinez sources the restaurant's food from some 25 area farms per year for goats, pigs, honey and dairy. He grew up in Texas, where his dad was a sheep shearer, and was often paid in goats or sheep, so he knows first-hand about cooking with nontraditional cuts of meat. At Destihl, he'll break down the entire animal head to tail when he orders a pig or goat. He doesn't waste anything. He makes his own bacon and ham, and has a sausage grinder at the Champaign location. Twice per year, the staff visits a local farm.
Destihl's menu reflects Martinez's thoughtful approach to cooking with well-rounded choices that are certain to please.
Read this great article from The Washington Post for some background on gastropubs.