September is Food Literacy Month!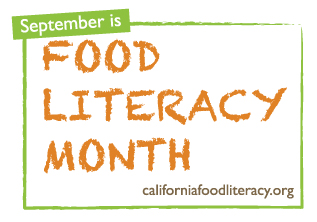 As the founder of Food Literacy Month, I'm busy, busy, busy planning events to celebrate. Here's the line-up:
Food Literacy Fair
Oak Park Farmers Market, 35th Street & 5th Avenue
Saturday, September 22 from 9AM to 1PM
Cooking demos, scavenger hunt, farm stands, live music, and more!
California Food Literacy Center Launch Party
Mayahuel, 1200 K Street
Saturday, September 29 from 1PM to 3PM
Kids recipe contest judging & winner announced, take a food literacy quiz to see if you're as food literate as the kids, and more!
Find tool kits here.
Follow us on Facebook for up-to-date details about live TV appearances and more!
Make a donation! Help us bring food literacy education to school kids!