Celery—that crunchy veggie once reserved strictly as a holding device for peanut butter—is finally getting its day in the sun. This time, the beautifully peppery crunch accompanies a hot sauce drenched fish taco, adding a cooling palette cleanse in each bite.
When I was little, I hated celery. I remember my daycare teacher making me sit alone at a table for "forever" because I hadn't finished my celery. I was a stubborn child and couldn't be told what to do.
When she turned her back, I crushed the celery and drowned it in the bottom of my milk. The daycare lady must have been on to me.
"Now, finish your milk," she scolded.
No way, I thought. I wadded up my napkin and dropped it swiftly into my milk glass. "I'm all done," I demanded, jumping down from my seat and running over to play with the other children.
Take that, celery!
Well, now I'm all grown up. While I still can't be told what to do, I do eat my celery. Emphasis on my celery. I grow the wonderfully crunchy stuff in my garden. Homegrown celery is an entirely different food from its evil grocery store cousin. I pick it young, tender, and tiny. Sure, you can still spread a mass of peanut butter in its hallows, but it's not a bottomless cavern of flavorlessness. It's bright, crisp, and aroma-filled tasting of grass and pepper.
Here, I've diced my celery as a condiment for a hot sauced fish taco. I grilled wild Alaskan cod marinated in hot wing sauce, added a shot of ranch dressing and topped it with celery and chopped veggies. This is a great way to enjoy fish tacos! And I guarantee you won't find your husband stuffing the celery in his milk glass.
Fish Tacos with Hot Wings Sauce Marinade & Garden Celery Recipe
3 Tablespoons unsalted butter
1/2 cup hot sauce
2 Tablespoons brown sugar
2 wild Alaskan cod fillets, about 1 lb., skins removed
4 flour tortilla shells
2 Tablespoons ranch dressing
2 stalks celery, diced
4 radishes, thinly sliced
1/2 medium red onion, thinly sliced
1 large carrot, peeled and thinly sliced
Farmers' market ingredients: celery, radish, red onion, carrot, butter, tortilla shells
Supermarket ingredients: hot sauce, fish, ranch dressing, brown sugar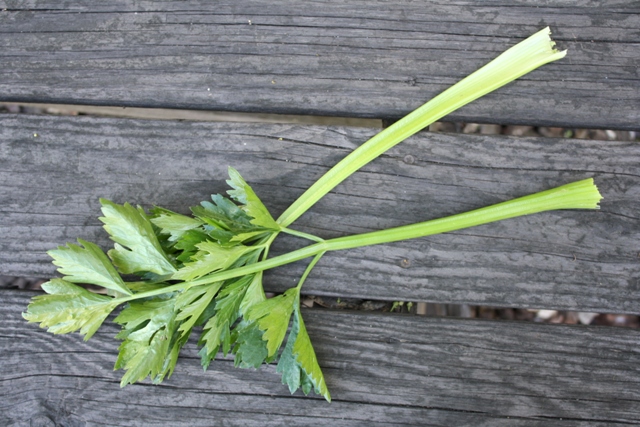 Instructions:
In a small saucepan over low heat, melt the butter. Add the hot sauce and stir to combine. Add the brown sugar and stir to combine. Bring to a low boil and remove from heat. Allow to cool to room temperature.
Pour 1/2 cup hot wing sauce into a large, flat-bottomed container with a lid. Rest cod in sauce and turn fillet to coat with sauce on all sides. Cover with a lid while it marinades for about 10-15 minutes.
Mix the celery, radish, onion, and carrot in a bowl and set aside.
Preheat grill to 450 degrees. Place cod on the grill and place the lid on the grill. Cook for 4 to 5 minutes, and then flip fillets over. Grill on second side with cover on grill for 4-5 minutes more, until flesh is flaky through the middle.
Add a half tablespoon ranch dressing to the bottom of a tortilla shell. Add 1/4 of the grilled cod meat and 2 tablespoons of the celery mixture. Add extra hot wing sauce if desired. Repeat with 3 remaining tacos. Serve immediately.
Yield: 4 celery-topped fish tacos
Learn more about Alaska Seafood.
Find other tasty fish recipes here.