If you think you know what fruit pizza is, think again. This isn't the ultra sweet stuff made from cookie dough. This is a pizza—four kinds of cheese, yeasted pizza dough—dotted with fresh fruit and a subtle low note of honey. It uses the gift of summer's best and lays it on vivid display.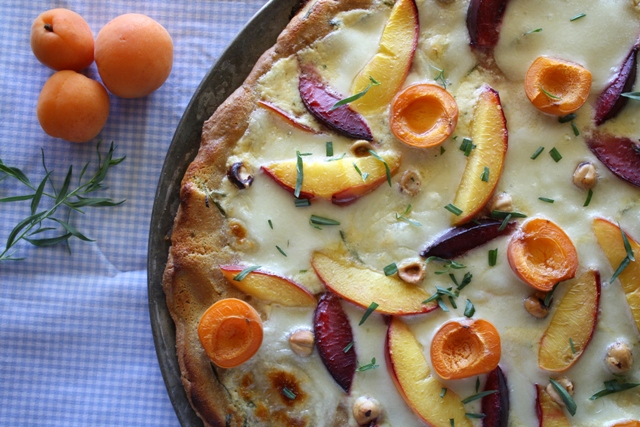 This isn't dessert. It's a meal. Serve it for breakfast or for brunch. Think of this as a perfectly assembled cheese plate.
Roasting fruit causes a slow rush of nectar to be released, making it juicy and syrupy delicious! Use any ripe, yet firm seasonal fruit. I've used plums from my backyard tree and stone fruit from the farmers' market. You can swap the tarragon for another fresh herb, such as basil or even rosemary.
Cheese Plate Fruit Pizza Recipe
Ingredients:
1 whole wheat pizza dough at room temperature
1/2 cup mascarpone cheese
1/2 cup ricotta cheese
1/4 cup orange juice
2 Tablespoons dark local honey
2 Tablespoons minced fresh tarragon, divided
8 oz mild cheese, such as mozzarella or jack, sliced thinly
2 cups sliced seasonal fruit, such as plums, apricots, nectarines, and peaches
1/4 cup whole hazelnuts or other local nut
1-2 Tablespoons blue cheese, crumbled
Farmers' Market & Garden ingredients: cheese, orange juice, honey, tarragon, fruit, nuts, wheat flour if making homemade pizza dough
Supermarket ingredients: cheese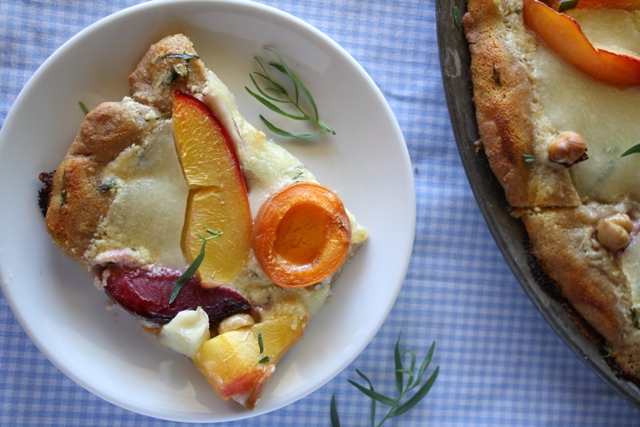 Instructions:
Preheat oven to 500 degrees.
Lightly grease a pizza pan and spread the pizza dough evenly over the surface. Prebake the dough in the preheated oven for 4 minutes.
Remove dough from oven. Allow to cool slightly.
Meanwhile, in a small mixing bowl, combine mascarpone, ricotta, orange juice, honey, and 1 Tablespoon tarragon. Stir to combine. The mixture should be the consistency of thick pizza sauce, so add more or less orange juice to adjust.
Spread 1/2 to 3/4 cup of the ricotta mixture over the pizza dough as you would spread pizza sauce. (Use any leftover ricotta mixture as a snack later.) Next, lay the mozzarella or jack cheese over the ricotta mixture to cover the entire pizza surface. Add the slices of fresh fruit and the nuts. Return pizza to oven for 8-9 minutes, or until the cheese is bubbly and the fruit juicy.
Remove pizza from oven and cool on a wire rack for 5 minutes. Sprinkle with blue cheese and the remaining 1 Tablespoon of tarragon. Slice and serve.
Yield: 4-6 servings