I fell in love with Ecuador in 2006. I was leading a group of big-hearted philanthropists on a tour to witness first-hand the results of a nonprofit microfinance and health education program being delivered to women living on less than a dollar a day.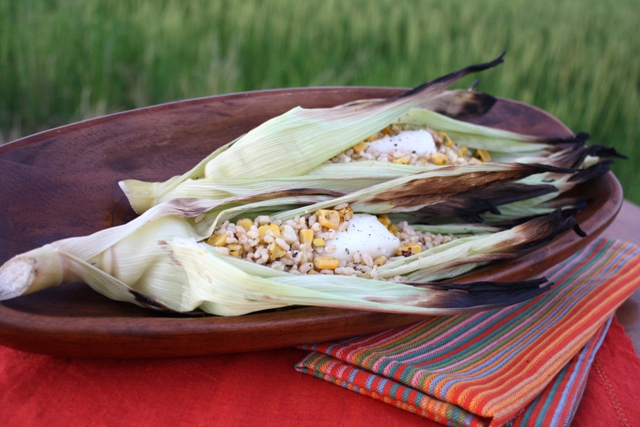 Many women used their microloans to start food related businesses. Some grilled meat on rolling street carts. Others baked wood-fired breads in round brick ovens. All of them graciously offered me and the other guests a seat at their tables and fed us heartily.
Not only did the hospitality of the Ecuadorian people inspire me; the variety of food did, too. Ecuador hosts a bounty of biodiversity (they own the Galapagos Islands), including 16,000 species of plants, and has the first constitution recognizing the rights of nature.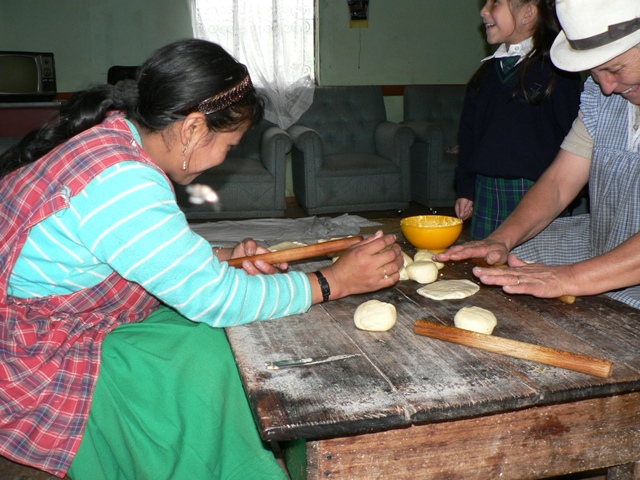 I tasted fruits in Ecuador that I'd never seen before, including the luscious cherimoya, or custard apple. The things my mouth experienced in Ecuador I shall not soon forget: fresh seafood and ceviches, corn-studded soups, homemade cheeses, sticky dulce de leche, frothy dark hot chocolate and freshly harvested honey.
When I returned from Ecuador, I began replicating recipes I had eaten there. My dear Ecuadorian friend, Santiago, was more than happy to review my recipes and instruct me on how to make the dishes more authentic. At one point, he decided to return the favor with an invitation to dinner at his house.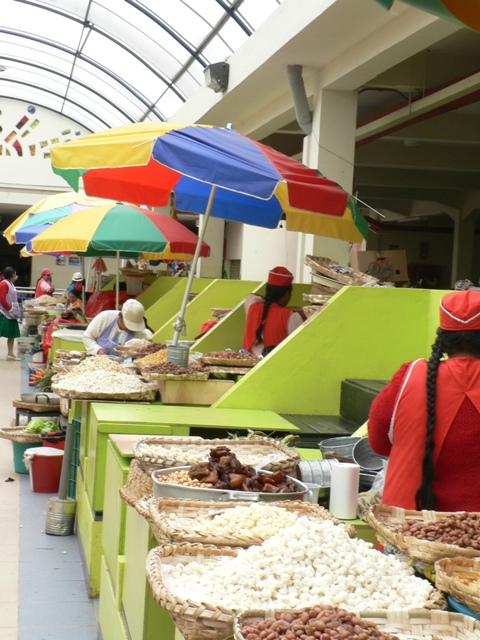 As my husband and I took our seats at Santiago's table, he presented us with the most beautiful plates of food: rice and fish baked inside a banana leaf. This wonderful taste of Ecuadorian cooking brought me right back to my travels with each flavorful bite.
This time of year, as we near the second solstice, Ecuadorians celebrate their harvest with Fiesta del Yamor when they offer the best of their corn harvest to the sun god.
Similarly, here in Northern California, it's prime harvest time. Our farmers markets are bursting with the best produce of the season.
I offer up this recipe to the sun god in thanksgiving for the wonderful harvest I've enjoyed from my garden, and the amazing food grown by our local farmers. I offer it in thanks to my friend, Santiago, who inspired it. I also offer it in thanks to the folks at Hinode Rice, who have purchased this recipe. I'm so grateful that they love my food!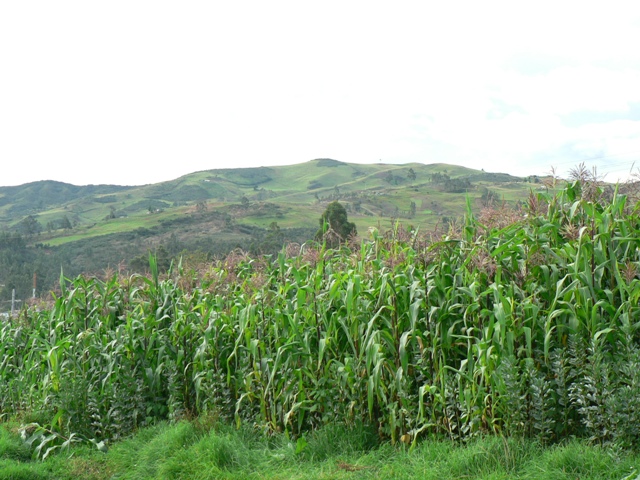 I've incorporated the best of Ecuadorian food in this recipe using ingredients found locally in Sacramento. Right now you can find bright, crisp cactus paddles, juicy ears of corn, lovely whole grain brown rice and firm, meaty sturgeon—all grown right here.
Fiesta del Yamor Fish Baked in Corn Husk with Hinode Brown Rice & Cactus Salsa
Serves: 4
Preparation time: 1 hour (plus 1 hour for soaking corn husks)
Cooking time: 40 minutes
Ingredients:
Fish Baked in Corn Husk
4 corn cobs in husks
2 cups Hinode brown rice, cooked
1 cup roasted corn, or kernels cut from 1 corn cob
2 Tablespoons Peruvian aji panca paste
2 teaspoons olive oil
1 lb halibut, filleted, skins removed, and cut into 4 equal pieces

Cactus Salsa
1 cup cactus, about 1-2 small paddles, spikes removed
1 garlic clove
1-2 jalapeños, red or green (use fewer if you prefer less spicy food), stemmed
1/2 large, white onion, peeled
1 green tomato, stemmed
1 cup cilantro
juice from 1/2 a lime
Salt & freshly ground black pepper to taste
1/4 cup water
Farmers market & garden ingredients: corn, olive oil, cactus, garlic, jalapeños, onion, tomato, cilantro, lime
California-grown ingredients: rice, fish
Supermarket ingredients: aji paste, salt and pepper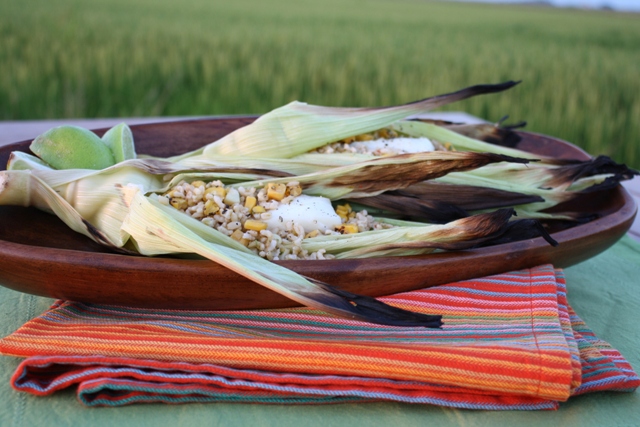 Method:
First, prep the corn husks:
Hold one corn husk by the bottom. Carefully peel each leaf of the husk downward, like peeling a banana, being careful not to remove the leaves. Continue firmly gripping the end of the corn husk. Take your second hand and firmly grip the corn cob. Push back and forth until it snaps out of the husk. Gently replace the husk leaves to their original position and soak in a large bowl filled with warm water. Repeat with the remaining corn husks. Soak husks for 1 hour. Set corn aside for another use.
Make the salsa:
Preheat oven to 400 degrees. On a lightly greased baking sheet, place the cactus, garlic, jalapeños, onion, and tomato. Roast in the oven for 10 minutes, or until veggies are lightly blackened and charred on one side. Remove from oven, flip veggies with tongs, and return to roast in the oven for an additional 10 minutes. Remove from oven and cool for about 5 minutes or until cool enough to handle.
Cut the roasted cactus, tomato and onion into large chunks. Place in a food processor with the remaining salsa ingredients. Puree until smooth.
Make the meal:
In a medium bowl, combine 1 cup cactus salsa, brown rice, corn kernels, aji paste, and olive oil. Stir to combine.
Remove corn husks from water and shake off any excess. Lay on a baking sheet. Gently peel back the top layers of one corn husk, leaving the bottom and side leaves in place. Spoon 1/2 cup of the rice mixture into the husk. Place one piece of fish on top of the rice, and then press the leaves of the husk back down to seal. Use a piece of kitchen string to tie the top inch or two of the husk closed. Repeat with remaining husks.
Place in 400 degree oven and bake for 20 minutes or until fish flakes easily. Serve. Use caution when opening corn husks because steam will release from inside.
Tips: When making the salsa, you may need to add more or less water, depending on how thick you want it.
Variations:
Instead of baking in the oven, place the stuffed corn husks on the grill preheated to 450 degrees. Grill for about 6-8 minutes, flip over, and grill an additional 6-8 minutes.