It's Dine Downtown Week hosted by Downtown Sacramento Partnership, and that means great food and great deals abound.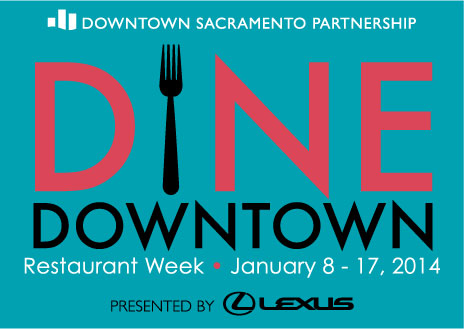 What is Dine Downtown? Local Sacramento restaurants sign up to participate in a week of $31 three-course menus. Traditionally, the menus cost only $30, but this year an extra dollar is being added to support the nonprofit California Food Literacy Center (the nonprofit where I'm founding executive director). The funds raised will prevent childhood obesity by inspiring kids to eat their vegetables.
I have already enjoyed two Dine Downtown menus: Esquire Grill and Downtown & Vine.
Downtown & Vine offers a nice range of choices on their menu, complete with a dessert and drink pairing to round out the meal, a great deal for the price. We were very pleased with our meal and will be returning again.
My husband and I ordered the antipasti plate and the smoke salmon plate. The antipasti had some unique treats, such as pickled gigande beans, tangy and buttery, in addition to the wild boar salami and prosciutto. The platter had a healthy serving of Midnight Moon cheese, a pleasantly sharp cheese.
The local salmon plate offered a deviled egg with pickled mustard seeds, and a healthy portion of Oregon coast smoke salmon that popped under citrus zest and capers.
This was only the first course!
For our second course, we selected the wild mushroom flatbread, which exceeded our expectations with its bold cheeses and wide range of mushroom varieties. We'll be adding this flatbread to our regular must-haves in Sacramento.
We also tried the wine country grilled cheese, which came as a hearty portion: a full sandwich with fresh mozzarella, prosciutto, fig jam and arugula. This was paired with bread and butter pickles, olive oil truffle potato chips and a cup of lovely tomato soup.
Before course three arrived, we were already full, but we soldiered on, because there's always a little more room for dessert, right?
With three desserts to choose from, you really can't go wrong. The Big Rock Blue Cheese plate came with a delicious amber honey comb and candied nuts, paired with a 2009 DeLoach Late Harvest Gewurztraminer, which was clean and refreshing.
The apple and walnut tarts burst with almond and butterscotch, both worthy of savoring in the warm restaurant, tucked away from the cold night. These were paired with a strong, sweet 2012 Noceto Frivolo Moscato.
The final dessert is a walnut-studded chocolate brownie topped with rich, buttermilk chocolate frosting. It's paired with by far my favorite beverage pairing of the night—Lindeman's Framboise Belgian Raspberry Beer, which tasted quite precisely like raspberries, and more like a cider than a beer. It was an excellent match to the rich chocolate dessert.
At Esquire Grill, I enjoyed a colorful kale salad studded with shaved beets and sunflower seeds. For the second course, I had a perfectly cooked salmon filet topped with a light smear of dill sauce atop a bed of lentils. For dessert: an apple galette with a perfectly flaky pastry.
Dine Downtown runs through Friday with 28 amazing restaurants to choose from as you eat to support a good cause. For details and menus, visit their website: http://downtownsac.org/events/dine-downtown/.