"The sea is too dangerous today," our hotel proprietor at the bed and breakfast in Chacala, Mexico tells me.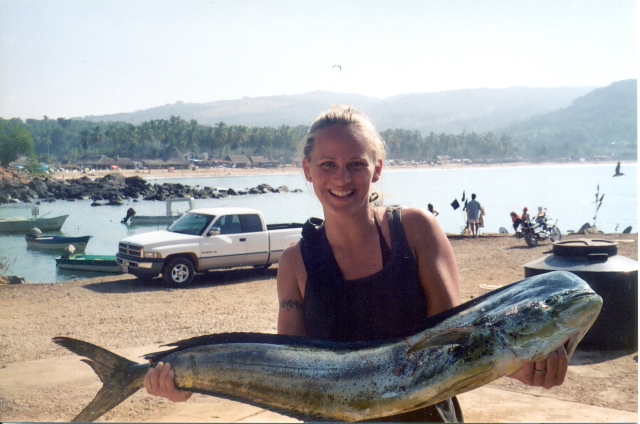 I want to go deep sea fishing.
A few years ago, I traveled to Turkey to backpack for a month with a friend. Along our backpacker route, we bumped into other interesting travelers. There was a guy from Alaska who had the best tales. His father owned an Alaskan fishing boat. He fished only a few months of the year. The rest of the time, he traveled with the money he earned.
He told us about his fishing adventures, how they closely resembled those from the Hollywood blockbuster, The Perfect Storm. He talked about capturing sharks in fish nets, the dangers of the angry sea, and the joys of a fat paycheck at the end of a good haul.
By the time I left Turkey, I was sold on the idea of having my own fishing adventure!
Fast forward. I'm in Mexico on my honeymoon in a tiny fishing village. The primary extracurricular activities include hiking, swimming, lying on the beach, reading books, eating fresh seafood, and fishing. We had done all but the latter on our 12-day stay, and it was time to experience the deep seas.
We ran into another American couple during our stay: Ryan (the wife) and Danny (the husband), who had also arrived for their honeymoon. They owned a pizza shop in Alaska. While in Mexico, they were renting a room from a Mexican guy who owned a large sports fishing boat, equipped with a backup motor and radar—safety features the other local guys didn't have. Ryan and Danny recommended we hire him.
None of the other locals were willing to take their boats out that day. The sea was treacherous. Their tiny boats would have capsized from the massive waves.
We had already waited a few days for the sea to calm. Our fishing guide assured us that today would be safe enough for our journey.
We rose before the sun and met our guide at the boat dock. He handed us life jackets and tested his equipment. Just as the sun rose over the ocean, the boat glided away from shore.
All too soon, the shoreline shrank from view. Each colossal wave threatened to rise without end. The boat rose higher and higher, and then nose-dived swiftly to its bottom below. With each fall, my stomach collapsed. I looked at my husband. His face was green.
I have been on the ocean before. But this? It felt more like a rollercoaster than a boat ride. With each new wave, I softly requested that my life be spared.
"This is about as bad as I've seen it!" shouted the boat's owner.
"Just breathe," I reminded myself.
I turned to see how far we had come. The shoreline had completely disappeared from view.
Gulp. I pulled my life jacket tighter.
As I whispered a silent prayer to the weather gods, I saw a flit of color off the bow of the boat. A rainbow of iridescent blues, greens, and purple shattered the top of the ocean. I pointed and waved. In a leap of beauty and majestic dreams, a sword fish gleaned through the air. Having only experienced this fish in a grey lump on my dinner plate, I was mesmerized. Such color! Such elegance!
I suddenly forgot how awful my stomach was feeling. The breathtaking views seemed to cure me instantly.
Then the boat stopped. We had reached our fishing destination, marked by the swarm of seagulls diving for their dinner. Without the propelling from its own motor, the boat was now totally at the mercy of the waves. The slower ups and the more dismal downs were enough to make the toughest man squeamish.
"Just keep breathing," I think I said aloud this time. I inhaled deeply.
Our guide readied a fishing pole and cast the line far out into the sea. He asked me to hold it. I'm an experienced fisher girl, having given the Mississippi River fish a run for their money during my growing years. I know the feel of a fish tugging on my line. I felt adequately prepared for the task of deep sea fishing.
Almost as soon as I took hold of the line, I felt a tug.
"I've got one!" I called.
"Yank it!" shouted our guide, enthused.
I gave that pole a giant tug, using the full force of my arms and upper body. I twisted my hips as I jerked.
"Now, reel it in!" encouraged the guide.
I attempted to turn the reel. It barely moved. I tried again. Nothing.
"I need help!" I cried. Seconds count when it comes to fishing. My dad was often the one who had to step in at this stage of the game—even with a tiny Mississippi bass—let alone this ocean monster.
Still looking green, my husband's eyes gained a bit of life as the fishing guide pulled him forward to take over the line. My manly husband cranked the reel with success, and while the fishing guide coached, he brought in our catch.
As our fish neared the surface of the water, I saw his glowing skin. I couldn't believe the size of him! Was he as tall as me??
At more than 20 pounds, the sleek, green sparkling Dorado took two men to bring it over the boat's side. It flopped about mightily—a strong, capable fish.
Lucky for us, our first fishing adventure was a short one, because the waves were unbearable. With our catch successfully aboard, we headed back to the safety of shore.
On land, our beautiful fish, now lifeless and grey, was gutted and loaded into the back of a van. Our hotel proprietor assured us it was in good hands. Twenty minutes later, he returned with the name of a tiny beach restaurant.
"The owner is cooking it on banana leaves over a fire for you. It will serve 12 people," he explained.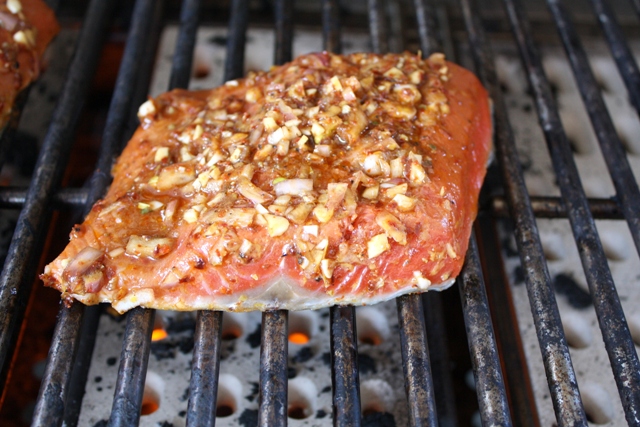 So, my husband and I gathered every American in that tiny village: 12 of us total. That evening, we arrived with a watermelon-shaped piñata for the children. We were the only customers at the little beach hut kitchen. We filled a long table and ordered beers and tequila. Shortly after, bowls and platters arrived, each filled to the rim with beans, tortillas, and chunks of our glorious fish.
We ate and ate until we could eat no more. Our fish was moist and flaky—unlike anything we'd had the privilege of eating before. And when it came time to pay our bill, what was it? A mere $2 per person!
To this day, eating fish tacos transports me to that beach.
Instead of mahi-mahi I'm using Alaskan wild salmon in this recipe, because the Monterey Bay Aquarium Seafood Watch guide lists wild Alaskan salmon as "best choice" seafood—and I'm all about behaving sustainably with my food choices. It doesn't hurt that this salmon is tender, moist and tasty, too!
Grilled Blackened Salmon Fish Tacos with Asian Slaw & Lime Paprika Sauce Recipe
Zest and juice of one lime
1 shallot, minced
3 cloves garlic, minced
2 Tablespoons soy sauce
1 Tablespoon olive oil
1 Tablespoon Turkish Aleppo pepper or red chili flakes, optional (use less if you don't like things spicy)
1 teaspoon freshly cracked black pepper
2 Wild Alaskan Salmon fillets, about 1 lb total
4 flour tortilla shells
1 cup local farmers' market Asian slaw, divided
Instructions:
In a large, flat-bottomed container with a lid, stir to combine lime juice and zest, shallot, garlic, soy sauce, olive oil, chili flakes, and black pepper. Place salmon fillets flesh side down (skin side up) in the marinade. Cover the container and store in the fridge for at least 15 minutes.
Now, prepare the paprika sauce:
Lime Paprika Sauce
1/4 cup organic mayonnaise
Juice from half a lime
1 teaspoon paprika
1/2 teaspoon gound cumin
Stir together mayonnaise, lime juice, paprika and cumin. Cover and set aside in the refrigerator. This will keep for a week in the fridge and can be made in advance.
Now, prepare your fish tacos:
Preheat grill to 450 degrees. Place salmon skin-side down on the grill and place the lid on the grill. Cook for 4 to 5 minutes, and then flip fillets over. Grill on second side with cover on grill for 4-5 minutes more, until flesh is flaky through the middle.
Add a half tablespoon Lime Paprika Sauce to a flour tortilla. Top with about 1/4 of the grilled salmon and 1/4 cup of the Asian slaw. Repeat with three remaining tortillas. Serve immediately.
Yield: 4 plump, juicy fish tacos
Here's more information on wild Alaskan seafood.
Here are more recipes using wild Alaskan seafood.