Alaska! America's last wild frontier has left a lasting impression on me. A week after my great Alaskan vacation, my hair still smells of campfire and my pants of smoked salmon.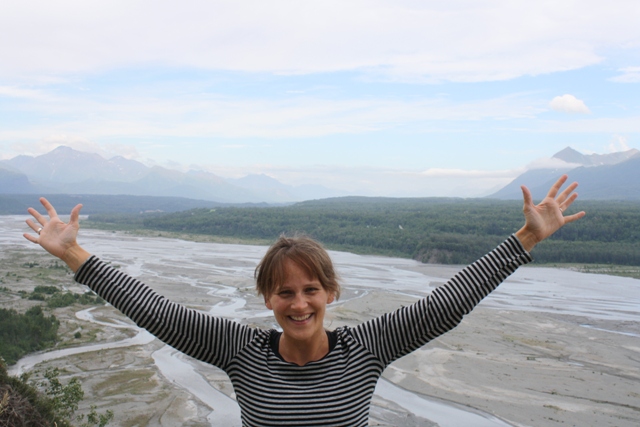 I'm a lucky, lucky girl. Last year, the Alaska Seafood Marketing Institute ran a fish taco recipe contest. The blogger of the winning recipe earned a free trip to Alaska—and that lucky winner was me! Holy cow!
This July, my husband and I packed our flannels and headed north. Way north.
Moose running loose on the streets
I had never been to Alaska before, and didn't know what to expect. My inexperienced impressions included wild moose running loose on city streets, cold weather, sunlight all night long and fish filling every inch of creeks and rivers.
I was a little bit right—but also in for a whole new world of surprises.
Preparing for Alaska: Canoeing the American River
Exactly one week before leaving for our big voyage, where we had planned to hike, fish and fully embrace some outdoor adventuring, Brendan and I decided to go for a quick canoe ride on the American River.
If any of you know me, you're familiar with my hectic lifestyle, where work largely consumes the bulk of my time. I had just completed a late afternoon food literacy talk at a local library on this Saturday afternoon. I rushed home, eager to have a few hours with my husband. He had the canoe and gear packed, ready to roll.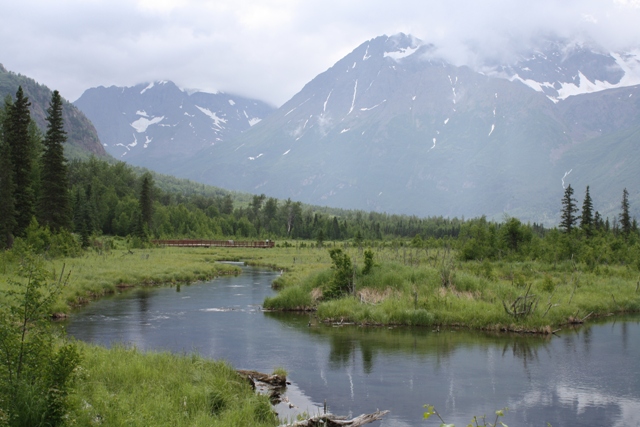 Within a few minutes of putting the canoe in the water, we had a choice to make. Turn left at a fork in the river to avoid the mild rapids, or head straight through. The water is so low on the river right now we didn't think about how it might change the pattern of the rapids we had easily maneuvered a dozen times before. So, we headed straight through.
Catastrophe in the rapids
All I remember was the pounding and scraping of my knees against boulders, ripping and tearing at my flesh. I remember thinking it was imperative to roll over, get my padded butt facing the rocks rather than my tender knees.
As soon as I was able to flip myself, I saw my giant husband standing in the middle of the river. In one hand he held the canoe, two paddles and our small cooler. He reached the other hand down into the swift water and plucked me out.
Blood poured down my knees. I was afraid to stand, but Brendan was urging me to help him get the canoe out of the water and up on the nearby bank. I willed my knees to support me despite the ache of every step. He emptied the canoe of water, righted it, returned our gear and helped me back in.
Alaska on crutches?
The next day, I could barely walk. I went to the doctor, who gave me crutches, prescription Ibuprofen and instructions to keep my legs elevated.
My dreams of hiking Alaska vanished. I saw myself hopping around on crutches, trying to stand at a bar with a beer in one hand, my crutches in the other. I saw myself hotel-bound.
Thankfully, within a few days before departure I was able to ditch my crutches. But my knees still throbbed and looked like giant softballs. There would be no hiking adventures. I boarded the plane, fingers crossed that my knees wouldn't spoil our entire vacation. Who wants to be hotel-bound in Alaska?
Then I checked the extended weather forecast: rain, rain and more rain.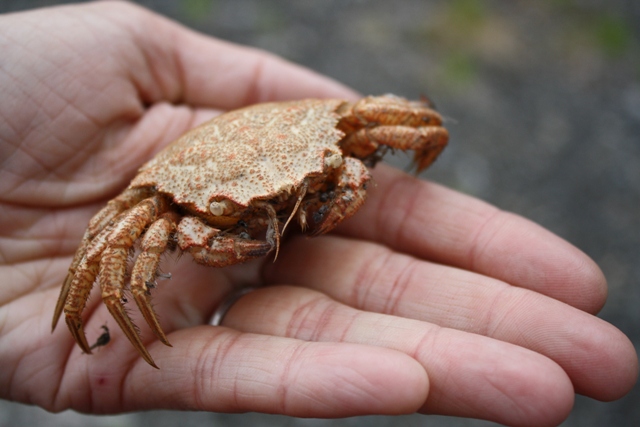 I gave a silent prayer to the vacation gods to let us have a happy trip. I really needed a vacation, and so did my husband. Our last vacation had been two years ago to hike the Grand Canyon. Not long after, I started a nonprofit while working a part-time job, working long days and full weeks just to get it off the ground. We needed time together, away from real life, chores, jobs and technology. Yet, between my swollen knees and a dreary forecast, the outcome wasn't looking good.
#1. Anchorage & Moose's Tooth
We landed in Anchorage, obtained our rental car (thanks, Alaska Seafood Marketing Institute!), and headed for the Hotel Captain Cook (hotel also thanks to Alaska Seafood Marketing Institute). This fine establishment offers the best accommodations in town, and we scored a corner room with a view: mountains to one side, the ocean on the other. The hotel manager was kind enough to offer my husband free access to the health center. If he couldn't hike, at least he could stay in shape.
Alaska was looking pretty nice from the start!
Next on the agenda: dinner. The hotel clerk recommended a local pizza joint that brews their own beer: Moose's Tooth. It was after 9 p.m., but we didn't notice. The sun was still high in the sky. The Fairweather IPA was hoppy, bold and just what we needed after a long flight. The pizza was delicious and the Caesar salad dressing freshly made.
At the very least, I knew I could eat and drink happily on this trip. But would I see any wildlife if I couldn't hike?
Turns out Alaska is so wonderfully wild that you don't have to travel far to see nature, and if you've got a good rental car (thanks again, Alaska Seafood Marketing Institute!), you can experience quite a lot without leaving the comforts of your dry vehicle.
#2. Farm to Fork Alaska: Giant vegetables & a musk ox farm
Everything is big in Alaska, including the vegetables. In early July when we were visiting, vegetables gardens were just beginning to grow. Yet, with 24 hours of sunlight each day, veggies grow fast and feral. Palmer, Alaska is known for a state fair that features cabbages the size of bears! Since we couldn't see the giant veggies, we stopped by the town's visitors' center, which features a beautiful garden filled with varieties of vegetables commonly grown in Alaska.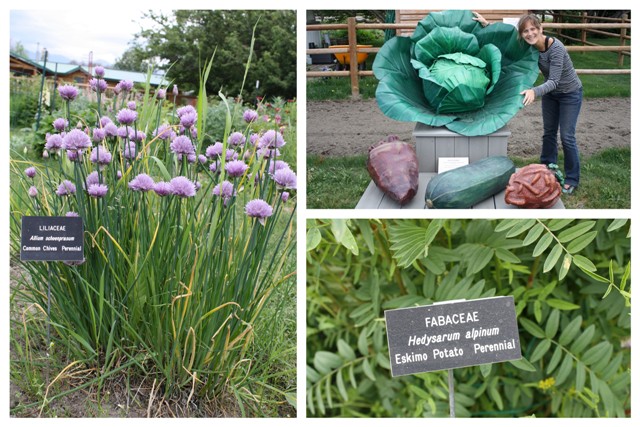 Palmer also has an excellent Mexican restaurant called La Fiesta that serves local microbrews.
Just a few miles down the road there's a nonprofit musk ox farm. We arrived after closing, and I was sorely disappointed. Musk oxen are ancient creatures that actually exist from the Ice Age! Their wool is among the most prized in the world, and apparently some of the warmest. Next time I'm in Alaska, I won't miss my chance to see this farm.
#3. Glacier watching & glacier ice cocktails
There are lots of ways to see glaciers in Alaska. You can hike, drive, kayak or take a cruise. Glaciers are plentiful.
Brendan and I booked a glacier cruise so we could escape the rain, and so I could stay off my knees. It was called the "26 Glacier Cruise," but that day the fog and rain were so thick we saw only three. Yet, that's three more glaciers than I've ever seen, so I was impressed. Brendan and I had to share a table with a family who didn't speak any English, which made the journey a little awkward.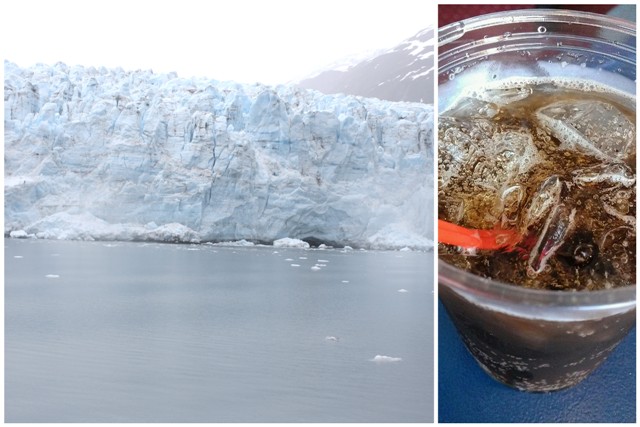 One of my friends took this same cruise during non-tourist season on a fair weather day, and not only did they have a table all to themselves, they also saw all 26 glaciers.
The highlight of this trip (other than seeing the glaciers) was getting to drink cocktails made with glacier ice that the boat staff scooped out of the ocean on site. Where else can you drink 80 year old ice that fresh?
#4. Wild Alaskan animals
Despite my hopes that a moose would be waiting for me at baggage claim in the airport, I had been in Alaska for three days without seeing a single one. It was likely a combination of the rain, fog and my inexperience knowing where to look for them.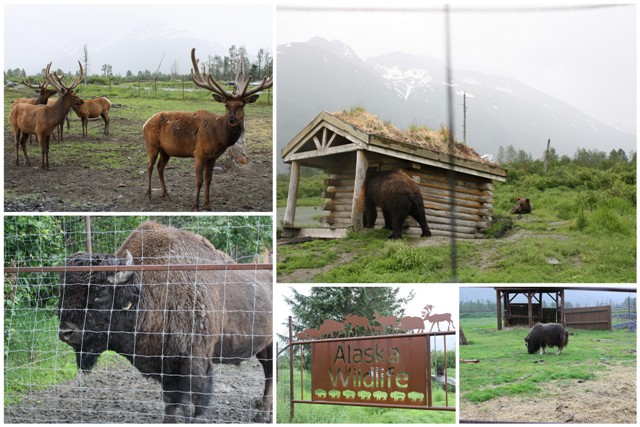 Luckily, I spotted a sign from the road as we were driving one day. It had pictures of all the animals I had been hoping to see: moose, bears, musk ox.
"Pull over! Animals!" I exclaimed when I saw the sign. My husband graciously obliged me. One left turn and we were suddenly in nature paradise!
The Alaska Wildlife Conservation Center is a nonprofit that takes in wild animals that are orphaned or injured and either rehabilitates them for their return to nature, or permanently houses them. Best of all, their facility is built to allow visitors an up close and personal experience with the animals. If you love animals, this place is like being a kid in a candy shop! Sheer joy!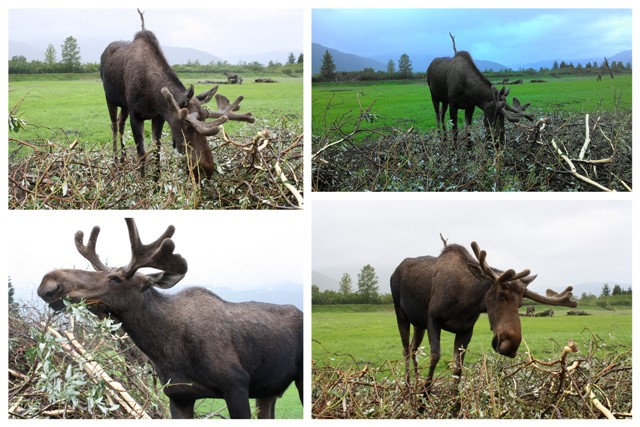 At Alaska Wildlife Conservation Center I got to see my first real moose! There were also musk ox, elk, wood bison, eagles, lynx, grizzlies, caribou and so much more. We arrived one hour before closing, but were still able to pack in photos of nearly every animal. If you're a real nature lover, you should plan for a few hours of animal bliss.
#5. Fishing King Salmon on wild rivers
The rivers in Alaska are exquisite! They've been allowed to run free and wild. My husband is a river scientist, and he was excited about something called a "braided river," where the wide river bank has a series of twists and snaking turns that cut in and out of each other. The rivers are wide, flanked on all sides by nature or ocean and many are filled with silt from the nearby glacial runoff. As we drove from destination to destination we pulled the car to the side of the road many times to snap photos of the wonderful Alaskan rivers.
We also hired a guide through IFishAlaska.com to take us on the Deshka River for some salmon fishing. What a wonderful adventure! The guide drove us deep upstream to banks we never could have viewed from our car. Brendan and I grew up on the Mighty Mississippi River, which until then had been the widest river I'd ever seen. This massive body put the Mississippi to shame.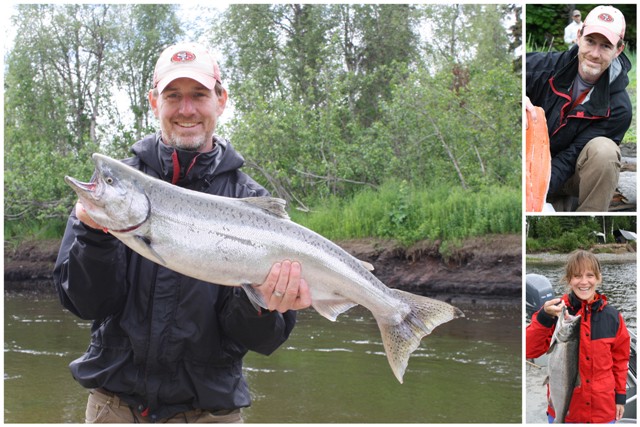 Eagles soared around us. A tiny bird called an Arctic Tern also followed our boat (eager to eat one of its favorite treats, salmon roe, which also happened to be our fish bait). The rain stopped long enough for us to both catch fish. Our guide knew exactly where to find them, what bait to use and what type of reel. All we had to do was show up with a fishing license.
We fished for King Salmon, which meant our fishing limit was one salmon per person. Luckily, we each successfully caught beautiful fish. Our guide said their color indicated they had quite recently left the ocean. He filleted them right on the beach, tossing the carcasses to the eagerly awaiting sea gulls.
Once back to our car, we put our salmon on ice in a cooler, and anxiously dreamt about eating fish tacos. After all, it was a delicious salmon taco that landed us this free trip to Alaska.
#6. Seaside fish tacos & beach bonfires
When our luxurious nights in the Hotel Captain Cook came to an end, we experienced Alaska on a budget. It's a 4-hour drive from Anchorage to Homer, Alaska. My husband and I met up with dear friends who live in Fairbanks for a few nights of real nature.
In Homer, we chartered a boat to porter us, a kayak and our gear to an island on the ocean, where 2 nights in a yurt awaited us. The yurt cost $75 a night—cheap accommodations for Alaska in peak tourist season, especially when split between two couples. The yurt was equipped with mats for sleeping, a wood stove and the promise of a dry bed each night.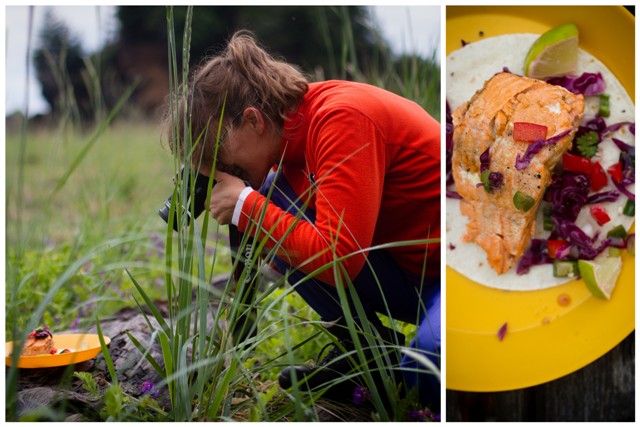 Photos in this collage by Johanna Carson
My knees were still sore, but getting better each day. By the time we reached the yurt, I could walk up and down the short path from the ocean to the hut without pain.
We had the entire beach to ourselves, though we gladly shared it with a family of eagles. For meals, we sliced generous chunks of our freshly-caught salmon and turned them into five star meals accompanied by five star views. Since a salmon fish taco recipe had landed us this free trip, we decided to honor the recipe by cooking fish tacos right there in Alaska, on the beach.
We brought a camp stove and dishes to aid in our cooking, but had no more than a pocket knife and a few plastic spoons. With our fish and other food safely packed in coolers, we had everything we needed to make a modern meal. Fish tacos never tasted so good as they did on that beach!
We also kept a robust bonfire burning late into each night and first thing each morning. Life just doesn't get much better than that!
#7. Salmon Bakes & Halibut Cheeks
My friend Hank Shaw introduced me to the concept of eating fish cheeks. He swears by them as one of the best cuts of meat on a fish—and he's right! Yet, rarely do you see fish cheeks served on a menu. In Homer, Alaska, we found halibut cheeks in a great little restaurant overlooking the ocean.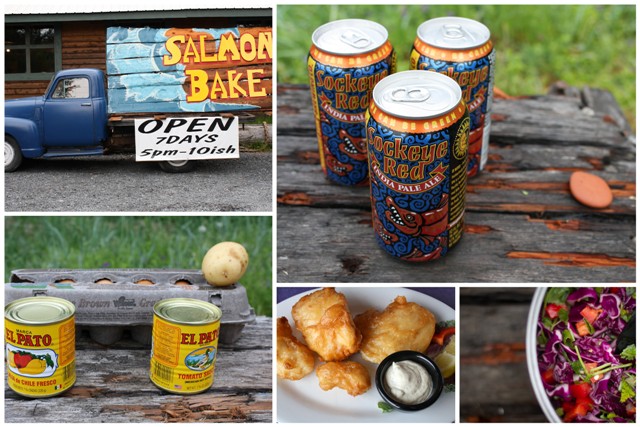 Bottom right photo by Johanna Carson
Unlike smaller fish, whose cheeks are about the size of a quarter, halibut cheeks are the size of golf balls. Of course, seafood in Alaska already tastes fresher and sweeter than anything we can obtain in Sacramento, but these halibut cheeks burst with seawater and rich, buttery flavor in such bursts, I felt as though my mouth were being sent on a sea voyage. Heaven.
Salmon bakes are also popular in Alaska, so of course we had to try one in Seward, Alaska. The restaurant had a giant barrel of pickles, and guests could help themselves. Served with a moist halibut sandwich and an ice cold, local microbrew, any thoughts of Facebook or Internets just slipped into the distant past.
#8. Alaskan microbrews
Thank you, Alaska, for appreciating good beer! From the biggest city to the tiniest village, Alaskans are brewing up great, local beers. Everywhere you go, you can get a decent microbrew. From the airplane upon arrival to the most commercial tour boat, you won't be offered watered-down brand names in Alaska. They know good beer, and they drink it!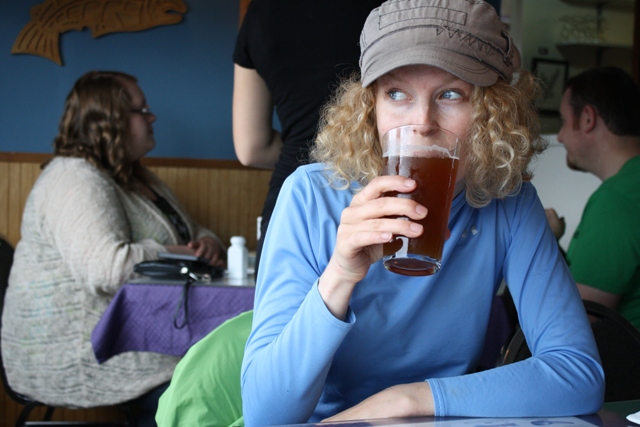 Johanna Carson–as beautiful in front of the camera as her photos.
Some of our favorites included:
#9. Wilderness photography
If you have a camera, be prepared to use it in Alaska! On our first day, I took some 200 photos. From the wild rivers to the glaciers to moose to wildflowers, everything is free and beautiful in Alaska. My friend, Johanna, is a brilliant photographer, and I had the benefit of her private lessons while we were enjoying the beach. I can't imagine a more wonderful place to learn photography. We captured the glowing flames of our beach bonfire, the swift ripples of a mountain river flowing into the ocean and the tiny brushes of fluff on a wildflower.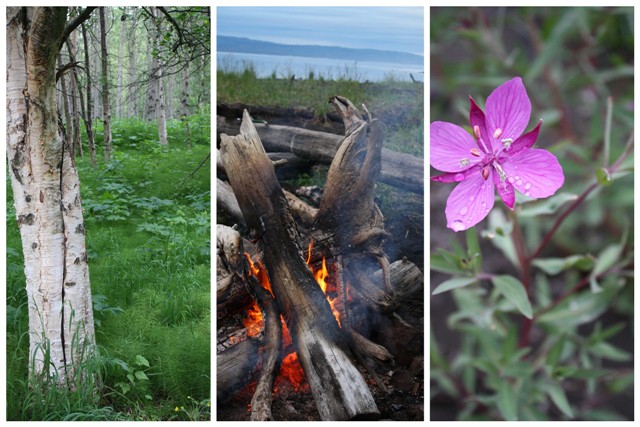 I was grateful that I packed my laptop to download photos from my camera and my phone every few nights of our trip, because I filled my memory cards quickly.
Thank you, Alaska Seafood Marketing Institute!
Alaska blew my mind in such a freeing way! Vast, wild and brimming with adventure; we ate amazing, simple food, drank fantastic beers, fished, explored nature and most of all—relaxed. Despite my injured knees, I was able to enjoy an adv