Wild blackberry bushes are my happy place. I don't mind the thorns or the gnarly bramble. Send me into the middle on a 100 degree day, bare arms and all, and I'll emerge victorious with richly stained fingers and a full bucket of berries. Today, my haul consisted of four pounds of glistening fruit the color of midnight.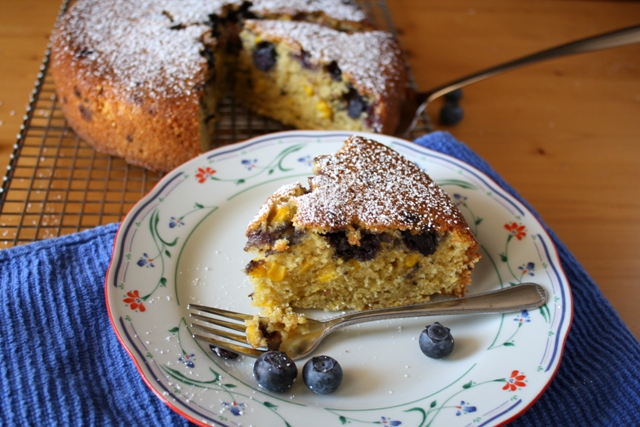 I remember my first wild blackberry experience. We were traveling with friends on an island near Seattle. We came for a wedding, and decided to drive to a park for a quick hike the day before. The countryside was awash in wilderness—lanky pines, breezy meadows, birds in flight. It was a lovely location for a wedding.
As the car came to a stop sign, I noticed the bushes. I can spot them anywhere with their wide clustered leaves and thin branches woven together in a menacing pattern which, for many, might yield them to keep out. Not me! I view this as an invitation, a challenge, to dive in. Tiny dew drops of berries dripped from the plant, shining in the sun, calling me over.
"Are those berries?" I gasped with excitement.
"Probably. They grow like weeds everywhere out here," said my friend.
"Where are we going? Let's go get some!" I chimed, bubbling with anticipation of my first, sweet bite.
The car pulled to the side of the road, and before it had fully stopped I was out the door, running toward the blackberry bush. The fruit did not disappoint: gooey, warm from the sun, sugary as jam, coating my tongue in its richness. The scent of those berries was rising all around me, as if nature's oven had baked up a pie. Blackberries call me—all my senses. And I love to heed their cry!
I could have stood on that roadside picking berries all day, but my friends gently coaxed me away. There's something wildly appealing about one of the world's most delicious fruits growing freely along roadsides and parks, inviting us for a taste—at absolutely no charge. These same berries will set you back $4 or $5 for a small handful at most markets. But in the wild—they are ours for the taking by the bowl full! The only price you pay are the cuts from the thorns—a cheap price in my personal opinion.
Blackberry season is fleeting, as it is with most berries. When you bake them into pies and cakes their perfume magnifies. They pair brilliantly in this cake with the pop of summer fresh corn and the peppery sweetness of cardamom, a spice that beams next to berries. Fruity olive oil adds a balanced back note to this perfect summer cake.
Some recipes come and go, but this cake remains a staple in my kitchen. I often serve it for breakfast when company comes. It steals the show every time. You can use any type of berries in this recipe: blueberries, blackberries, raspberries, or even mulberries.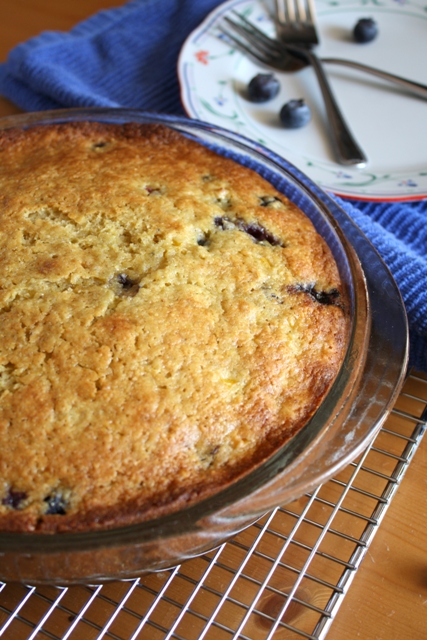 Blackberry Corn Cardamom Cake with Olive Oil
Adapted from: Farmers' Market Recipes by Jennie Schacht
Ingredients:
1 1/2 cups blackberries or blueberries
3/4 cup corn kernels
1 cup plus 2 Tablespoons all-purpose flour
1 cup granulated organic sugar
1/2 cup yellow cornmeal
2 teaspoons ground cardamom
1 teaspoon baking powder
1/4 teaspoon baking soda
1/2 teaspoon salt
2 large eggs
1/2 cup buttermilk
1/3 cup extra virgin olive oil
1 teaspoon vanilla extract
1-2 Tablespoons powdered sugar for dusting finished cake
Instructions:
Preheat oven to 350 degrees. Grease and flour an 8-inch round cake pan. Set aside.
In a small bowl, add berries and corn with 2 Tablespoons flour. Gently toss to coat and set aside.
In a large mixing bowl, combine flour, sugar, cornmeal, cardamom, baking powder, baking soda, and salt. Whisk to combine.
In a medium mixing bowl, combine eggs, buttermilk, olive oil, and vanilla extract. Whisk to blend.
Add egg mixture to flour mixture and stir just until combined. (Do not over mix.) Gently fold in the berries and corn.
Add the cake batter to the prepared cake pan. Bake in oven for 40-45 minutes, until a toothpick inserted in the middle of the cake comes out clean, and the cake is lightly golden.
Cool cake on a wire rack for 10 minutes. Loosen edges of cake with a knife and invert onto a serving plate. Dust the cake with powdered sugar and serve warm.
Yield: 12 servings