When it comes to dessert, sometimes a bite is all you need to curb your sweet tooth. Other times, you want to try everything in the pastry case, but admittedly, your eyes are bigger than your belly. Enter: About a Bite Bakery, a new pastry line designed by Sacramento area business owner and baker Jennifer Kaye. She's baking up tiny, bite-sized treats.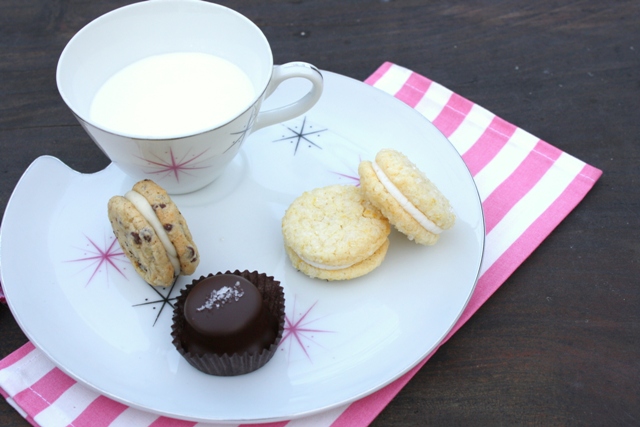 Jennifer contacted me to offer a sample of her bites. What fun! The package of daintily wrapped treats arrived at my door tied in green and purple bows. Was it my birthday? I felt so special!
As I laid out my wealth of treats, I realized I had the makings of the perfect tea party. I broke out some vintage china and gathered my family around. We could each taste to our hearts' content. Bright lemon cookies sparkled under specks of sugar, tender with delicate, creamy curd filling. Fleur de sel chocolate chip cookies melted into a vanilla center. Ginger molasses cookies zipped with spice and popped with a ginger preserve center.
And the fun was only beginning!
Raspberry almond bars sang merrily of berry and flaky almond shortbread, tender. Gooey salted caramel chocolates standing on a crisp shortbread bottom surprised, offering a unique approach to little paper-lined boxes whose appearance was reminiscent of Valentine's Day, yet whose welcome components provided something new to chew. Tangy blood orange paired with dark chocolate on a chocolate shortbread base. Rosemary caramel bathed in chocolate in a perfect balance that was mostly sweet with subtle herb essence.
Bite after tiny bite, we beamed.
I asked Jennifer to tell me a little about her concept, and here's what she said.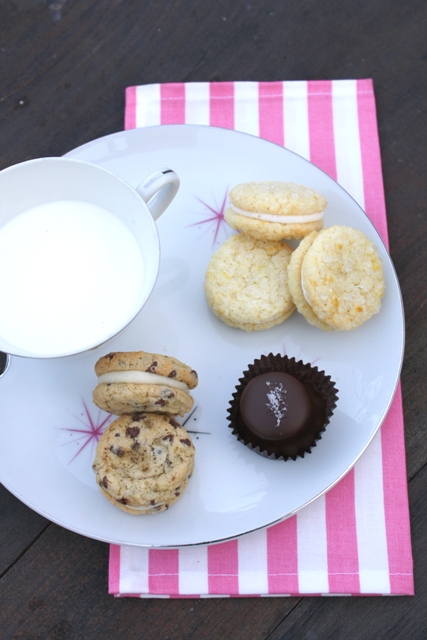 — How did you come up with your business idea?
I've always loved food and baking in particular, so last year I decided it was time to take the plunge and turn my passion into a business. I knew I didn't want to do cupcakes or cake pops, as there are plenty of bakeries out there doing those very well.  I also didn't want to do straight up brownies or cookies, as there are tons of those out there.  I wanted to do something different.  My first baking love has always been cookies.  Then I took a week long Chocolates and Confections class at the CIA and really enjoyed it.  So the thought occurred to me to combine the two into unique bite sized treats – what I call "Bites".  I also love the idea of small sandwich cookies and unusual bar cookies, so I decided to add those to the lineup, each with a unique twist.  Hopefully there's something for everyone in what About a Bite has to offer!
 — What inspired you to bake small?
I LOVE desserts and often have a difficult time deciding on just one.  Ask anyone I go out to eat with and they'll tell you that I try to encourage everyone at the table to order a different dessert so that I can have a taste of each one!  Small treats in a variety of flavors seemed like a winner for people like me who just can't commit to just one dessert!
 — Where are your recipes from? Did it take you years to perfect them? Are they family recipes?
I've developed all of my recipes over time.  Some were inspired by cookies I baked and enjoyed growing up.  Others are just combinations of flavors and textures that I really enjoy.
 — What is your culinary background? Formal training? Self taught?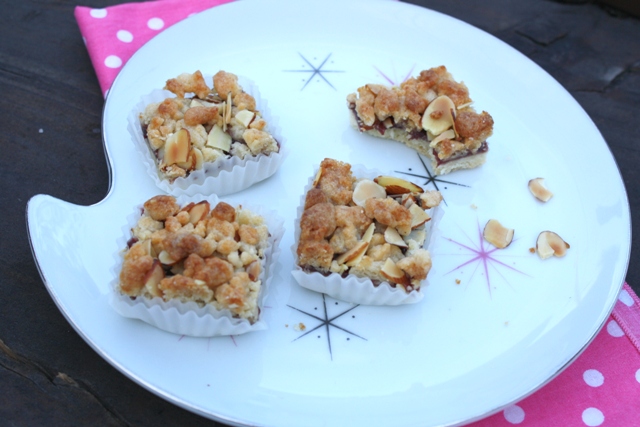 No formal training, although I've taken a few continuing education courses at the CIA and other similar venues.  I'm pretty much self taught.
—  On your site you talk about the use of local, seasonal ingredients. Tell me more about that.
I try to use the most local ingredients possible.  I use Guittard Chocolate (Burlingame), Straus Creamery Butter (Petaluma) and The Perfect Puree (Napa) as a few examples.  I'm continually keeping my eyes open for other  local vendors I'd like to  partner with  – being new to this business, I am finding there are many to discover out there!
To place an order, or to learn more, visit the About a Bite Bakery's website.