Can you cook a complete meal from the farmers market? I'm not talking about picking up a few farm tomatoes or a chicken and incorporating them into your usual supermarket meal. Instead, the challenge is to create an entire meal made completely with ingredients grown by your local farmers. That means no baking powder, no chocolate, no cinnamon or salt.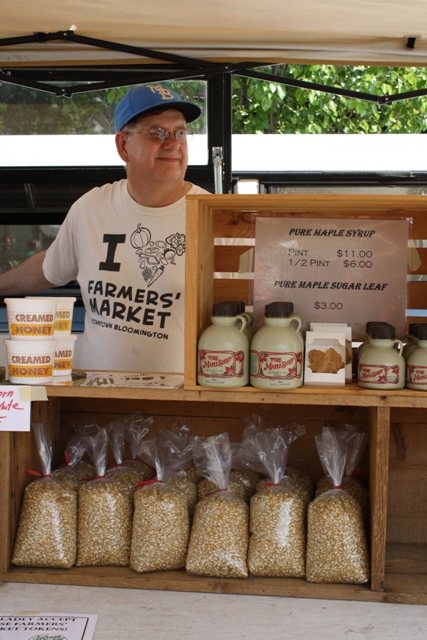 If we all ate just one meal per week of local, organic foods we could save 1.1 million barrels of oil annually!
Whether you live in California, Illinois or Vermont, most farmers markets offer the bare essentials for some easy local meals that would meet this challenge: bread, cheese, eggs, and this time of year, tomatoes. A simple breakfast of scrambled eggs and toast, or a quick grilled cheese and tomato sandwich for lunch, if eaten just once a week would help reduce our carbon food print.
Want to jazz things up a bit? I'm making three complete farmers market meals based on ingredients found at the Sunday market on 8th & X Streets and the Wednesday Cesar Chavez market in Sacramento—a breakfast, lunch, and dinner.
You don't need to make a second trip to the grocery store if you eat this way all week. This is truly living la vida locavore!
3 Complete Farmers Market Meals
The Menu
Breakfast: thick slices of toasted Grateful Bread topped with caramelized onion, grilled apricots & figs
Lunch: minted cucumber watermelon salad with walnuts and cow's milk feta cheese
Dinner: squash blossom, mushroom & cheddar cheese curd quesadilla in chipotle chili tortilla served with fresh heirloom tomato, onion & cilantro pico de gallo
Watch Good Day Sacramento tomorrow (Thursday) morning at 8AM. I'll demo the three above recipes, and the recipes will go live on my blog at that time.
What other meals can you make using ingredients found exclusively at your farmers market?