It's cookbook season: the time of year we all turn to the kitchen to recreate family favorites to share. It's also the season when we look for inspiration from new cookbooks and old.
I'm delighted to make a cookbook recommendation this holiday season. In fact, I had the joy of witnessing it in action. My dear friends Garrett and Stephanie spent the last three years covered in cheese, learning and researching as they created their masterpiece, Melt: The Art of Macaroni and Cheese.
I was fortunate to be a guinea pig for Garrett. He invited me to lunch to taste one of his creations, and I'm excited to see the result in print, called Pan-Fried Morbier Macaroni and Cheese.
My favorite cookbook cheerleader task came in the form of squash. Two years ago, I received a summertime request for large zucchinis from Garrett, which I gladly obliged. Those turned into a gorgeous stuffed recipe fit for any gardener, called Stuffed Zucchini with San Andreas Sheep's Milk Cheese, Cherry Tomatoes, and Macaroni.
The book is filled with the stories and recipes of Sacramento friends, including Hank Shaw (Chili-Mac with Redwood Hill Smoke Goat Cheddar) and Peg Tomlinson-Poswall (Sopa Seca de Fideo con Tomatillo y Queso Hoja Santa). It demonstrates the strong community required to produce a book of this quality: zucchini from one friend's garden, a cooking lesson in Mexican soup from another, and dozens of hungry mouths to taste recipes to provide feedback.
I'm over the moon to share the results of Garrett and Stephanie's hard work with you.
Melt: The Art of Macaroni and Cheese offers a modern twist on the fluorescent orange classic. The authors reach into the creamy, dreamy world of artisan cheeses and pastas to bring you a cookbook that turns the notion of mac and cheese on its head.
Inside you'll find recipes for chocolate pasta, peppers stuffed with pasta and cheese, gourmet cheeses and lots of vegetables, including several doses of Brussels sprouts. You'll find unique sauces, including chard pesto and an avocado lime sauce that will make you swoon! The cookbook also offers salads served with noodles, cheeses and veggies. It even features desserts!
Who knew mac and cheese could be so versatile?
In addition to the great recipes, you'll receive your honorary cheese degree by reading the book cover to cover. The authors share their years of knowledge, helping the reader navigate the vast and velvety world of artisan cheese.
If you're looking for comfort this holiday season, pick up a copy of Melt. It was truly crafted from the heart, which will shine right through to your own kitchen.
Congratulations, Garrett & Steph!
Live in Sacramento and want your book signed? There's an event Sunday, November 24 with cheese tasting and chats with the authors. Find event details here.
Recipe: Stephanie Stiavetti and Garrett McCord, Courtesy of Little, Brown and Company
Photos: Matt Armendariz, Courtesy of Little, Brown and Company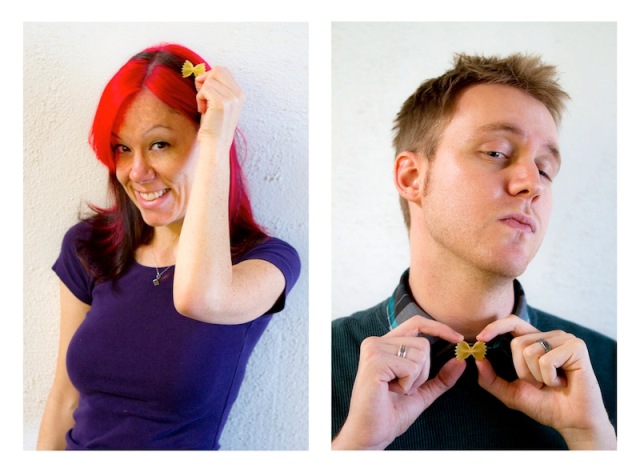 Pumpkin Stuffed with Fontina, Italian Sausage, and Macaroni
Reprinted with permission from Melt: The Art of Macaroni and Cheese
Ingredients
1 sugar pumpkin, or other sweet variety, about 5 pounds
Sea Salt
Freshly ground black pepper
1 tablespoon olive oil
1/4 pound milk Italian pork sausage
4 oz elbow macaroni
5 oz Fontina, cut into 1/4 –inch cubes
2 oz Gruyere, cut into 1/4 –inch cubes
3 scallions, diced
1 teaspoon chopped fresh rosemary
1 teaspoon chopped fresh thyme
1 teaspoon chopped fresh sage
1 cup heavy cream
Instructions:
Preheat the oven to 350°F/178°C. Cut a circle from the top of the pumpkin at a 45-degree angle, the way you would cut open a pumpkin to make a jack-o'-lantern, and set aside. Scoop out the seeds and strings as best you can. Generously salt and pepper the inside of the pumpkin, pop the top back on it, place it on a rimmed baking dish (since the pumpkin may leak or weep a bit), and bake for 45 minutes.
Meanwhile, heat the olive oil in a sauté pan over medium heat. If the sausages are in their casings, remove the meat and discard the casings. Crumble the sausage meat into small chunks and cook until lightly browned. Remove the sausage from the pan with a slotted spoon and set aside to cool. Discard the drippings, or save for gravy or what have you.
Also while the pumpkin bakes, cook the pasta in a large pot of salted boiling water until al dente. Drain through a colander and rinse with cool water to stop the cooking process.
In a bowl, toss together the Fontina, Gruyère, sausage, pasta, scallions, and herbs. Once the pumpkin is done baking, take it out of the oven and fill it with the macaroni and cheese. Pour the cream over the filling. Place the top back on the pumpkin and bake for 1 hour, taking the top off for the last 15 minutes so the cheese on top of the filling can properly brown. If the top cream still seems a bit too wobbly and liquid, give it another 10 minutes in the oven. The cream may bubble over a bit, which is fine. If the pumpkin splits while baking, as occasionally happens, be thankful you set it in a rimmed baking dish and continue to bake as normal.
Allow the pumpkin to rest for 10 minutes before serving. Be careful moving the dish, as the pumpkin may be fragile. You can serve this dish two ways: Cut it into sections and serve them, or just scoop out the insides with scrapings of the pumpkin flesh for each serving. Either way is just dandy. Salt and pepper to taste.