When it comes to filling my locavore fix, the Sacramento region has no shortage of farms for me to choose from. Feeding Crane Farms is one of my favorites! Let me count the ways I love them: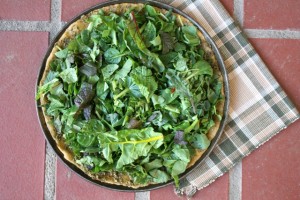 Local. Farms don't get any more local than Feeding Crane. They're the only farm inside Sacramento city limits.
Beautiful. Everything they grow is gorgeous! If you've ever visited their farmers market stands, you'll see what I mean. Their carrots run a rainbow of colors in purple and orange. They have orange eggplants in summer. All winter long, colorful pops of pink radishes fill their tables.
Unique. I mentioned their orange eggplants. Their produce provides a new adventure with every bite! Black radishes (spicy). White carrots (sweet). Paprika peppers (sweet hot). Bottled pepper sauce (move over, Cholula!). Never a dull moment.
Organic. Need I say more?
Friendly. Seriously. The nicest folks around! So nice, in fact, that I invited general manager, Shannin Stein, to join my nonprofit board. She's been a joy to work with.
Informed. General Manager, Shannin, has worked in nonprofits and understands the layered relationships of all the eaters in our community. Their chef, Paul Poore, completed the California Food Literacy Center's Food Literacy Academy. I call him the "child whisperer," because kids love to learn from him! Their owner, Brian Shaad, works around the world in microfinance and global agriculture, bringing a worldly perspective and big vision to keep the organization growing and focused.
Engaged. This social enterprise may be for-profit, but they have the folks who work in our community in mind. They donate their produce to lots of nonprofits in town—the same veggies that you'll find at Corti Brothers. They believe everyone should have access to great, healthy food.
Green. This farm quite literally has the best greens in town! You'll find them on many restaurant menus and in my own fridge regularly. In fact, when I run out of their braising mix, I become quite verklempt. The blend of baby kale, chard, mustard greens, tatsoi and other hearty greens sells at their markets for a mere $5 a bag. It's a steal! It lasts me almost a week. I throw the greens in salads, eggs, sandwiches and pizzas. Grab and go! Best fast food there is.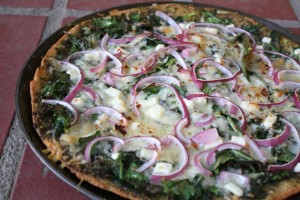 I could go on, but I'm getting hungry.
Since one of my favorite Feeding Crane foods is their braising greens mix, I'm sharing a recipe that will change your world. You could use spinach, kale or any hearty green you happen to have, but I swear the recipe is elevated to the next level when Feeding Crane's greens area available. When cooked in this pizza, they have an almost lemony sweetness that is the perfect partner to pesto.
Pesto & Greens Pizza Recipe
Ingredients:
1 pizza dough
4-5 Tablespoons fresh pesto
2-3 cups greens, Feeding Crane Farms braising greens mix recommended
8 oz. shredded parmesan cheese
1/2 a large, red onion, thinly sliced
2 teaspoons crushed red pepper, optional
Farmers market ingredients: pesto (if homemade), greens, onion, red pepper
California-grown: cheese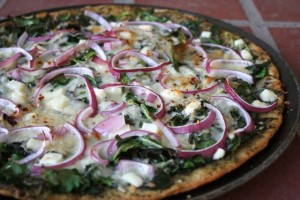 Instructions:
Preheat oven to 500 degrees.
Roll out pizza dough onto a greased baking sheet. Bake in preheated oven for 4 minutes. Remove from oven. Top with pesto, spreading evenly over surface of pizza. Add greens in a mound on top of pesto, spreading evenly over the surface of the pizza. Add cheese, spreading evenly over the surface of the greens. Sprinkle the onion slices over the cheese. Sprinkle with red pepper, if using.
Return pizza to oven for 8 to 10 minutes, or until cheese is beginning to brown and bubble. Remove from oven and allow to cool for about 5 minutes.
Slice and serve.
Yield: 1 pizza