A beautiful fall day calls for a beautiful fall meal. Enter: pumpkin black bean chili. Oh lordy, this is good!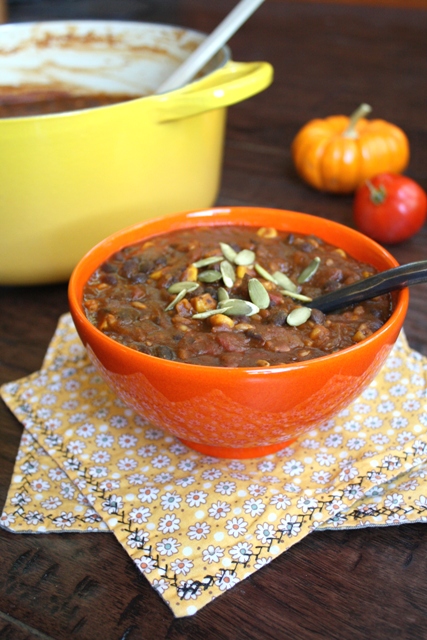 I haven't cooked or blogged in quite a while. I've been subsisting on oatmeal and burritos slapped together with whatever vegetables happen to be on hand. I get so busy aiming for my goals (in this case, forming California Food Literacy Center) that I sometimes forget to slow down, look around, and feed the people I love.
Ever since I was a little girl, cooking has sustained me. If I was fighting with my siblings, hanging on Mom's heels, bored, or otherwise in need of something productive to do, Mom's go-to suggestion was always, "Why don't you bake something?"
Without fail, upon hearing those words, I would head to the kitchen, content to spend time with my whisk and my bowl for hours on end.
As adults, it didn't take long for my husband to catch on to this after we moved in together. I'm an extremely social being. If someone else is around, I want to play. Yet, my husband is a solitary man. He likes time to himself. On days when I keep bugging him to entertain me, he politely suggests, "Why don't you bake something?" It always works.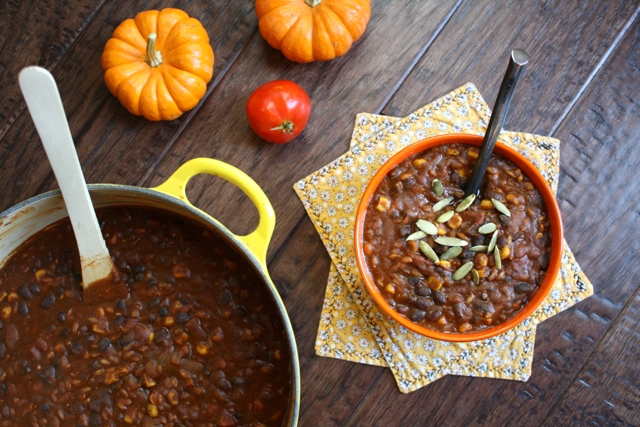 So, you can imagine how packed my days and months have been, and how very much in need of some quiet, productive kitchen time I have been. I also haven't been out in my garden much lately. That's my other go-to space for healing, quiet, rejuvenation.
Earlier this week, I finally stepped foot in my overgrowing garden, gloves on and ready to work after weeks of neglect. I hauled in dozens of pounds of ripe tomatoes, which had been anxiously waiting.
Yesterday, as he was leaving for work, my husband gently nudged. "You should do something with those tomatoes," he told the wall, knowing I was standing somewhere behind it.
This morning I decided to stop. Brendan's birthday is this weekend. He deserves my focus. Also, no good tomato should go to waste. The basket of ruby fruit sat silently on the kitchen corner, whispering for me to come take a look.
I heaved the basket onto the cutting board, and in an instant the creative juices started flowing again. All it takes is a gorgeous piece of the garden harvest and the thought of feeding someone you love to inspire a tired mind.
My hands started flying. Tomatoes were diced, onions chopped, pans removed from the lonely cupboard. I was cooking!—a real meal!—for my birthday boy!
This recipe packages rich fall pumpkin, bursting corn, meaty and mellow black beans, bright tomatoes, nutty farro and a host of warming spices into one gift of a chili. It's lunchtime as I'm writing, and the pot is simmering for tonight's supper. I can barely contain myself! I hope you'll feel the same. And I hope you'll cook this for someone you love. It's also great to serve your vegan or gluten-free guests.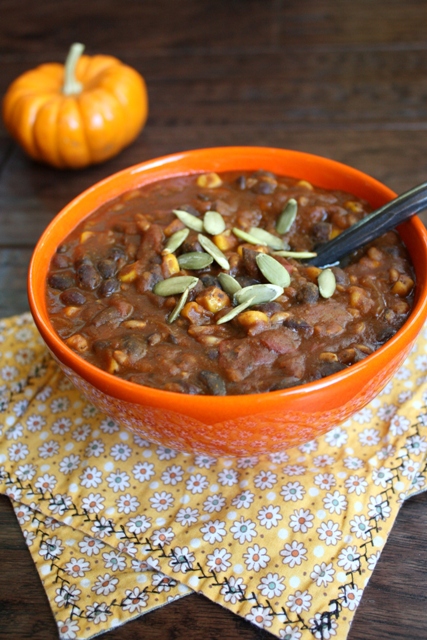 Pumpkin Black Bean Chili Recipe
Ingredients:
1 teaspoon grapeseed or canola oil
1 white or yellow onion, or about 1 1/2 cups, diced
1 cup farro, rinsed and drained
2 cups, or 1 15-oz can tomato sauce
6 cups, or 3 15-oz cans black beans
2-4 teaspoons chili powder, more or less to taste
2 teaspoons ground cumin
1-2 teaspoons paprika, more or less to taste
1 teaspoon chili flakes, optional
1 teaspoon freshly ground black pepper
1 teaspoon Mexican oregano
4 cups diced tomatoes
2 cups, or 1 15-oz can pumpkin puree
2 cups frozen corn
6 cloves of garlic, minced
Salt to taste
Pumpkin seeds for garnish
Farmers market & garden ingredients: oil, onion, tomato, beans, oregano, chili flakes, pumpkin, corn
Supermarket ingredients: farro, spices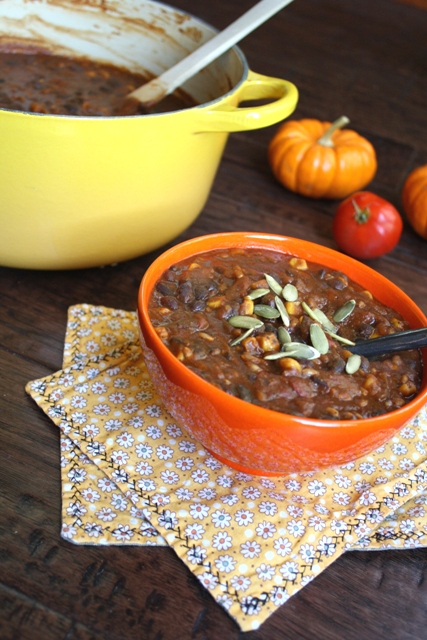 Instructions:
Heat a 4-quart pot over medium high heat. Add the oil and onion. Sauté the onion for 3 minutes or just until beginning to brown. Add the farro and cook another 3 minutes. Add the tomato sauce and bring heat to a simmer, stirring regularly for about 5 minutes. Add the black beans (do not drain the liquid) and maintain the simmer.
Add the spices and stir to combine. Maintain the simmer for another 5-10 minutes, stirring occasionally, scraping the bottom of the pan to ensure none of the farro is sticking to the bottom. Taste a piece of the farro to see if it is nearing desired tenderness. It should have a soft bite, like cooked brown rice or oats. If the farro needs additional cooking, leave the heat at a simmer and continue stirring, checking the farro for desired tenderness in 2-5 minute increments.
Add the diced tomatoes, pumpkin puree, corn and garlic. Stir to combine. Simmer an additional 5 minutes. Salt to taste.
Garnish with pumpkin seeds and serve.
Looking for more pumpkin recipes?
Recipe Renovator shows you how to roast pumpkin seeds.
Eating Rules features a pumpkin maple nut bread pudding, courtesy of La Casa de Sweets.
The Apron Archives makes cinnamon raisin pumpkin bread.
Eat Well, Live Free makes pumpkin with browned butter and sage over pasta.
California Food Literacy Center makes pumpkin curry.