"Fish tacos are hard to make!" the checkout clerk at the grocery store tells me as she rings up my fresh, wild Alaskan halibut fillets.
"There are two secrets," I reply. "Great sauce and fish that's not overcooked."
She nods. She was only making small talk. Something tells me she's not rushing home to make fish tacos tonight.
But I am! I've been experimenting with fish tacos a lot lately. They're one of my favorites. Eating them always feels like a celebration—and feels very "Californian".
These particular fish tacos celebrate spring and the bright, green growth we see all around us: grass, garden vegetables, leaves and shoots sprouting new life on trees, and even annoying aphids with their apple-green bodies clinging in clusters, hidden on the undersides of leaves in my garden (easily washed away with a quick spray of the hose).
Green tacos! These are also sustainable. Wild Alaskan halibut is ranked the "best choice" for halibut by the Monterey Bay Aquarium's Seafood Watch. Thanks to the Alaska Seafood Marketing Institute, I had a gift card to purchase this more expensive cut of fish—a price I would otherwise gladly pay for the benefit of our planet.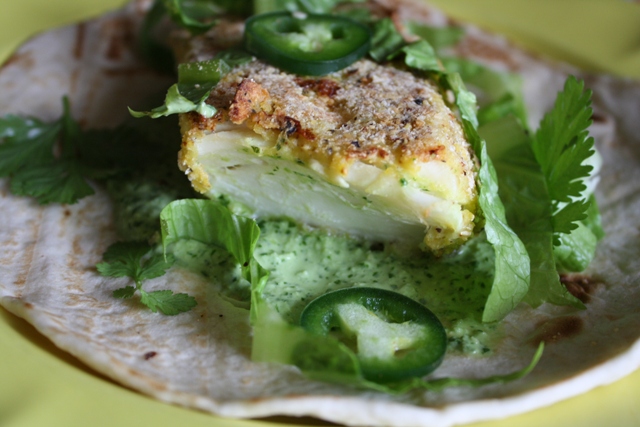 I wanted to bread these tacos in homage to the original fried fish taco. Yet, in keeping with my healthy diet, I baked the fish in its crunchy coating rather than dunking it in oil. The baked battered fish has the same crisp texture that pairs nicely with the soft flour tortilla shell. These are loaded with spicy Peruvian cilantro sauce that's filled with all the freshness of spring, and topped with the snap of new lettuce picked from my garden.
Happy spring! Happy taco eating!
Battered Baked Alaskan Fish Tacos with Spicy Peruvian Cilantro Sauce Recipe
2 Tablespoons Spicy Peruvian Cilantro Sauce (quick recipe below)
1 large egg
1/4 cup cornmeal
2 Tablespoons all-purpose flour
1 teaspoon red pepper flakes
1 teaspoon freshly ground black pepper
pinch of salt
2 wild Alaskan halibut fillets, skin removed and rinsed
4 flour tortilla shells
4 Tablespoons Spicy Peruvian Cilantro Sauce (quick recipe below)
1 cup shredded lettuce
1 jalapeño pepper, thinly sliced (optional)
Cilantro for garnish
Preheat oven to 425 degrees. Coat a baking sheet lightly with olive oil and set aside.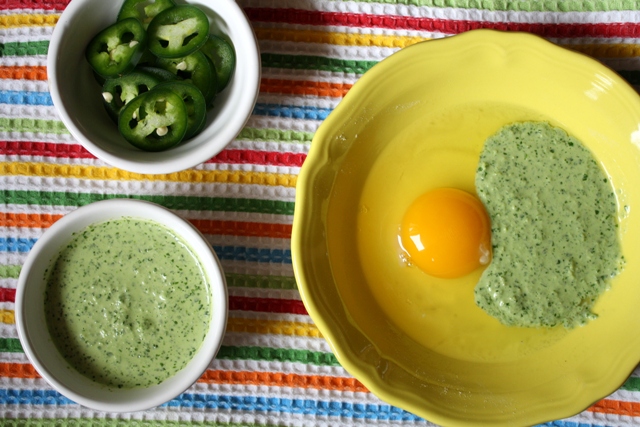 Combine cilantro sauce and egg in a shallow dish and beat to combine. In a second shallow dish, combine cornmeal, flour, pepper flakes, black pepper, and salt.
Dip first fish fillet in egg mixture to coat on all sides. Next, dip this fillet in the cornmeal mixture and coat evenly on all sides. Set coated fillet on baking sheet. Repeat with second fillet.
Bake fish fillets in oven preheated to 425 degrees for 12 minutes, and then flip fish over with a spatula and bake again for 12 minutes more.
Top each flour tortilla with about 1 Tablespoon Spicy Peruvian Cilantro Sauce, a few jalapeño slices (optional), a quarter of the baked fish, and ¼ cup shredded lettuce. Serve warm.
Yield: 4 fish tacos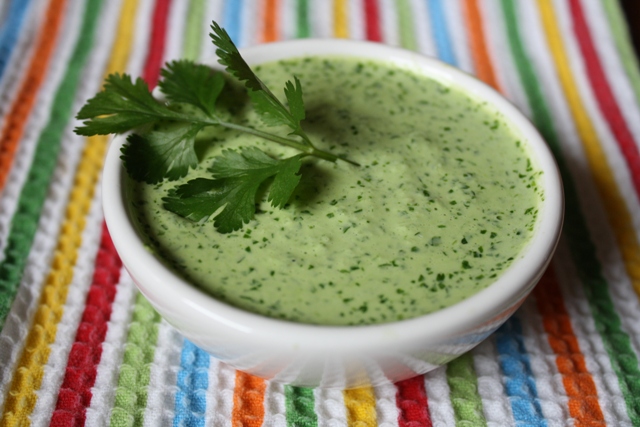 Spicy Peruvian Cilantro Sauce Recipe
This recipe is adapted from one of my favorite cookbooks: Viva Vegan! by Terry Hope Romero. This is her "So Good, So Green Dipping Sauce." This sauce is incredible! Serve it as a winter chip dip instead of salsa, on fish tacos, or on top of roasted veggies.
1 to 2 jalapeño peppers, quartered
2 cloves garlic
1/2 cup organic mayonnaise
1 Tablespoon olive oil
Juice from one lime
1/4 pound garden lettuce (about 1/4 of a large head), roughly chopped
1 cup cilantro leaves
1 early spring onion, or 3 whole green onions, roughly chopped
Salt to taste
Combine all of the above ingredients in a food processor until well blended and creamy. Chill for 30 minutes before serving.
Yield: 2 cups sauce
Here are more great Alaskan fish taco recipes!